Why don't your follow ups work? Of course, you know the reason better, but bet it's something about guessing, perhaps very professional and educated, still...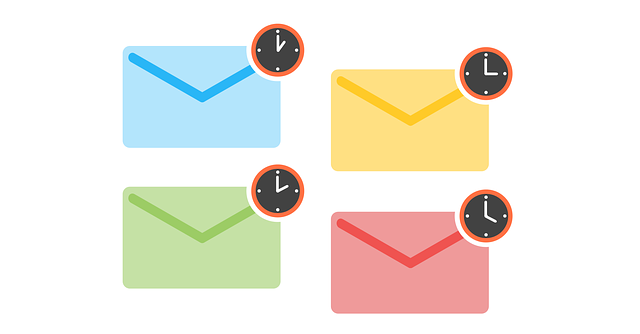 You know that you wander in the dark vainly trying to find out the points of influence on your shopping audience to make them recover carts, send you some valuable feedback or make repeated purchases. Now you can
turn the situation
in your favor.
Follow Up Email 2.0 for Magento 2
Follow Up Email 2.0
  is now ready to
dispel the darkness
and offer you a solution for easily managed, precisely targeted, comprehensively tested, and highly-efficient follow-ups.
Business Values


Successful new and repeat sales;


Effective retention of current shoppers;


Continuous customer relations and high brand loyalty;


Clear insights for performance enhancements.


Dedicated Functionality
Unbeatable Backend User Interface
The starting page Campaigns enumerates
all active and inactive follow up email campaigns
in a convenient way featuring their names, periods, short descriptions, the number of included events and emails, detailed statistics, and controls.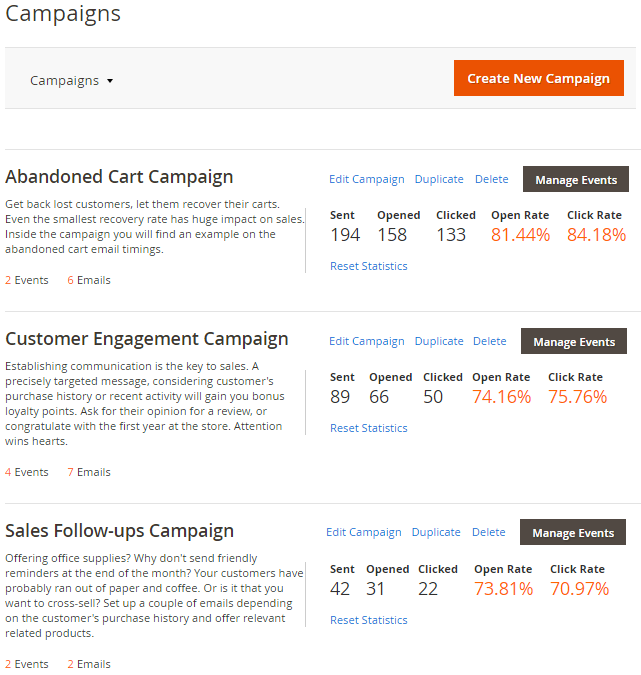 Follow-up Email Campaigns
Campaign-based Level of Management
Follow Up Email 2.0 introduces a
brand-new campaign-based structure
comprising three levels of follow ups, including campaigns, events and emails.
Each campaign can be created for
any long-term, seasonal, or short-term
business goals. Thus, you can easily build infinite Abandoned Cart campaigns aimed to constantly notify customers about their neglected orders. Or you can create seasonal campaigns made to highlight your upcoming promotions and engage shoppers into your holiday sales.
Using the mentioned above structure you can also establish long-lasting communications through emailed professional advices, product manuals and use cases.
Campaigns can be created just easily with the
'Create New Campaign' button
from the Campaigns page in the backend. The same destination allows you to edit, delete or duplicate campaigns. For example, the last option facilitates the opportunity to create sophisticated campaigns with similar sets of events, emails, and conditions.
In case you need to pause a campaign, just click the edit button and disable it. Since now, all the emails and triggering events for this campaign are disabled. The same way you can resume any paused campaign in just one click.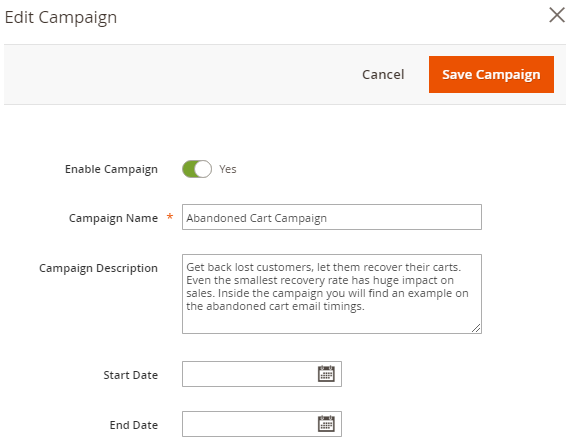 Campaigns Editing
Editing or creating new campaigns you can specify its duration with the Start and End Date calendar fields.
The provided detailed statistics allows you to
evaluate the general effectivenes
s of each campaign individually. You can also reset the statistics of a particular campaign in case of any sufficient environment or internal changes able to discredit previous results.
Advanced Targeting Options
As soon as you enter a particular campaign you can see all the included events and their statistics. These particular events may have different triggering event types, and targeting conditions. The combination of different triggers and targeting conditions allows you to
achieve real diversity of campaigns
able to meet almost any business goals.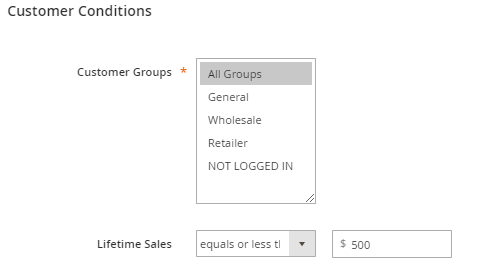 Follow Up Email Customer Conditions
This update of the extension introduces several
new customer-oriented conditions
, including guest and lifetime sales options. The Customer Conditions sections on the Edit Event page just allows you to configure those options properly. The Not Logged In option among Customer Groups allows you to target guest customers and the Lifetime Sales option just here makes it possible to set up target customer groups segmented by their total value of their purchases.
Controlled and Configurable Experiments
The whole structure of campaigns, events, and emails is covered with detailed statistics at each level and allows you control the efficiency of all campaign stages and general results.
But, Follow Up Email 2.0 goes even further and makes it possible to take advantage of the integrated
A/B testing functionality
. The emails with enabled A/B tests are highlighted in the lists of emails for particular events and can be easily configured on the Edit Email page.

A/B testing Mode
The A/B Testing Mode includes two Email Details sections (for both versions) that contains individual Sender Names, Sender Emails, Subjects, and Content sections, as well as separate Header and Footer templates.
The statistics of the experiment is also displayed right here allowing you to reset it anytime for both or only particular options. Just as in the case of single emails you can preview and send test emails for both A/B options.
User-friendly and Attractive Follow-ups
Implementing the whole feature list of the latest update we have not forgotten about the
attractiveness and convenience of the emails
sent to customers. So, Follow Up Email 2.0 takes advantage of several new variables, including the ones for quick cart restores, smart unsubscriptions, and product images.
Moreover, now each email template may has its own custom footer and header used to provide additional information to customers.
Measurable Efficiency
As far as the
performance statistics is provided across all the levels of follow-up campaigns
, it allows you to control and manage your sendings consciously and efficiently. The general picture is presented on the Campaigns page, while diving deeper you can track the number of sent, opened, and clicked emails at any level, including events, emails, and A/B test versions.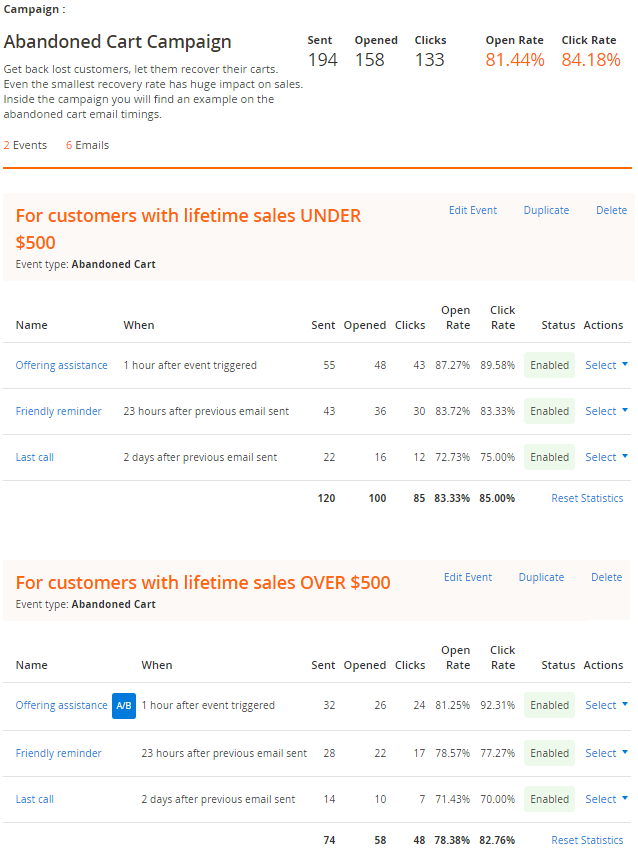 Detailed Statistics upon Campaigns, Events, and Emails
The Open Rate and Click Rate indexes makes it possible to measure relative efficiency of the campaign components. Thus, you can evaluate both total performance and the effectiveness of particular emails and configure them improving the overall performance of the communication.
Flexibility of Changes
The new structure and updated logics of the backend management open even more beneficial opportunities for you.
Last-minute changes.
Now, you can carry out last-minute changes of events and emails for even charged campaigns being ready to react to any changes coming from the competitive environment or customer audience.
Email Change Resets.
One more useful feature allows you to reset current email modifications at any time of the editing process. If you see that the latest version of the email template is not suitable, you can get back to the approved option just easily.
Persistent email chains excluding spam.
From now on the logics that sends emails is based on the latest logged action instead of the initial trigger moment. Thus, in case of any interruptions and sufficient downtime the module continues email chains from the last sent email instead of sending all the emails overdue since the moment of initial trigger.
Refactoring
Last but not least is that the code of the Follow Up Extension extension for Magento 2 was improved considerably. Now it is covered with unit tests, takes advantage of the Magento Service Contracts, and uses uniform Magento UI components.
Conclusion
This way,
the Follow Up Email 2.0 extension for Magento 2
is an absolutely new version of the extension with significantly extended functionality opportunities, much more comfortable backend interface, and eminent efficiency.
The module is already available in our Magento 2 store for both purchasing and updating. You can also see it in action in our
demo store
.
Enjoy the advanced functionality and usability.