If for some reason you have marked December 11, 2012 in the calendar, but now rack your brains trying to recall the event, I will help you out.

Last week I announced the release of the Follow Up Email 3.5 version for today and leaked some of its new features. It turned out, we outdid ourselves and came up with more updates than first planned. I guess it's not bad, huh? :) As far as Follow Up Email 3.5 is so awaited, let's refer to its core right away.





The Follow Up Email extension is a powerful auto-responder and customer relationship tool to keep track of your customers automatically on an ongoing basis.

Due to the versatility of user tracking process and many nuances that define and affect it, we update this extension constantly to fit our customers' basic and advanced needs. Considering requests and recommendations, we have supplied Follow Up Email 3.5 with the following features.
Hallmark features

Compatibility with native Magento up-sells, cross-sells and related products
Merchants will be able to send emails to customers with up-sells, cross-sells and related products depending on the items ordered.


Compatibility with the Who Bought This Also Bought extension
Compatibility with the Automatic Related Products 2 (v.2.3.1) extension
Besides info about Magento native products, merchants can enclose Who bought this also bought message and the related products list to customer notifications. It works this way.

Upon analyzing ordered items of a particular client, a store owner may attach to his/her email specific articles, which a customer supposedly wants to purchase in addition. For instance, a user have bought the cell phone and after a while he received the email, containing cellphone related items - accessories, batteries, headphones, etc. It's highly probable that the customer will buy complementary goods.
Other updates

Improved lifetime of coupons
Starting from a new version, coupon lifetime will be activated only after the notification email is sent. You don't have to worry that the email remains in the queue longer than expected and its lifetime count starts.

New template for reviewing product
We have added a new email template for buyers, saying Please add review for products you have bought.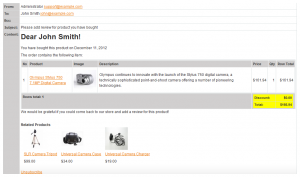 Ability to set up the expiration date of a rule
We made it possible to configure starting and ending dates of the rule to turn it on/off automatically.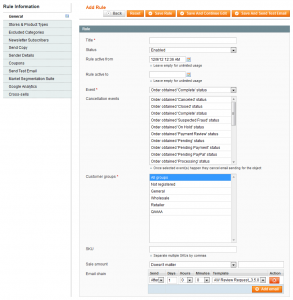 Auto login function in emails
No more built-in auto login in customer notification emails! For security purposes, admins are granted the opportunity to authorize customers who will get the auto login option.


Template type was changed to "Text" by default
You won't mess up with the template and WYSIWYG editor, because now the "Text" template type will be enabled by default.
Fixes

* Incorrect cancellation of "Product was added to wishlist" event
* Log issue
* Coupon code expiration date

Wonder if you can play with the extension? Try its demo on the Follow Up Email page.

P.S. Download Follow Up Email 3.5 at no charge - renew or prolong your support period.