Follow up emails is powerful tool for any ecommerce site. It gives a comfortable and flexible way to automatically reach your customers on day X after an order had been placed.

Never loose a customer after a sale, stay in contact with people who are most likely to be interested in another purchase. Use follow up emails to get opinion about the products a customer had purchased, request a feedback, offer related items, send attractive discounts and promotions, and anything else you could imagine.

People like seeing positive and careful attitude towards them, know they are not abandoned after a purchase and are welcome to come back with a question, review or a new purchase.

Establish stronger relationships, increase customers loyalty and as a result get more consequent sales with Follow Up Emails extension brought to you by aheadWorks Co.




Features
Ability to setup tiers in dependence on order status
Unlimited number of rules
Native Magento templating and mailing systems
Integrated into standard Magento template - looks and acts like a native code
Easy 2-minutes installation
Meets Magento programming practices for most versions and customizations compatibility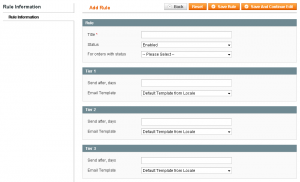 For more information and demo visit product page.

More Info
Currently we offer the Magento 2 Abandoned Cart Extension for the latest Magento version fully equipped for automated review reminders, transactional emails, greetings on custom occasions and abandoned cart reminders, of course. The last option is especially valuable for your revenues. As far as the average number of abandoned cart rise constantly and now takes about 75% of all created baskets, the chance to recover 5-10% of them is able to increase total store sales up to 25%.