The loyalty of customers is often fragile, and retention or loss of a shopper sometimes depends on a few simple actions or even words.
But something always prevents us from doing these "right" things while the consequences may be destructive for the whole business.

High-quality support is a major part of post-sales services of many businesses, but it requires upscale dedicated functionality and
Help Desk Ultimate ver. 3.0
is ready to offer the one you need. The new features of this module provide extended facilities for managing customers' requests and great opportunities to make them your devoted adherents.
Below you will find the description of the new features, which entered the current release of the extension.
Backend Ticket Page Redesign
Backend ticket pages have undergone tremendous changes and got an absolutely new, clear, and attractive design. Just several major modifications create a long list of advanced features.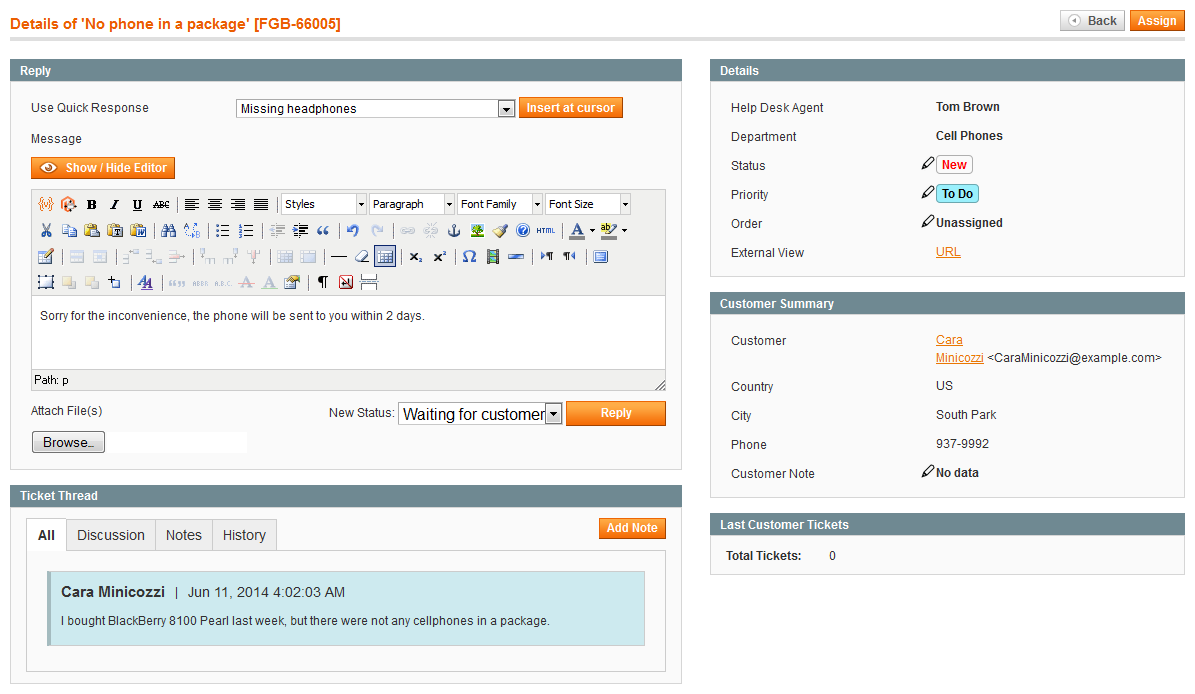 Backend Ticket Page
AJAX-based ticket changing
The module widely uses AJAX, including for ticket assignations and customer notes.
Ticket thread improved with colors and filtering
The Ticket Thread section got a user-friendly design improved with threads highlighted by colors and divided into four main streams:
"All", "Discussion", "Notes", and "History"
.
Last Customer Orders and Last Customer Tickets blocks
The Last Customer Orders block provides quick access to the customer-related sales data, and the Last Customer Tickets block allows you to browse his latest tickets.
Note about the current customer
You can add individual notes to each customer in the Customer Summary section. This notification is visible for only Help Desk agents and appears in all customer-related tickets.
Multiple file attachments
Help Desk agents, the same as customers, are able to attach multiple files to certain tickets and share them.
Private backend messages
An individual approach to customers is strongly recommended for every business and support activities should not stay aside of this modus operandi. So, if you have a number of support engineers within one or several departments, and your customer tickets may pass from one to another due to definite needs, they can post messages inside the tickets, which are visible for only backend users. These messages exactly describe the ways to treat the issue or some specific ticket characteristics.
This functionality is located:
Help Desk -> View Tickets -> Open Ticket -> Ticket Thread section -> "Add Note" button
.
Tickets Can be Assigned to Particular Agents
All newly created tickets obtain a mandatory assignee, which, by default, is a primary user. Thus, every department should has a primary assignee (Primary Help Desk Agent), who has extended permissions for managing tickets within the department, including re-assigning tickets to other users.
Primary users are appointed from the backend:
Help Desk -> Departments -> Edit the Department -> "Department" section -> Help Desk Agents -> Primary User
.

Help Desk Agents
Department & Support Engineer Statistics
The last version of the Help Desk Ultimate extension obtains advanced statistic facilities, which allow Magento admins and department supervisors to inspect the overall number of submitted tickets, their statuses, and the workloads within certain departments and the store, as a whole.
The module provides three particular reports:


Workload Report;


Agent Statistics Report;


Ticket Status Statistics Report.


The
Workload Report
displays the current overall number of tickets by departments and agents with their statuses.

Workload Report
The
Agent Statistics report
shows the total scope of support agents, their average time of first replies and ticket closings, which are the key evaluation points of support professionals. It also allows you to build custom graphs by certain agents and periods of their activity.
Agent Statistics Report
The
Ticket Status Statistics report
graphically displays the ticket processing history filtered by their statuses, departments, and time intervals.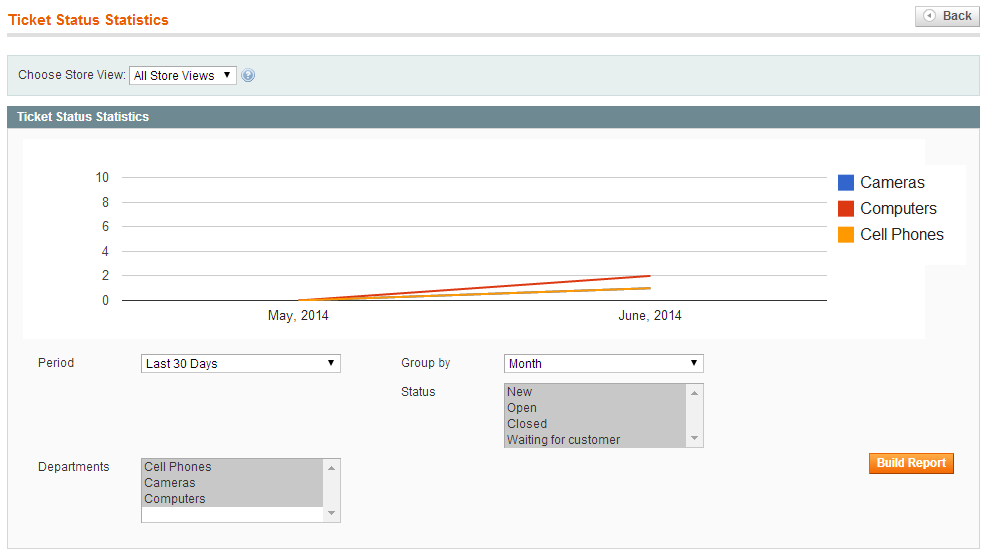 Ticket Status Statistics Report
Tickets Search
The advanced ticket search is embodied in the Tickets Grid (
Help Desk -> View Tickets
) and allows users to search tickets by the queries contained in ticket subjects and replies. The
"Search"
button starts the functionality and the
"Reset Filter"
button disables it.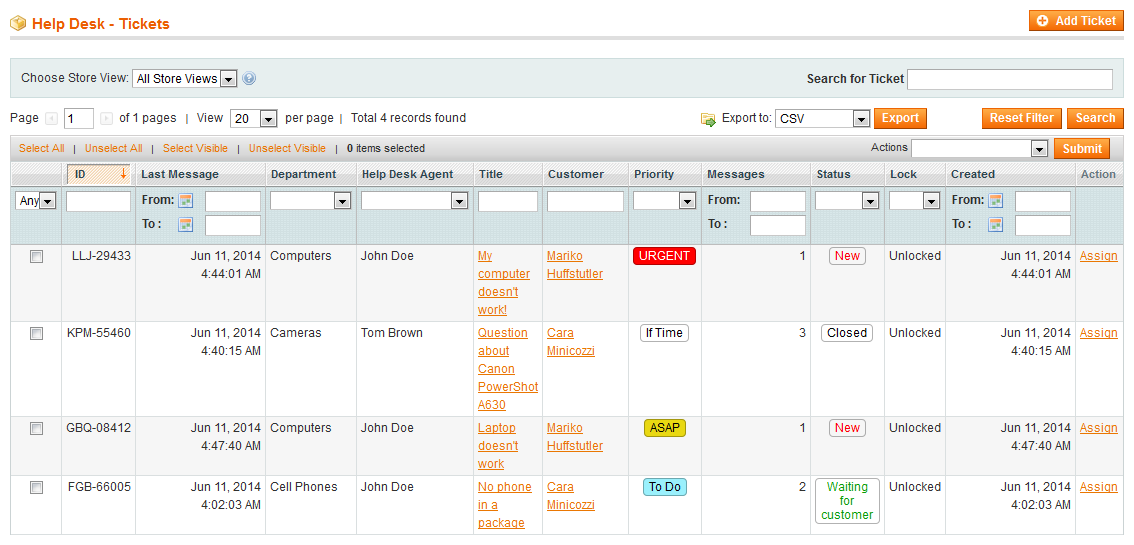 Tickets Grid
Tickets Escalation
This option allows the customers dissatisfied with the quality of support to draw additional attention of supervisors to their tickets.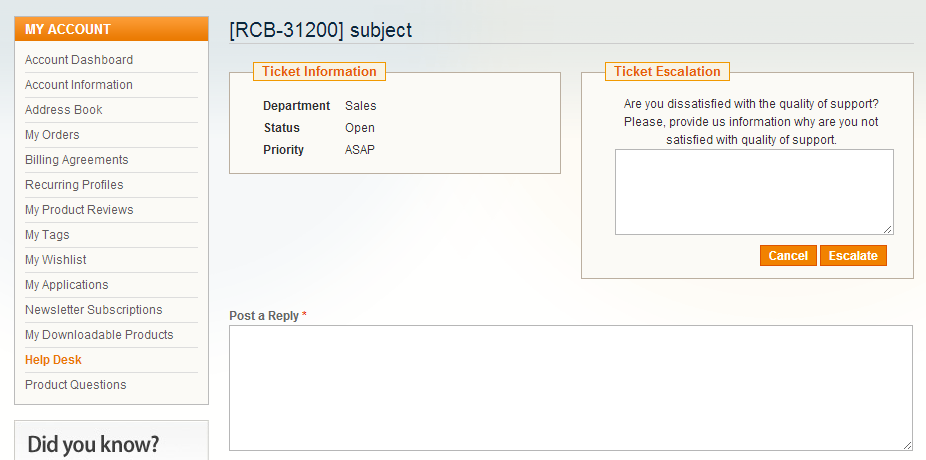 Frontend Ticket Escalation
This option is enabled from the backend
(Help desk -> Settings -> Ticket Escalation)
and allows you to specify the supervisor's email or several emails, and email templates.

Backend Ticket Escalation
Customizable Ticket Status and Priorities
Help Desk agents are able to change ticket statuses and priorities from the backend
(Help Desk -> Customizations -> Statuses or Priorities)
and settle font and background color for status labels.

Ticket Status Editing
Email Notifications About Ticket Re-assignation
The Help desk Ultimate extension has a powerful notification system for different events and kinds of users. Among other ones, it also sends notifications on tickets re-assignations.
Magento admins can determine certain email templates for such notifications of ticket status changes, including ticket re-assignations. They can specify re-assignation email templates for primary agents, new assignees, and for customers.

Ticket Re-assignation Notifications
Full Contact Form Integration
The Help Desk Ultimate ver. 3.0 obtained a full integration with the native Magento contact form. This option is configured from the backend:
Help Desk -> Settings -> Frontend section -> Enable Contact Form integration
. If the dropdown selector is set to "Yes", customers can submit tickets via the native "Contact Us" page.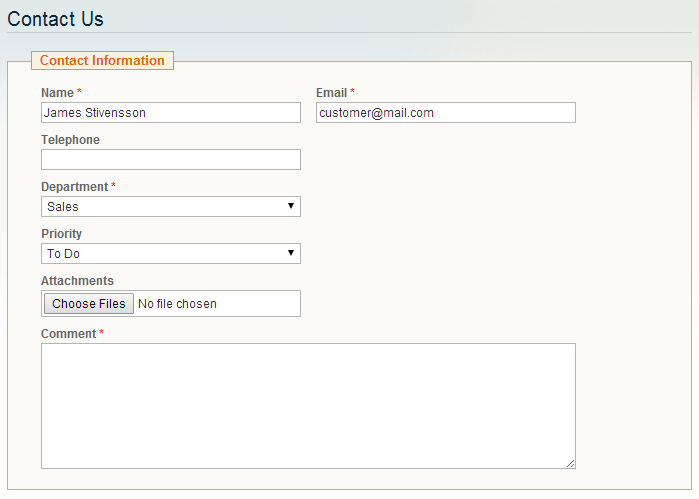 "Contact Us" Page Integration
Product Questions 2.0+ Integration
Since the 3.0 version the Help Desk Ultimate extension is integrated with the Product Questions 2.0+ extension. This is a configurable option and, if enabled, customers' inquiries made by the Product Question form create HDU tickets.
We have mentioned only the major features above, but
Help Desk Ultimate ver. 3.0
 acquired much more valuable functionality changes and improvements.
Please refer to the
product page
of the extension and read the extended description of its features and capabilities or just visit our
demo stores
and evaluate the benefits in action.