We continue our series of articles about Magento themes. Last week we paid attention to general principles of choosing themes for electronics retail stores and Magento solutions on the market. In this post we will speak about designs for apparel, shoe and accessories stores.

Merchants can easily get lost among numerous themes created by a myriad of Magento developers. We will give some hints for those who are going to open a new online clothing store or have one and want to bring a new breath to their website. Some ready-made solutions from aheadWorks will be described here as well.

Magento experts mention the following main points to be considered for apparel, shoe and accessories stores:






The main goal of eCommerce websites is selling. Try to minimize customers' efforts in searching the shopping cart and call to purchase buttons.



simple and customizable design



Get easy control over the website's look.


compatibility with the latest version of Magento


The latest Magento versions are more stable and work with all new modules.

Before choosing Magento theme, it's necessary to analyze visitors and products of a particular store. Usually people who buy clothes, shoes and accessories online pay much attention to the look and item brands. This fact leads to the ideas that merchants should make a great first impression on customers.

A store theme needs to be really attractive and appealing. Furthermore, its elegant design should be focused on user experience and usability and should match products and brands which are presented in online stores.

How does our team solve these problems? Look at Magento themes below:

Sportswear Theme
The ultra-modern solution for Magento stores selling sportswear.



Menswear Theme
This dark color scheme fills any site with the atmosphere of spunk and power.



Designer Handbags Theme
The simplicity of its design makes it truly good for online boutiques selling stylish clothing & accessories.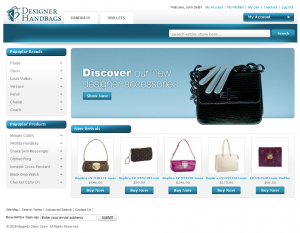 Fashionista Theme
Elegance and glamour of this theme makes it the perfect solution for women's fashion.



Guise Theme
This charming, feminine, and tender Magento theme can be picked for stores selling women's clothing and accessories.



Fancy Shoes Theme
This design is aimed at stores selling elegant, exclusive, and top-fashionable shoes.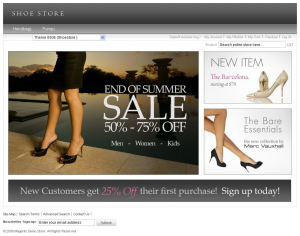 Shopaholic Theme
This bright, catchy, and cheerful Magento template can become the best choice for stores selling preteen and teenagers' clothes and accessories.



Clothing Store Theme
Stylish, classy, and luxurious Magento theme with sumptuous color scheme creates the conservative atmosphere in any clothing store.



Find more Magento themes in our store.

Follow our blog to learn about Magento themes for furniture and houseware stores very soon!