Being in the eCommerce business for many years, I know how difficult and expensive it can be to drive traffic to online stores. And when you get valued visitors, you expect conversions, but in reality everything is much more complicated. Not all product pages, not to mention contact or home page, can drive conversions due to their limitations and design. But there is one specific page type designed especially to encourage visitors to perform a needed action. It's a landing page.
Landing pages on Shopify or any other platform can serve as a free promotional tool for your products and services. However, depending on the way you build a landing page, it can cost you a penny. Today I'm going to share with you my personal experience of building a Shopify landing page and the difficulties I came up with during the process.
How to create a landing page on Shopify
There are several ways to create a landing page on Shopify. We'll explore the three most common and, what is more important, free ones. I have used all these methods on my own, so I am confident in their effectiveness.
You can create a high converting free landing page using:
It's important to note that all these methods are related to any landing pages, irrespective of their type. 
One of the most popular ways to create a landing page from scratch is by using coding. Liquid, a Shopify template language, is the backbone of Shopify themes, which allows Shopify users to create compelling designs with diverse content for free. 
However, there's no sense in creating a landing page using this method, if you are not skillful at coding. You can hire a developer, but in this case it will not be a free method anymore. 
To create a landing page on Shopify with Liquid you'll need a custom page template file for the product or campaign you're going to promote. 
For it, go to the Online Store and select a theme, click Actions > Edit Code. In the template directory, click Add a new template, select its type and add its name.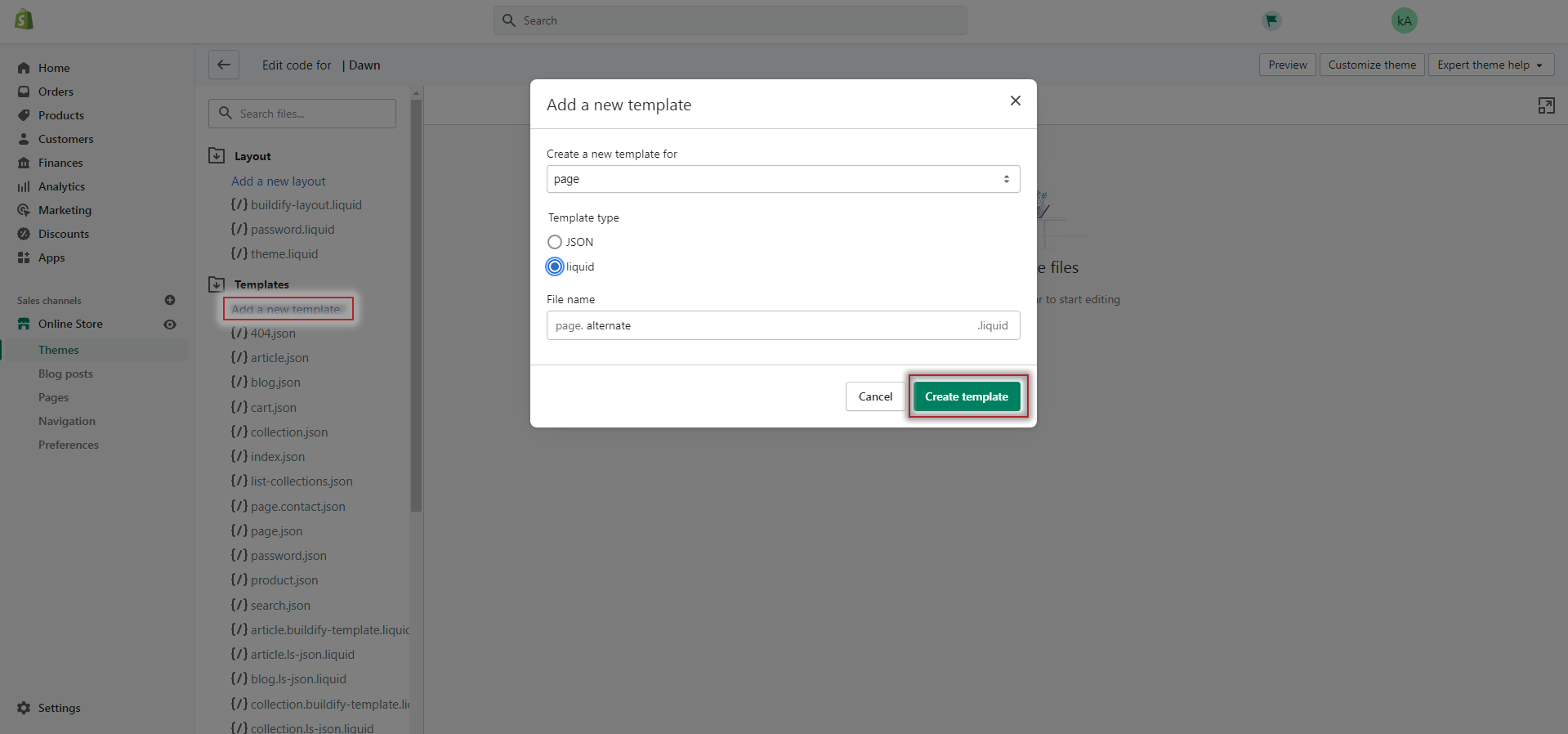 The system will redirect you to the editor where you can add and edit content and apply it to the pages. More detailed guidance you can find here.
2. Use Shopify default functionality
There are two ways you can create a landing page with Shopify default functionality: 
1. Create a basic landing page.
To create a basic landing page on Shopify, go to Online Stores > Themes > Customize. You will be redirected to the native Shopify editor, where you can choose the page type, add and edit content.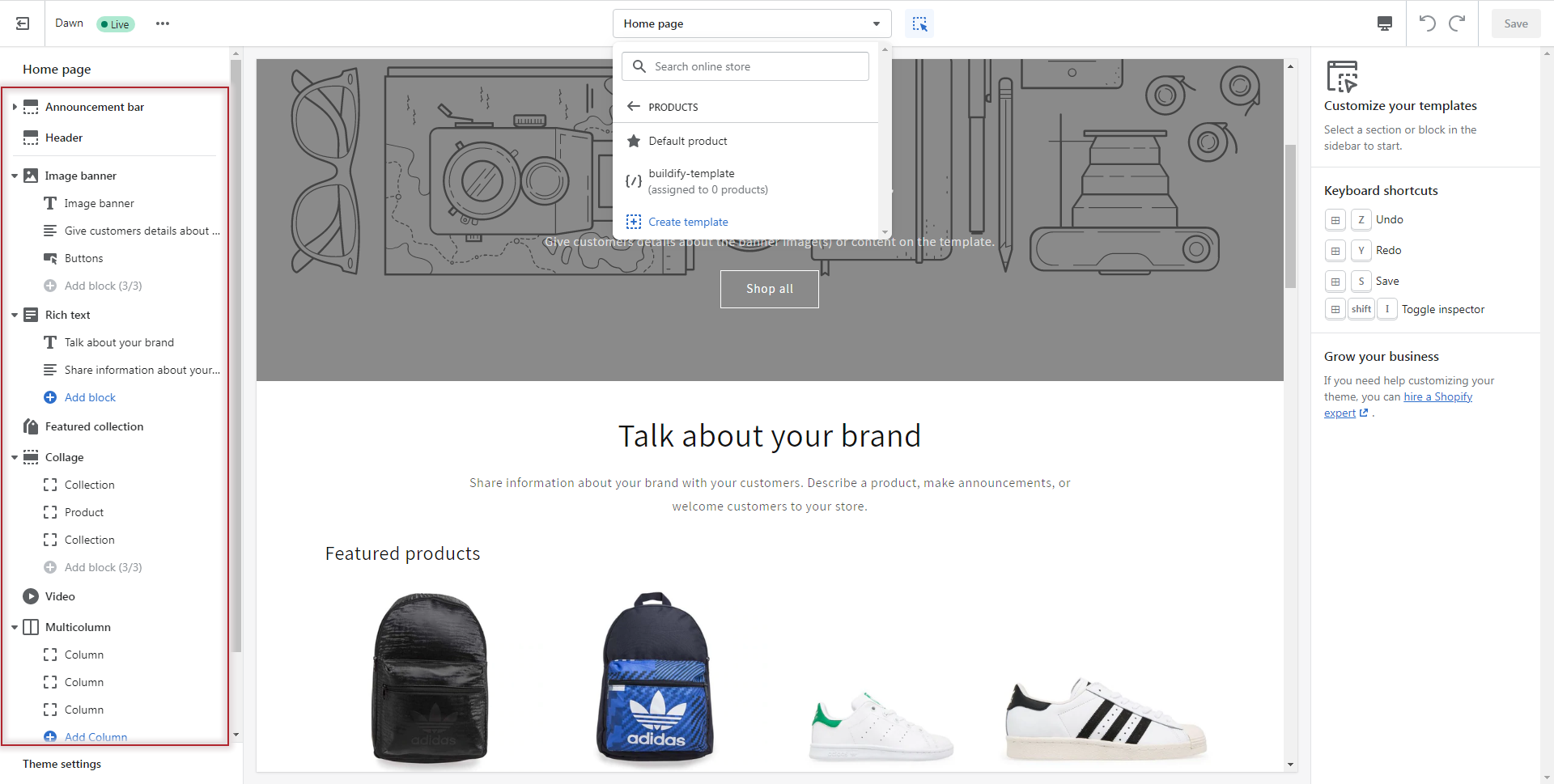 The pages created with this method are too simple and not catchy, but you can still try this option.
2. Turn product collections into landing pages.
Product collections are supported by all Shopify themes, so no additional charges required. Creating and designing this page type can be even simpler than a product page. 
One of the benefits of this method is that you can create product groups and dedicate them to specific occasions or meanings. In this way, you'll have the landing page for several products at once, which is the main advantage and disadvantage of this method at the same time. 
To add a collection on Shopify go to Products > Collections > Create Collection.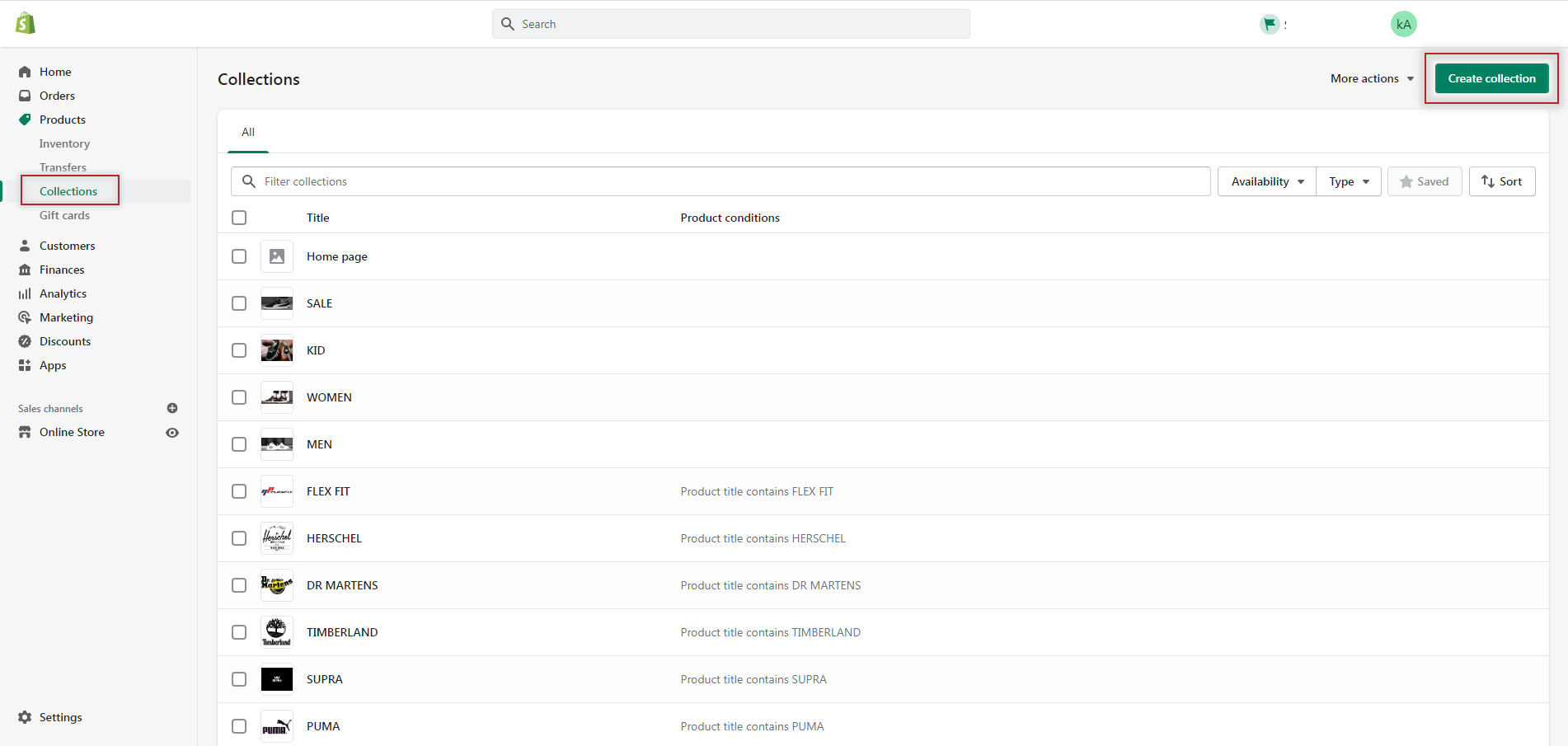 Add a title, description and URL for the page to attract more qualified traffic to your collection. Check how the page will look like in search results with the preview mode.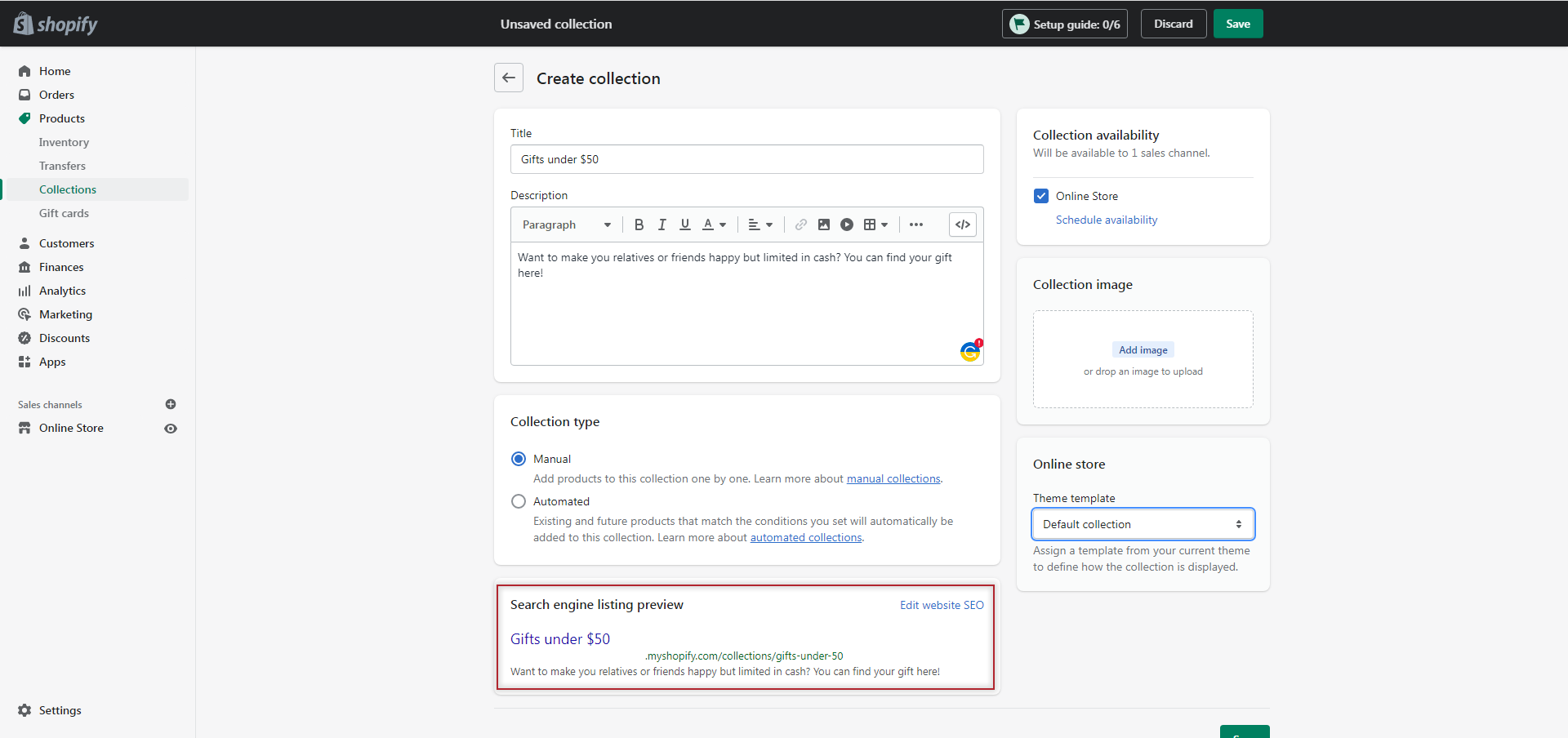 Honestly, it's not my favorite method to create a landing page. For me, it's quite limited and weak in strategy. I prefer to let collections play their role and create individual landing pages with the method we'll speak about next.
And lastly, my favorite method for creating a free landing page is using drag-and-drop page builder. With this method, you don't need any specific knowledge or coding skills, you can create compelling designs in just a few clicks at no cost.
Buildify Landing Page Builder is one of the best page builder representatives on Shopify. It offers all necessary features to create a landing page:
50+ free premade templates for those who don't like Shopify themes and are not strong in designing;

80+ drag-and-drop widgets to add, edit and handle the content on the page;

Element tree to change the block position easily;

Responsiveness to adjust the landing page content to any device view (desktop, tablet, mobile);

Preview mode to control the content look and feel on any device;

Advanced settings - those who need more than the page builder can offer can add coding blocks there.
The Buildify interface is absolutely intuitive, so you don't need to watch or read tons of guides. And, what's more important, it has a free plan and 14-day free trial if you want more possibilities available on paid plans only but have some doubts.
To create a landing page with Buildify, first you need to install it and choose a plan. When all the necessary initial customizations are made, from Shopify admin go to Apps > Buildify > Pages > Add Page. Add page title and start working magic by dragging-and-dropping desired widgets, template elements and sections.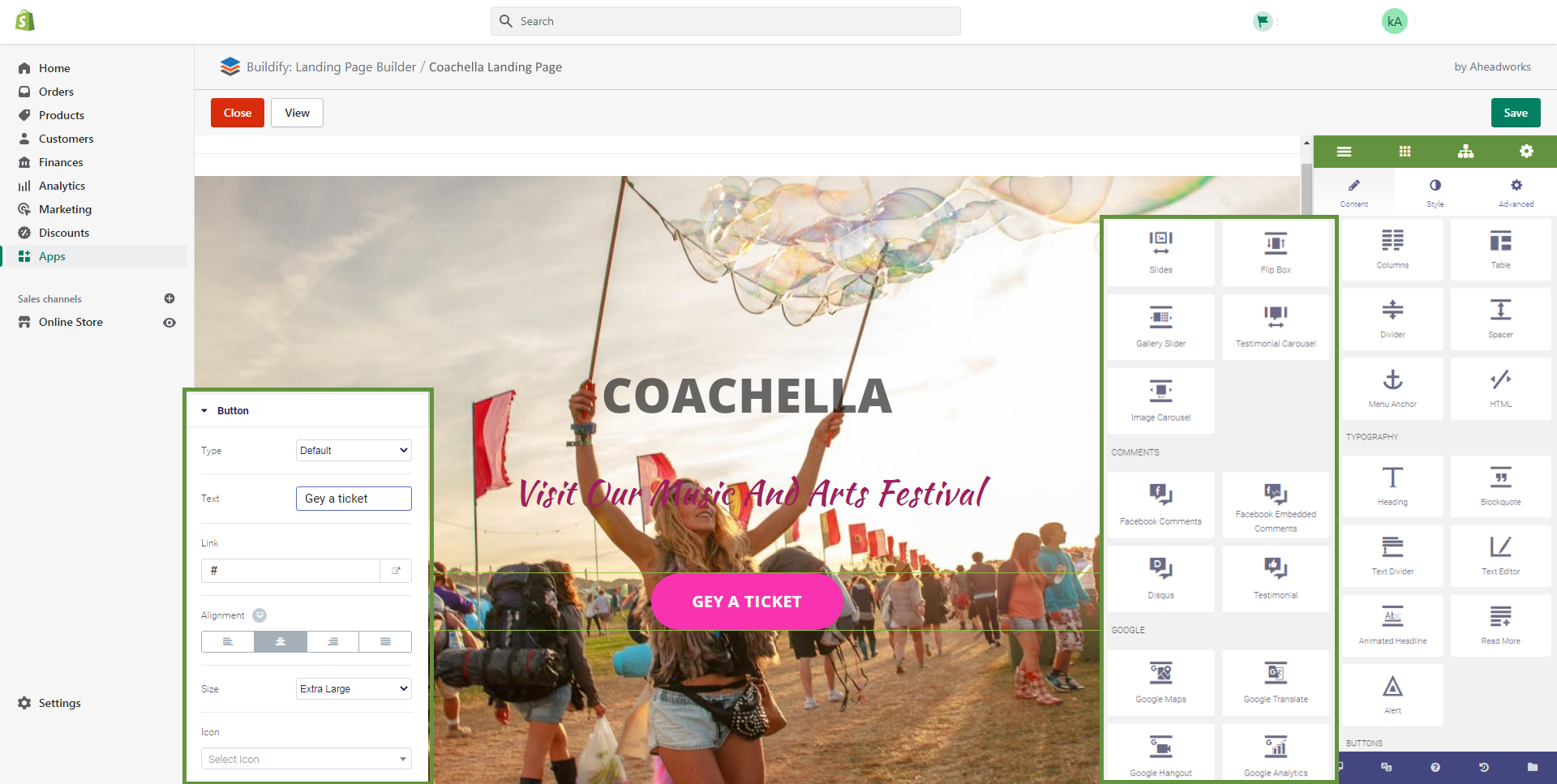 My personal advice is not to be afraid to experiment and use the full potential of the page builder: add and highlight catchy CTA, investigate and add different fonts, implement animations, image galleries, countdown timers for promotions, etc. You can take advantage of the premade templates and diversify them with testimonials, social media icons, google maps, different toggles, sections and many more. 
All you need is your imagination and desire to create something really special. And don't forget to preview the page before publishing it to make sure it looks perfectly well on any device and that you can tell yourself first of all "My awesome landing page will bring a lot of conversions!".
Shopify is a great platform to build your business in. And it provides all necessary features for your products' promotion. I hope my experience and suggestions will help you to create an AWESOME landing page on Shopify for free. 
The last thing I want to suggest to you is to optimize your freshly created landing page to improve its SERP and drive more traffic to your store.