To convert a visitor into a buyer, online stores have to go through a long path of promotion campaigns, content writing, SEO optimizations and different marketing techniques realization. And what a disappointment we feel when we see the cart abandonment rate grow due to the long unclear default Magento 2 checkout. Although there are only 2 pages to fill in, shoppers might get tired, change their minds or lose connection and forget about your website forever - a bunch of abandonment issues  can appear. That's why a lot of users prefer to enable one page checkout on their Magento 2 stores. 
In this article we'll closely explore Magento 2 one step checkout, the ways to enable it and its benefits.
What is Magento 2 One Step Checkout?
The checkout page is the page where all important information about the order is gained, so the merchant can meet their obligations to the customers appropriately. 
One step checkout collects all this information on one page and completes all the checkout process in one step. One step checkout is free to customize: you can choose what fields to display, which fields go with default values, and which ones apply necessary limitations. 
The user-friendly interface, streamlined operation, mobile responsive design - all this works as an advantage of one step checkout and creates perfect conditions for buyers to stay satisfied with their experience and return for further purchases.
Let's explore more benefits of the one step checkout on one of the most popular extensions on the Magento Marketplace - Smart One Step Checkout for Magento 2 by Aheadworks.
As we mentioned above, one step checkout is much shorter than the default one. Buyers complete all the required fields, including customer information, address, shipping and payment method, and review the order all on one page.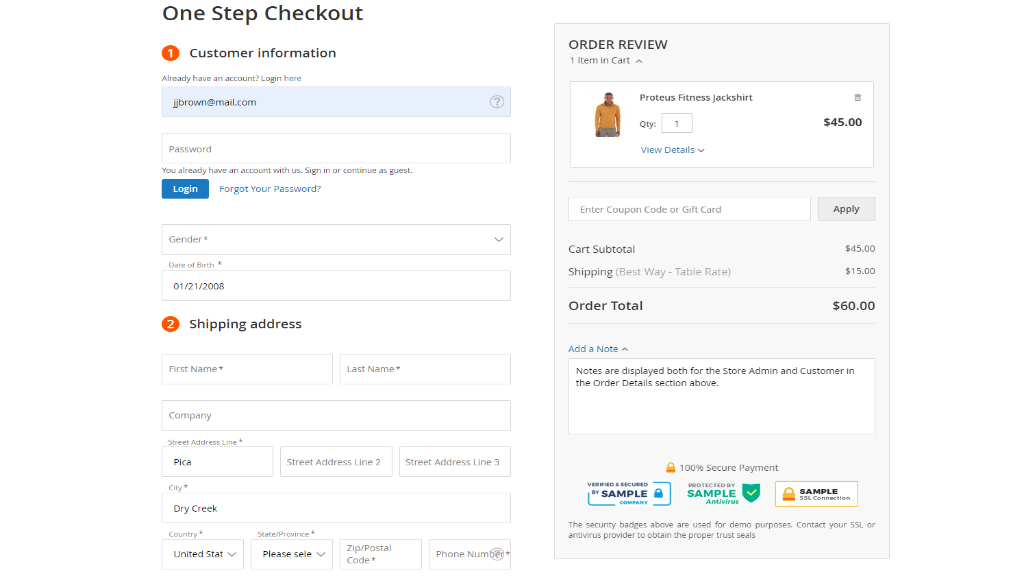 Optimized checkout process
As all the information is collected on one page, no additional reloads are needed. Consequently, fewer issues can appear during the order completion. It also gives buyers full visibility and control over the process, so they can predict how much time it'll take to complete an order.
Additional distractions can cause shoppers to abandon their carts. It becomes even more disappointing when the distraction is a registration request. Smart One Step Checkout extension allows shoppers to sign in right on the checkout page. Shoppers are suggested entering the email address, and if there are accounts associated with it, the system will recognize it and provide the appropriate suggestions.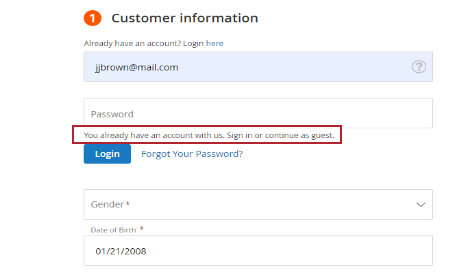 Address autocomplete options
Shipping address section includes too many fields: country, state/province, city, zip/postal code, street address, etc. For shoppers it may seem wearisome and annoying to fill in all the required information. Smart One Step Checkout for Magento 2 simplifies the process by allowing merchants to enable GeoIP country autodetection and address autocomplete done via Google Place suggestions.
Smart One Step Checkout for Magento 2 supplies merchants with detailed reports on checkout performance. The Abandoned Checkout report shows the number of orders, the percentage of abandoned checkouts, the checkout conversion rate and the order revenue. The Checkout Behavior report shows the checkout pre-field statistics, so merchants can identify areas for improvement at checkout.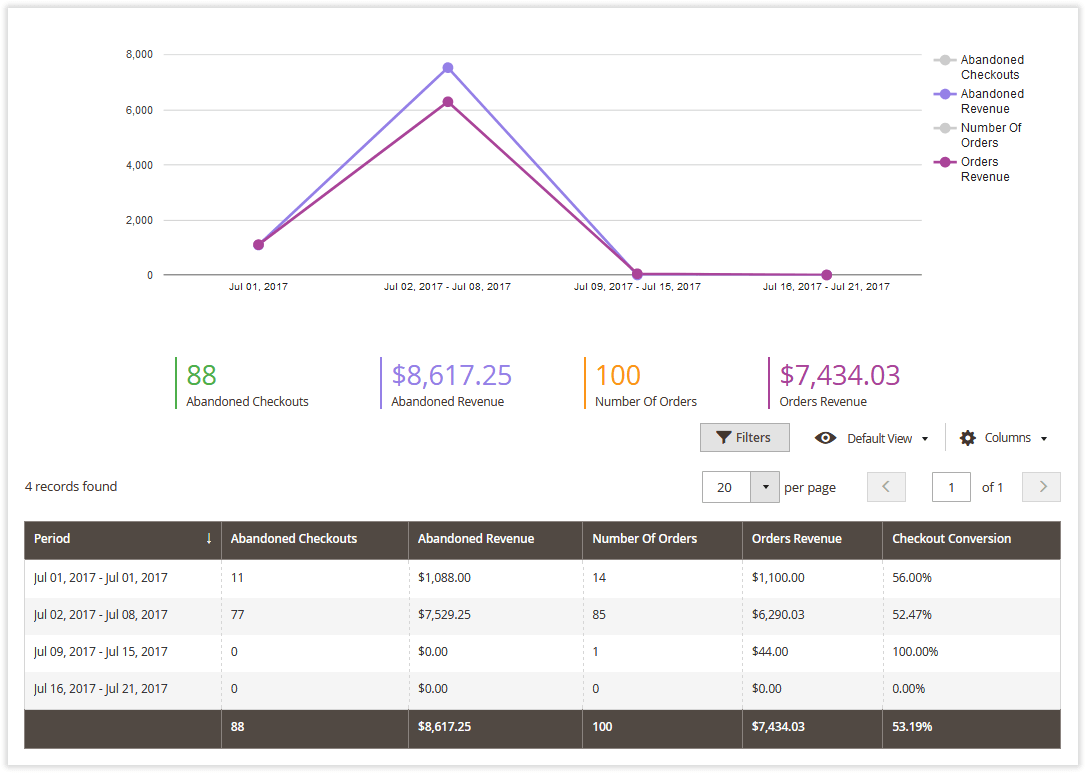 Integrations and compatibility
Magento checkout should have a great deal of compatibility with different payment and shipping methods. The integrations with other extensions can also contribute to customer experience improvement. Magento 2 Smart One Step Checkout is compatible with:
Payment Methods:
B2B Company Credit
NET.30
Authorize.net
Bambora APAC
NMI
PayPal Payflow
Affirm
Klarna
Braintree Payments by Gene module (version 4.X)
Amazon Pay module (version 5.X)
Splitit payment module (version 2.X)
Shipping Methods:
UPS

USPS

FedEx

DHL

In-store delivery

Store Pick-Up delivery
If you want to streamline your checkout and reduce the abandonment rate, Magento 2 Smart One Step Checkout may be the solution you're looking for. Comfortable two-column design, easily adjustable fields, inbuilt autocompletion, mobile responsiveness and many other features make the extension extremely helpful for thousands of Magento 2 merchants. 
Enable one page checkout for your Magento 2 store and turn a tedious checkout process into a simple and seamless one.