Merchants who run e-commerce websites regularly face the problem of abandoned carts. Customers regularly refrain from placing the orders due to several reasons. Check-out complexity is one of the main.
This issue is especially serious for Magento. Its native checkout process is really long and takes around 6 pages. While opening numerous pages during the checkout, different problems may occur: Internet may fall down, customers can be distracted or just tired from browsing through infinite number of fields.
With the
One Step Checkout
extension, the standard Magento checkout process will be simplified greatly. Customers will get quick and rapid processing of their transactions and this convenience will result in an immediate sales increase on your e-commerce website.

Today we are glad to inform that this powerful
One Step Checkout
extension has been released and you can order it for
$129
.

Due to One Step Checkout, the visitors will see all checkout information right on one page. They can fill in or edit any block without numerous page reloads. Besides these advantages the module possesses the following features.

Compatibility with the AJAX Cart Pro extension by aheadWorks
With the AJAX Cart Pro, customers can add related products to their carts without annoying redirections to products pages. And the order progress won't be lost.

Compatibility with the Advanced Newsletter Magento extension from aheadWorks
Having Advanced Newsletter installed, customers get more segments to sign up for on the checkout page.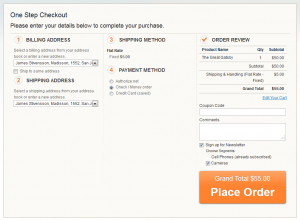 Auto-update of prices and totals
When customers change the information which influences prices and totals, these values are updated automatically.

Custom checkout page title and description
Merchants can choose what title and description the checkout page will have.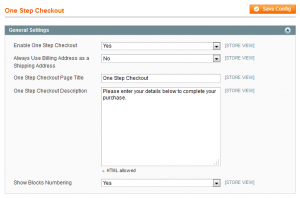 iPad/Tablet compatibility
For users of iPads and other tablets, the checkout page will work as good as for people who use computers.

Login/registration is right on the checkout page
Now customers won't be redirected to the login/registration page, because they can do it right from the checkout page. You will save the time of clients and make the process of shopping in your store faster and easier. Occasional visitors will be converted to regular customers.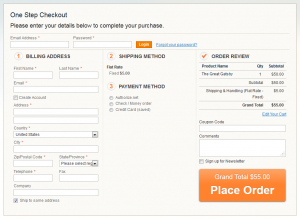 Discount code on the checkout page
Enter a discount code right on the page of checkout.

Compatibility with Points and Rewards, Refer a Friend, Delivery Date and Notice by aheadWorks
The Points and Rewards Magento module adds its own element on the checkout page.

Refer a Friend allows the usage of "Referred Friends Discount" which can be applied on the checkout page.

With the Delivery Date and Notice extension, the block "Comments" will be changed to the block with two fields: "Delivery Date" and "Delivery Notice".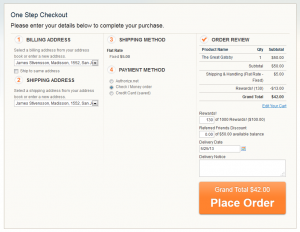 Need more features? Find all of them on the One Step Checkout page.

Don't hesitate! Order this module right now and increase your Magento store sales.