Marketers use various methods and try different sales approaches to increase profit. Offering alternative sales models is very effective when you want to single out some products, raise customers interest, attract new visitors or sell the product at the highest price.
Auction is one of the most effective marketing methods. Today we are glad to announce the pre-order of the
Auction Pro Magento extension
which can help you get maximum profit from this powerful strategy.
If you ever wanted to organize auction at your website, right now is the best time to get the
Auction Pro Magento extension
. It's pre-order price is
$99
! After the official release it will jump to
$129
. Hurry up - you have only few days.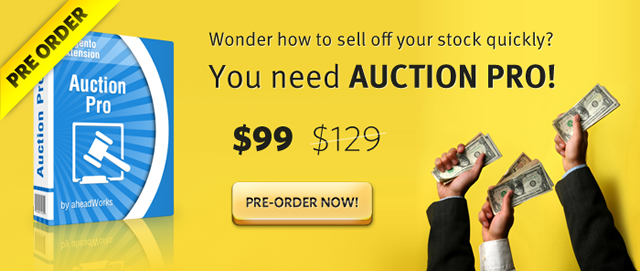 The
Auction Pro module for Magento
creates an atmosphere of excitement and competition at your website. Meanwhile customers know that the terms and conditions are the same for everyone and they are competing fairly. They set their own purchase price by negotiating the price up while bidding.
A sense of urgency may be instilled in buyers by setting the closing date. Thus customers know that they must "act now" if they are interested in the product or risk missing out altogether. Such approach is vital as many potential buyers tend to procrastinate.
The
Auction Pro extension
offers you a number of powerful features:





Separate category


Possibility to add Auction category to top links











Intuitive auction management












Auto-creation of cart for winner


Customized notifications of new bid and auction ending


Offer to buy the product for the maximal bid, automatically sent to all participants


Ability to allow buy out


Ability to notify participants of higher bids


Multistore support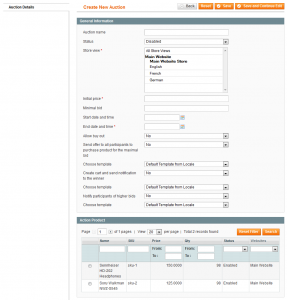 Easy-to-use bids management


Supported product types:




Simple


Virtual


Configurable


Downloadable







View more screenshots and pre-order the extension on the
Auction Pro
page!