A well-structured and content-rich knowledge base is able to accomplish several important tasks in your ecommerce store.
The Benefits of Knowledge Bases
It Reduces the Workload on Your Support Team
Answering most common and often questions about your products and services knowledge bases
reduce the number of calls
to the support team. This allows your staff to thoroughly concentrate on other important requests and make their best to resolve them properly.
It Saves Your Money
Since the number of requests directed to the support team is reduced, you need no additional employees in your help desk. This way, knowledge bases 
save your money
.
It Increases Traffic and Conversions
The Knowledge Bases containing multiple useful articles are able to significantly
enlarge the number of visitors from search engines
. Landing on the pages of your knowledge base they continue to browse the store and make purchases. So, this traffic can also bring additional conversions and revenue.
As soon as we realize the value and necessity to create knowledge bases in our stores, we face the next challenge – to make them effective and attractive for customers.
How to Write Useful Knowledge Base Articles
Follow the Questions Commonly Asked in Your Help Desk
As the main purpose of any knowledge base is to
answer most common questions of your customers
, your help desk is the primary source of knowledge base article ideas. Usually customers want to clarify a really limited number of questions, so your first knowledge base articles will likely cover the majority of them. Thus, these comparatively minimal efforts are able to provide great benefits for your support team.
Encourage Customers to Widely Use Your Knowledge Base
Since the knowledge base is a great source of valuable information about your products and services,
inform customers abut the benefits
of its usage. Let them know that it, in most cases, is the easiest and fastest way to find answers and fix the issues they face.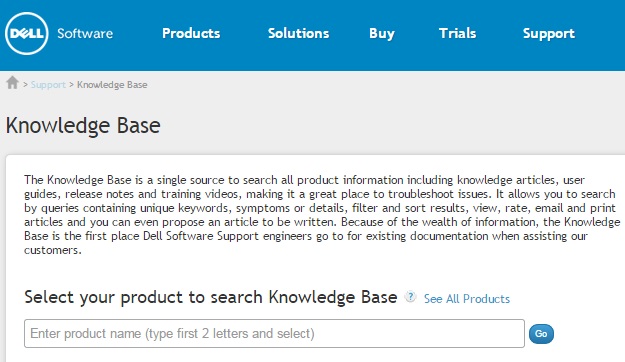 Knowledge Base Notification. Dell Software Knowledge Base
Try to Be Clear and Add as Many Details as Possible
Effective knowledge base articles should
not create any misunderstandings or contain confusing explanations
. The texts of your articles should possess multiple details and let visitors comprehend them completely. Otherwise, customers will repeatedly contact your support as soon as they face any obstacle in the knowledge base.
Create Clear Titles
Visitors should understand the main idea of each article from its titles right off the bat.
Telling titles
are also important for easy browsing and search.
Logically Organize Your Articles
The
structure is of much importance
for the usability of your knowledge base. The logic of this structure can be different, but should be clear for visitors. You can organize articles by product categories, popularity, service or production process sequences, etc.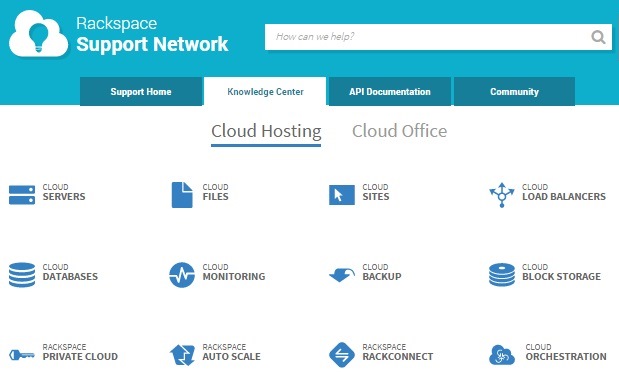 Knowledge Base Structure. Rackspace Knowledge Center

Create User-Friendly Texts
As any texts, knowledge base articles need a definite structure, consistent information presentation, illustrative pictures, etc. All this
makes texts readable
, easy to understand, and requires less time from visitors to get their essence.
Create Clear and Structured Knowledge Base Home Pages
The home page of your knowledge base is a
starting point for many visitors
and should meet much higher requirements in comparison with other knowledge base pages. Visitors should easily find there a search bar, required articles categories, necessary explanations regarding the usage of the knowledge base, etc.
Properly organized home pages encourage visitors to continue their journey through knowledge base articles.
Use Common Search Terms
The presence of
search functionality is mandatory
for effective and content-rich knowledge bases. It is the fastest way for customers to find the information they need and they use it very often.
So, during the writing of articles you should take into consideration and employ the
 words and phrases customers will likely use
to search this particular piece of information.

Knowledge Base Search Box. Indiana University Knowledge Base
Do Not Forget about SEO
In addition to the previous paragraph, articles should not only be tailored for the internal knowledge base search, but also
SEO-adapted
. They should include popular search terms, Meta information, and other necessary components for an easy indexing and high rankings.
Highlight Related Articles
The value of each article will be much higher for customers, if it
features other posts on similar topics
. Thanks to this, visitors will be able to find proper articles and get the required information immediately, and save their time.
Keep Articles Updated
Living aside functionality and design,
information is the highest value
for efficient and useful knowledge bases. Thus, your knowledge base will be popular only until it is relevant and, despite it sounds obvious, I will take liberty to remind you of the need of constant and timely article updates.
The Knowledge Base Magento Extension

If you operate a Magento store, you can take advantage of the ready-to-use solution –
Knowledge base by aheadWorks
.
This Magento extension allows you to create a knowledge base section in your store
from scratch
.
You will certainly
find this process easy and comfortable
, as the module possess multiple useful admin features:


Predefined interface and CMS-friendly blocks;


Ability to add meta-data for articles and categories;


WYIWYG editor;


Ability to add attachments, authors, and statuses to articles;


Configurable article listings;


Articles search in admin panel;


SEO-friendly direct links of knowledge base pages;


Ability to create article categories, add tags, and limit their number;


Simple CSS and layouts facilitating the opportunity to create custom view styles.


Customers, in their turn, enjoy the
advanced frontend functionality
: an ability to search articles by titles and content using word combinations of exact phrases; ability to rate articles, ability to search articles by tags, etc.
The whole list of the provided features is available on the
product page
of the extension. The functionality description is also complemented with the
related documentation
and relevant
knowledge base
articles. Amid this, our
demos
are ready to help you explore the functionality of the extension in action.
Your comments on this post are much appreciated. Leave them below, please.
Subscribe to our
RSS
.