Customer loyalty growth is one of the major goals of any business which aims at long-term relationships with their audience.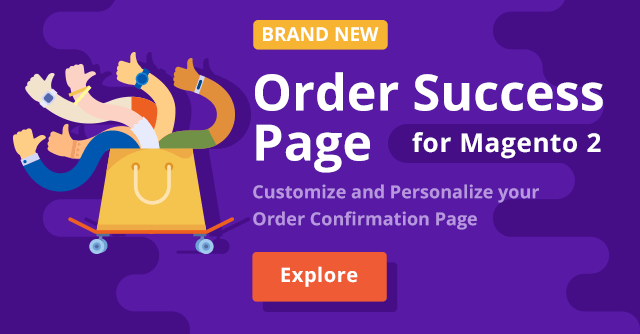 There are many different techniques which can help to achieve that, ranging from must-haves to very business-specific ones. But there is one rather simple method, which is being ignored quite often: improving the very start of post-purchase experience, which is your order success page.
We have released extension, which solves this issue by placing the additional info to a completely minimal native Magento 2 thank you page.
Let's look through the most successful content combination you can implement at your order confirmation page with our module installed.
Helping hand
The most common thing is to place the order content and address information to the thank you page. But why? Imagine that a customer has just seen it in the cart and then had to see it at the checkout. But what if the customer has made a mistake and noticed it right now when the order has started to be processed.
It's clear that the next customer step is to contact you to solve this issue ass soon as it's possible. Just provide this opportunity and enable the Contacts block at your order success page. This is a real helping hand for your customers. This functionality will be especially pleased by the
first-time store clients
.
Simplified checkout
According to Baymard's recommendations, an order success page is a great place for the optional fields from the checkout. Our Custom Success Page for Magento 2 reduces
checkout friction
by moving the fields (newsletter subscription, survey, create an account, etc.). The fewer fields on the checkout - the more likely you will have greater successfully completed purchases.
By the way, after the purchase, you have a great opportunity to show not only the 'subscribe' button, but also inform your customers what emails they will be getting and how often. The same applies to the registration button - inform about the advantages of being registered customer. It will increase the
conversion
of your guests to registered clients.
Context-sensitive content
If clients have chosen a pickup store, it's a good idea to remind them of the address and working hours of the place where the products should be picked up. If your customers are from abroad, inform them about the
average shipping time
for their country. If you have the products which may be difficult to set up, immediately show the customers who have bought them the links to Getting Started and FAQ or Blog posts related to such products. All these steps will demonstrate the degree of your
customer care.
Keeping in mind that cross-selling still sells, we brought the opportunity to enable this block on the order success page.
By the way, remember that the main thing here is not to overload your order confirmation page with the amount of promotional content. Follow these goals:


to lend a helping hand;


to sign up for a newsletter or provide the registration functionality (i.e. not only just to get customer money, but also to tie them to your store greater);


to inform better;


show unobtrusive promo ( "New arrivals every week - come again").


Bottom Line
Order Success Page for Magento 2
brings you the widest opportunities of customization and personalization that will increase customer loyalty.
In particular, our
Thank you Page for Magento 2
is able to:


to personalize the content basing on the order properties (customer group, billing and shipping methods);


to allow customers to leave a notice to admin after an order has been placed;


to let shoppers subscribe to the newsletter or create the account;


to easily customize page and preview the results;


to choose between 4 layout positions for content blocks (top, bottom, left and right columns)



Just do not overload the page with the amount of content. Experiment and test out different combinations and choose the best option to provide a
qualitative
post-purchase experience. All configurations of our plagin are pretty
intuitive
, so you can start working with the module right off the bat.
For more info about our brand-new Order Success Page module, visit the
product page
and demonstration version. Need a more detailed info on how to configure the module in your store? Study our
user guide
.