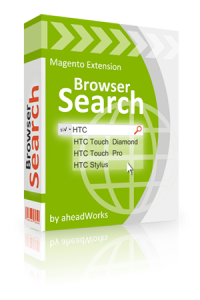 Here is the release of another great extension -
Browser Search for Magento
. It's half a module, half a browser plugin, anyway it makes your store closer to visitors and customers.
Basically, this extension allows your store visitors to add your site in the browser search engines list. PRICE & FEATURES
Our recent studies show that store visitors coming through the search box in their browser are more likely to turn into customers. The conversion rate increases up to 230%! And it's easy to explain - people have already visited your store and liked it. Now they have an easy and comfortable way to find products in the store they liked. This traffic is very targeted and purchase-oriented, people not just browse the site, they are looking for a definite item and most likely are willing to purchase.
The extension supports Firefox2+, Internet Explorer 7+. Yes, there are other unsupported browsers, but these cover more than 70% of all used browsers (w3schools.com data) and this percent is growing fast.
Besides presenting quick search interface this extension also displays search suggestions. Please note that on slow site sites or sites with a slow search the suggestion feature may not work.