What ho fellow Magento ladies and gentlemen!

Earlier this day I thought that this piece of the unstoppable story about statistics would be done in Jeeves & Wooster style. And I did it. For those who are unfamiliar with the name, well, it is a series of books by P.G Wodehouse (who, incidentally, had a birthday in October) about an English gentleman and his valet in the entourage of 1920's Great Britain. Not quite sure if this brilliant writer knew anything about Magento or e-commerce, but anyway, let's be indulgent to classics :)

Bertie Wooster: Jeeves, I have to make one thing crystal clear.
Jeeves: Yes, sir?
Bertie Wooster: I am not one of those fellows who become absolute slaves to Magento extensions.
Jeeves: [as if shocked] No, sir.
Bertie Wooster: Just as long as we understand each other. In case you thought so. With all these monthly reports, it's easy to make a wrong decision.
Jeeves: Not at all, sir.
Bertie Wooster: Very good, Jeeves! So what's the news on Magento Connect?
Jeeves: It turns like the extensions for Category& Product Page Enhancements are the winner in October, sir.
Bertie Wooster: Ha! I knew it right from the very start! You'd better read the rest, Jeeves.
Jeeves: Very good, sir [clears throat]: Category& Product Page Enhancements (+36), Shipping & Fulfillment (+29), Catalog (+18) and Widgets (+16), sir.
Bertie Wooster: Hmm, widgets… Have you ever seen any extensions for widgets in this list, Jeeves?
Jeeves: I have not had that pleasure, sir.
Bertie Wooster: We should have one of these.
Jeeves: I shall do as you recommend, sir.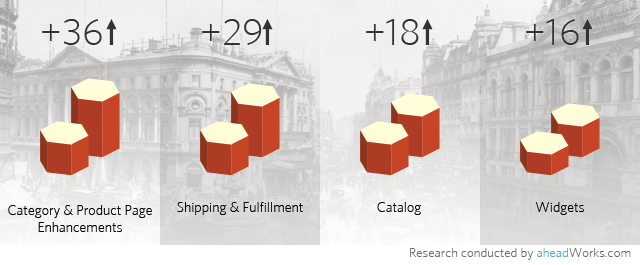 Just like Bertie Wooster, here at aheadWorks we also recommend you to empower your Magento store with any extensions you might find useful, because Black Friday and multiple hordes of customers are coming this month!