Starting a new ecommerce business is an extraordinary challenge, but it becomes much simpler, when you have a wise adviser able to keep you from making mistakes and save tons of your time.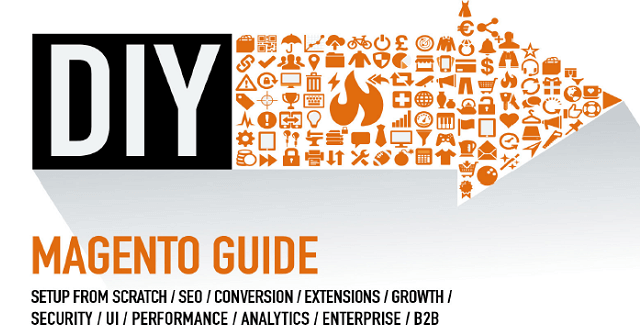 Those ecommerce beginners who consider Magento to be a good option for their first e-store, would likely confirm that even this arguably simple decision took a
huge amount of their efforts
. Meanwhile, it's not even a start; it's just a preparation.
The wisest solution in this case is to
find a useful, intuitive, and professional guide
for Magento beginners. And, we can offer you the one that is worth your attention –
Magento DIY
, Magento Guide
by Victor Khliupko and the Firebear Studio team
.
According to the intro, you need just this book, Magento, and a lot of patience to start your first ecommerce store. Well, let's see.
Guide Overview
The book content features
five chapters
: Setup, Sales Generation, Growth, Enterprise, and Custom Magento Development. As you can see, its logic is built on the stages of your Magento store cycle. It covers installation, configuration, tips on a successful start and growth, and further guidance till the enterprise scale.
Along with the
detailed technical support
the guide offers
multiple useful links
and information sources commented by the author. So, the book describers Magento and the surrounding ecommerce environment reflected through the prism of the editorial attitude and experience.
Magento DIY
covers Magento 1.x versions
, related extensions, themes, third-party solutions, etc. The book is full of hints necessary for beginners to embrace the Magento ecosystem and ecommerce on the whole through numerous closely related subjects and best practice examples.
Chapter 1: Setup
From this chapter you will learn:


How to download and install Magento;


Best Magento templates and extensions;


Available payment gateways;


Best SEO settings for Magento;


Security issues;


Magento performance improvement techniques.


This chapter explains the
launch of a new store
and everything you need to enter ecommerce market equipped and ready. It honestly shows the platform's weaknesses and ways to overcome them.
For example,
Magento performance, one of the main paragraphs of this chapter,
specifies the ways to speed up your store on the platform using either paid time-approved or alternative solutions.
The book also focuses on
Magento security
best practices and emphasizes their importance for your store and customers.
Chapter 2: Sales Generation
Now, when your store is released, you can
proceed to the Sales Generation stage
, where you will learn how to launch new marketing campaigns and analyze you traffic, discover new traffic sources and find the way to turn your prospects to customers.
Chapter 3: Growth
Optimization is the motto
of the third chapter. Here the author explains beneficial conversion rate optimization methods, profitable promotion tactics, and other tricks typical for this stage.
During the Growth stage you need to improve your existing products, orders, shipping methods, and taxes, which is an indispensable condition for your further development.
Chapter 4: Enterprise
If you are lucky enough to reach this stage, you are not a beginner anymore. This chapter explains how to
extend the Magento Community Edition opportunities
till the enterprise level and beyond.
It shows you how to implement necessary extensions and services on your Magento CE and get the enterprise quality of sales and store administration, including multi-channel marketing, PIM, ERP, CRM, SAP, dropshipping, B2B, multi-vendor marketplace, dynamic pricing, etc.
Chapter 5: Custom Magento development
The finalizing chapter is the smallest one and shows you the ways to
find some highly experienced Magento developers
able to provide you with the necessary customization.
Conclusion
We think that
Magento DIY
is a comprehensive guide extremely
useful for newbies, but also valuable for experienced merchants
. The book shows its readers the most efficient way to setup and run a Magento store based on the vast experience of the author and editorial board.