Taking into consideration the fast growing e-commerce market, this time I included more platforms into my survey (20 against 14 in the
previous study
). It should be reminded that we use not absolute values. The analysis is carried out according to the number of stores that got into
Alexa Top 1 Million
.
Even with a greater number of platforms compared in the chart,
Magento
continues its rise and dominance as the industry's most popular platform. In comparison with the previous survey, the number of stores based on
Community Edition
has increased by over 500 ones (5699 sites in August). As a result, it has undeniable advantage with 26.2% of the market at the moment. The usage of
Enterprise Edition
has also risen from 801 to 1005 sites. All versions of Magento have 31.4% in total that makes the platform beyond the reach.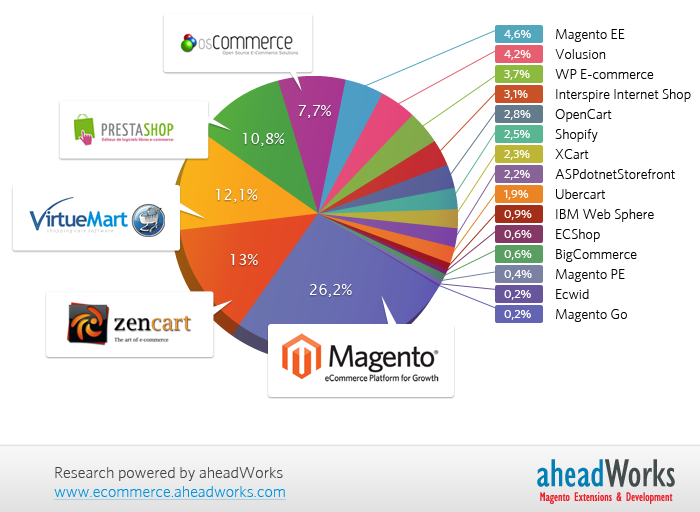 Magento's nearest competitor,
Zen Cart
, didn't lose its second position despite the quantitative losses (2814 online stores in August against 3500 ones this winter). 13% (2 times less than Magento's result) still were enough to take silver. With 2627 sites in total,
Virtuemart
retains an honorable third position making up 12.1% of the market. Thus, the three leaders did not change over this period of time.
PrestaShop
with 2357 stores follows the top three e-commerce platforms having 10.8%.
osCommerce
takes up the 5
th
position, but the downward trend continues with 431 less sites compared to our winter, 2012 survey. This time the oldest player of the market has the result of 7.7%.
Volusion
has lost over 100 stores and goes to the 6
th
position with 4.2%. The rest of e-commerce software make up a small share and are insignificant players.
As you can see, open source platforms dominate the list. More than half of all e-commerce websites in the top million are released under an open-source license.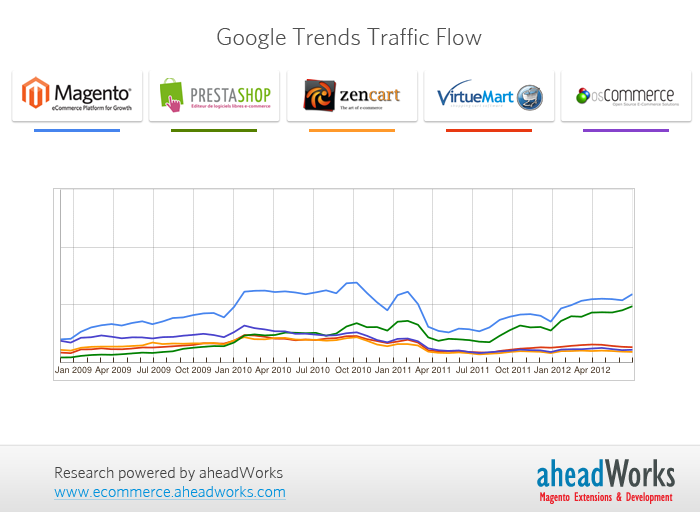 Source: http://www.google.com/trends/
Nowadays, many platforms are available in the tech market, but majority of the businesses prefer to build their e-commerce stores using
Magento
. Its open source development model and active community allowed it to mature into the world's most flexible and reliable e-commerce software. No wonder that we've consistently seen growth from Magento recently.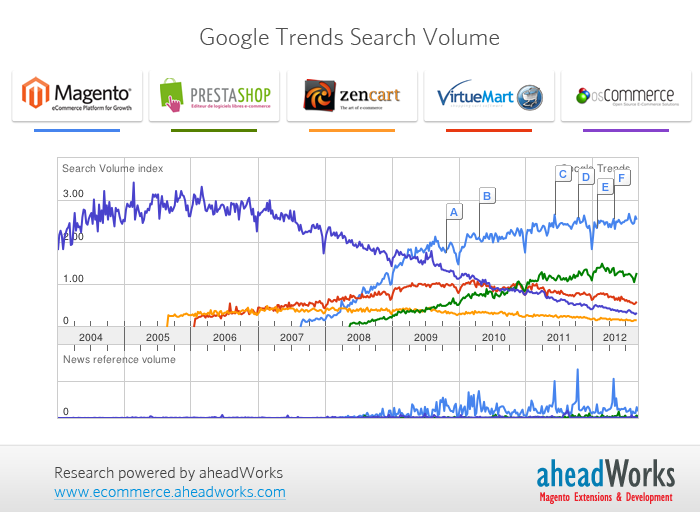 Source: http://www.google.com/trends/
Zen Cart
and
Virtuemart
have demonstrated decrease in number of stores, but managed to save their positions. It is interesting to see how
PrestaShop
has made such a nice push lately. Unfortunately,
osCommerce
hasn't improved the situation. By the way, most platforms have seen quantitative losses against the background of the continuing rapid growth of Magento. Among the exceptions that have grown significantly,
OpenCart
should be mentioned. It has almost doubled its results. We are waiting for new achievements!
Thought for objective reasons, it's impossible to compare the results of our two surveys, the fact of Magento's rapid growth is evident. The leadership of the software is doubtless. Magento continues to be the number one platform and dominates the e-commerce market by a wide margin.