Pricing is a complicated process that determines existence of any business. Its proper organization, when all essential aspects of price modeling are taken into account, lets a company receive greater revenue and profit. But serious pricing mistakes may even lead to bankruptcy.

Most merchants set the selling price after the analyses of two factors. The first one is the company's average costs. The second one is how their customers perceive the products value in comparison with the one offered by competitors.
Numerous extensions offered by developers of Magento modules are aimed to prevent merchants from pricing errors, simplify and automate the process of product pricing in their stores. These powerful solutions allow store owners to boost sales, set tier prices, create various discounts etc.

aheadWorks is always ready to give Magento merchants a hand with business improvement. The following modules, created by our high class developers, turn the process of pricing into effective eCommerce tools: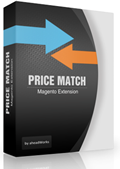 Price Match
The extension allows setting attractive prices for customers who inform merchants about lower prices on their products offered by competitors. One click on the "Price Match" button, placed on the product page, and a special questionnaire appears as a popup window, a new page, or a custom form. After verification of lower prices customers can be awarded with hot discounts for the corresponding products. Store owners can filter all requests by a certain product, analyze the quantity of the requests and change the product price, when it's necessary. Any advertised prices can be beaten right away!
"Excellent extension! Works exactly as described and as it should.
I'm always leery of adding new extensions because I'm afraid that it will break something and blow up my entire Magento store that I've spent years developing. Aheadworks does their homework, though. Followed the directions closely and it works perfectly. Thank you." (Volition Studios | Feb. 26, 2012)
Minimum Advertised Price

This module is useful for merchants who need selling products at the price that is lower than the minimum price a manufacturer allows to display. Minimum Advertised Price extension replaces the usual product price with the button "Check Price". The price can be also hidden or displayed with a strikethrough, which stresses that the current store price is lower. When a consumer clicks the Check Price button, the product is added to the shopping cart and the actual price becomes visible. After that the customer can take the product off the cart, leave it in the cart and continue shopping or go to checkout. As a result of the deal, manufacturers, customers and merchants stay happy.
"This extension provides the merchant with all the options you need if you have a manufacturer that requires MAP pricing. The AheadWorks team was very supportive with the purchase and I will look to them first whenever I need to improve my store. Buy this extension, you will not regret it." (James - regripit.com | Dec. 29, 2011)
Call for Price

If you need to encourage customers contact store administrator before the deal, this Magento solution is indispensable for your business. Call for Price extension allows showing any information instead of product price and "Add to Cart" button. Place here any eye-catching call-to action text, picture, link, or even live chat and inspire consumers to a call. Establish a contact with customers and continue the dialogue with them. During the conversation merchants can provide clients with additional information about products and persuade them to make a purchase.
"I like this extension because this extension can be used for multiple purposes by placing your own message/image at place for the product price.
Very nice extension to have!" (Michi | Jul. 11, 2013)
Random Price

Random Price extension helps involving customers into an exciting game with product price randomization. With this module installed, the Random Price link can be placed on product pages and customers get the opportunity to "play roulette". Simple clicking and the price goes up or falls down within the range defined by the store administrator. The module gives customers a choice to buy a product/service at a given price or make one more attempt and get a discount. The quantity of clicks is unlimited and a new price is always unpredictable for users. Discounts provided by the Random Price extension can be especially attractive during holidays.
Shipping Price

Be polite with customers and keep them informed about product shipping costs beforehand. This module allows displaying the price of the chosen shipping method on product, category, or product and category pages. Consumers see how much they need to pay for the product shipping before making a purchase. When the final price is clear and suits them users make the final decision to buy the product/service.

Though the above-reviewed extensions influence different aspects of pricing, they are all aimed to simplify this process and enrich Magento stores with useful and reliable tools.

If you are looking for a module with any other functionality, please visit our store. The one you need can be there!