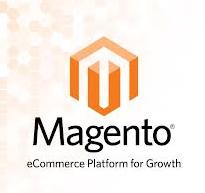 With growing popularity of eCommerce, it's not surprising that more businesses move online where they can reach new customers.
Selecting which software platform you'll use for your web store is an important decision. If you have fixed upon Magento to sell some products on the Internet, but you are still confused among choosing different solutions, this article is for you.
5 reasons to choose Magento:
1. Magento gains momentum every year and at the moment has over a
third of the global eCommerce market
.
2. The Magento platform is trusted by more than
150,000
businesses, including some of the world's leading brands.
3. The platform suits not only for savvy merchants, but also for newcomers and those migrated to Magento from other platforms.
4. The Magento solutions enable businesses of all sizes to control and customize the look and feel, content and functionality of their online stores.
5. Magento offers their customers, partners, and community members a wealth of experience and resources in commerce - related technologies as well as access to world-class capabilities from eBay Marketplaces, PayPal, eBay Enterprise, and others.
Let's compare the Magento solutions bringing out the best in each one.
Magento Community Edition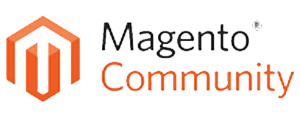 The main advantage of
Magento Community
solution is that
you can get it at no charge
. It's quite natural that some buts are hidden under this advantage.
*
First of all you should take into consideration that technical support is not included; it is supported only by the community primarily through the Magento Discussion Forum. However, there is no guarantee of a response or of a final resolution by community members and you put your faith in them.
*
Secondly if you don't know the ropes this free edition can cost you a pretty penny. This solution is for those with reasonable demands since the customization services and extensions that can modify and personalize your web store can be all in all quite expensive.
Nevertheless, a great variety of add-ons for Magento Community Edition that add features and functionality is definitely good news for those who opted for CE. Everyone can find something for himself to realize even fat-fetched ideas. You are free to choose various extensions from different providers of different quality and at a different price.
You can use Magento Community Edition to sell products to customers without a hitch. Dealing with other businesses is more difficult: it can be set only with the help of add-ons.
Verdict:
Magento Community Edition is recommended for expert developers and highly technical enthusiasts. This edition is intended to be used by those who is ready to spend time and resource solving issues independently.
Magento Go

Magento Go
is the only one of the three solutions that is hosted. There is no software to install and configure as well as no servers to manage. There is nothing easier. And you can get it at a low price from 15 dollars a month!
Magento Go enables you to design your store to support your brand and products quickly and easily, regardless of your design skills. The service provides a robust set of tools to help you create, manage and grow your online business. It offers the opportunity for complete look customization without any design knowledge required.
Moreover, Magento Go has plenty of SEO and marketing tools. The service also gives an opportunity to take advantage of Magento Connect extensions that will help run your business more smoothly and optimize your store.
What is more, at a low price you get round-the-clock technical support, the level of which varies by a chosen plan.
As for your target audience, Magento Go suites mostly for selling to direct customers, because the capabilities of B2B deal are limited.
Verdict:
It's a good solution for small business merchants who would like to build a powerful store to sell their products and services online quickly and easily.
Magento Enterprise Edition

Magento Enterprise
is the complete eCommerce solution for businesses that want to take full advantage of their online sales. It gives all the opportunities to achieve success: a comprehensive feature set to accommodate high traffic volume, large product catalogs and international expansion; Magento's intuitive administration interface to easily update and refine your site and complete control over the look and functionality of your site.
What is even more important, Magento's team of Enterprise Edition experts provides technical support as you build and run your site. As a bonus you get additional help with design, deployment and customization through the global network of partner companies. In its turn, aheadWoroks offers its own bonus -
a free trial for all Enterprise extensions in our store
.
Magento Enterprise Edition subscribers also receive additional exclusive features and product enhancements including priority patches for critical and security updates as part of their subscription plan.
It doesn't matter if you are involved in B2C or B2B, Magento Enterprise Edition is a good choice. It includes B2C and B2B support natively.
But there's no such thing as a free lunch. Magento Enterprise licenses start at $
15,550
per year while the annual fee of the Premium Edition starts at $
49,990
.
Verdict:
Magento Enterprise Edition suites mid-large size businesses that need advanced features and deep customization, major functionality changes, and a higher level of support.
This table first presented by
Multichannel Merchant
will help you get a clear vision of all said above and make the right choice according to the size of your company, budget and other factors.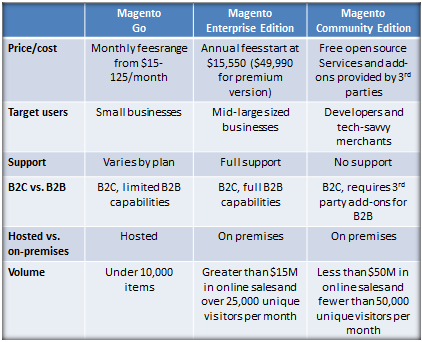 As a conclusion, I'd like to note that it is all relative. These are only general recommendations. Finally it's up to you which solution to choose. It depends on your personal needs, wishes and capabilities.