In this Magento success story we showcase WebAruhaz, the first webshop in Hungary that is still in operation today.

Like many eCommerce stores, Szabolcs Banffy, CEO and Chief Development Officer of WebAruhaz, started off using the OSC solution. As the store continued to expand, however, changing to another platform came into question. Szabolcs was thinking of creating his own shop system until he discovered Magento.

Who: webaruhaz.hu

What: Online and offline shop for printers, printing supplies, toners and ink cartridges.

Where: Budapest, Hungary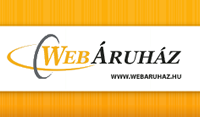 Q. How long have you been running your store?

Szabolcs: We've had the online shop open since 1999. Our physical shop opened in 2004.

Q. How many people work in your company?

Szabolcs: 5-8 people are working for us generally.

Q. Tell us a little about your business, and how you became involved with Magento.

Szabolcs: The first shops we created were rental shops: for other people to rent and use, not for our own use. We chose the domain name at a time when online shopping was mostly unheard of. It was only later that we realized we had a very good name (webáruház means webshop). This gave us a big advantage, even though it was not purposeful. :)

We are the first webshop in Hungary that is still in operation today. We opened our own shop in 2004. With free solutions to create your own store, leasing online shops became a thing of the past. This is when we started using the OSC solution. We were using that for 7 years.


With development being stopped on it, changing to another shop system became more and more of an issue. The code had been modified so heavily, it was easier to completely switch to a new system. For quite a while, we were thinking about creating our own shop system from scratch. We invested a lot of time into researching other shop systems, both free and commercial ones. Finally, Magento came into picture.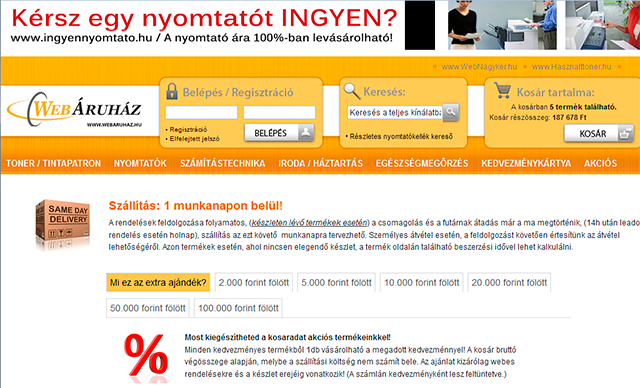 Z-Blocks above and below the header on the checkout page.
What I like most about this module is the ability to create custom placements to be used from the CMS. It makes the store much more customizable.


Q: Why did you choose Magento as your current platform?

Szabolcs: Lots of people told us to stay away from it, but by now we know that these fears were unfounded. It's true that it is a lot different from most shops, mainly because of its modular structure and thus the possibility to use dozens of third-party modules.
But once you get into it deeper and understand the logic of it, this system proves to be a good solution.


We started moving to an SAP system in 2011, and at the same time, switching our online store over to Magento. It took about a year to implement everything the way we wanted.

Q: What's the position of Magento in Hungary? What are the closest competitors to this platform?

Szabolcs: I would say it's an industry-leader. People who do not use Magento, usually either use an older free system (OSC, Cs-cart) or are leasing a bigger system from someone (Unas, Bolthely, Shoprenter).

Q: There is an opinion that Magento platform is slow and resource intensive. As I can see you store is quite fast. Have you faced such problem? If yes, how did you optimize the Magento performance?

Attila: This is a fact. :) We have fast hardware, lots of memory, in-memory-caching, and have everything we don't use turned off.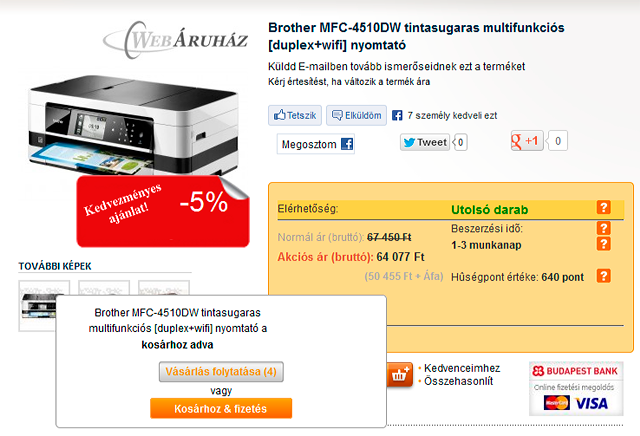 On Sale and AJAX Cart Pro in use. 'Without AJAX Cart Pro, it is very easy for the customer to 'get lost', not knowing how to go back, how to find the related products again.'


Q: Why did you choose aheadWorks as a Magento extensions provider?

Szabolcs: We found almost everything we needed at one place. We suspected - and it turned out to be true - that using modules created by the same company ensures the best compatibility.


In fact, the aheadWorks modules were the ones that convinced us to go with Magento in the first place. Since then, we know we made a good choice: whenever we had any issues, we got a response and a solution within minutes.


Here are the modules we use:










Q: What extension had a bigger impact on your sales in the last 12 months?

Attila: We found all of the sale-motivation modules quite helpful.

Q: I noticed that you use many sales motivation modules. What is the most powerful extension for you and why?

Szabolcs: Z-Blocks and Follow Up Email. These two make automating many of the daily tasks very easy. We can easily create promotions, follow-up e-mails which have unique coupon codes and nicely configurable expiration dates.


I have to admit: Follow Up Email was one of our best investments ever in the Magento world. It can be used for so many things. Purchase follow-ups, reminders, promotions, all sorts of stuff. - Attila


Q: Now is my favorite question: What extension would you like to use in your store that hasn't been released yet?

Szabolcs: We're dreaming of 2 modules. :)

The first is an "artificial intelligence" module that has real conversation with customers. Sort of like a support knowledge base, except not with predefined answers, but real communication. Giving answers, based on predefined templates. Knowing about the specialities of the Hungarian language, of course.

IKEA has something similar.

The other one is a module that constantly keeps track of and improves SEO results.

Q: Where do you see WebAruhaz in five years?

Szabolcs: We would like to remain at the industry-leading stage, and even further expand the line of our products. At the same time, expanding our central warehouse and supply more physical shops and receiving locations. However, our main profile would still be home-delivery.

Q: Any recommendations for people evaluating Magento?

Szabolcs: They should jump right in. Take a few weeks to get to know it, then start using it.



With almost 15 years of commercial experience, I dare say that it has no match. Everyone can write the necessary modules themselves, but it is a lot simpler and quicker to just buy the not-so-expensive and needed modules. For a startup shop, 2-4 modules are more than enough to start with.


Q: Any last words you might have.

Szabolcs: Our only big problem with Magento is that most of the functions are tied to the user and admin interface. If you have an outside system to manage the orders, users, newsletters etc, it can be tricky. But it can be done. We only look at reports and write CMS pages from within Magento, everything else is handled by a remote SAP system.

Thank you so much, Szabolcs and Attila, for your time and great answers! It was a pleasure to talk to you.

Want to know how to remain afloat in B2C e-commerce market for 14 years? Ask our guests in the comments.

P.S. If you would like to share your store with Magento society, please feel free to contact me at [email protected]