We are completely sure that the Magento community is full of truly inquisitive and passionate people, who never stop their self-education.

That's why we always strive to tell you about the latest noteworthy Magento books and guides, which provide valuable knowledge and educate us.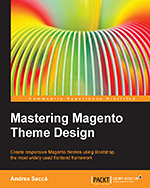 Last Monday we started a
contest
and announced the prize for participants – free e-copies of the
"Mastering Magento Theme Design"
guide by Andrea Sacca.
We are glad that despite the vacation season some of you are still hungry for new knowledge and prefer to take sun baths with a
decent book in their hands
. So, today we are ready to praise the winners and send them the deserved books.
Just to remind you, the
terms of our contest
are, as usually, extremely simple. We asked you to name your favorite Magento theme and explain your choice in a couple of words.
The Magento community did not disappoint us and offered some
original answers
to this not very simple question.
Winners
Here are the answers of our winners:







Nestor


"My favorite theme is always the one I use in the latest project. In my recent project the 

used

 

theme was Shopper.

"





WINNER





Dustin Nordquist


"My favorite theme is the Argento theme. It comes with some great extensions that streamline a lot of tasks for users."



WINNER





Daniel


"My favorite Magento theme is the default theme. I'm a newbie and I want this book.:)"

..... ..... ..... ..... ..... ..... ..... .....





WINNER




We congratulate all the winners and ask them and all our readers to stay in touch as we are going to continue holding book contests in the future.
If you have something to add to this post, please share your ideas in comments below.