Editor's Note:
This post is provided exclusively for our blog by Fabian Blechschmidt, a Magento Certified developer, organizer and one of participants at Magento Hackathon in Berlin.
My dreams and expectations mentioned in the
blog post
about
Magento Hackathon in Berlin
came true. I realized that it is easy to make Magento hackers happy: give them tables, electricity, Wi-Fi and the list of projects. And the freedom to decide what to do.
What we had and what we've done:
- around
2 days
of hard hacking
-
34
awesome Magento developers
- built/extended
13 GitHub repositories.
You can get acquainted with all projects
here
on GitHub.
The
Dependency Injection and Magento
report by Tim Bezhashvyly and the presentation of Karl Spies about
doing Git right
are also
available
.
As usual, the official takeoff started at the bar on Friday evening. We enjoyed our dinner together while chatting over a beer and lemonade and having plenty of time to rub shoulders with each other. It was a good beginning, so everybody got to know people around them.
Having such an opening is important
, if you ask me.
The next two days were very "hard" (bwahaha!). We started with collecting project ideas on Saturday at 9 a.m. after a joint breakfast. Actually, we've gathered project ideas on our website way before the Hackathon began, but new spontaneous suggestions were welcome too. Everybody had one vote on the list, so we could decide which projects should be implemented.
Later we formed groups with three to five contributors. Each group was free to decide how it would proceed. Most groups
brainstormed
, and it was exactly what hackers wanted to do. Then we started to code away.
Coffee breaks and lunch helped refresh participants. During informal talks we updated each other on the progress of our projects and consulted with more experienced developers each time when one of us faced unexpected problems.
In my closing speech here I send many thanks to our sponsors –
Anolo, SysEleven and aheadWorks
– for their assistance and support.
I am glad that I had a chance to meet such great folks at the Hackathon. I am both surprised and amused at their spirit, energy and commitment! Evenings were especially awesome with you, guys!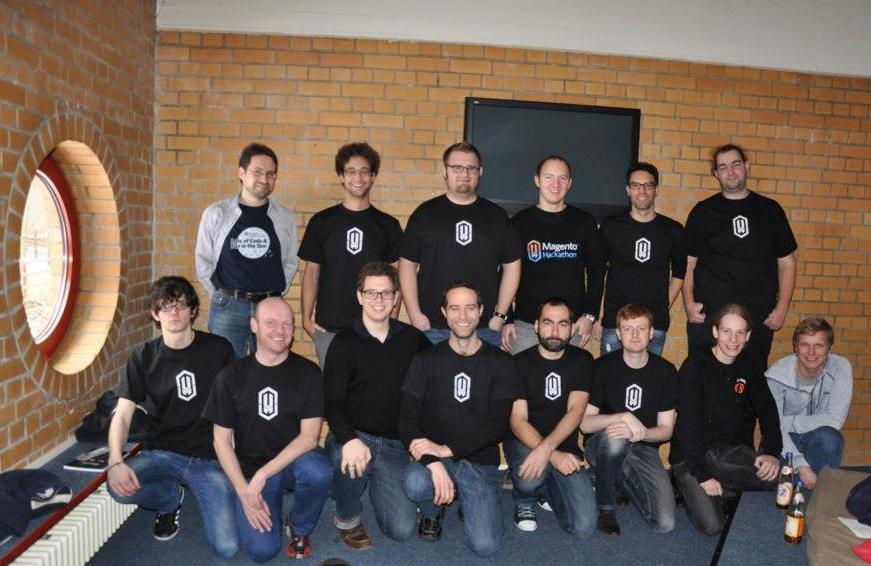 Image courtesy of Sylvain Rayé