It's wise of you to stimulate dialogue with customers and listen carefully to their needs and complaints. But here we expose one major problem - numerous customer requests can be mixed, lost or left unnoticed. Sounds familiar? Prevent this from happening once and for all with the Help Desk Ultimate extension.

Help Desk Ultimate is a perfect customer care and support Magento module with an efficient case tracking and resolution system indispensable for a successful eCommerce business.

We never stop improving our products, and this is the main reason why we release the Help Desk Ultimate 2.10 version. If you are itching to know about 7 new features this extension possesses, welcome to read further.


Department access can be restricted per admin role scope in the Department settings
Staff members will get access only to the specific departments they are allowed to work with.





The Customer Name and Customer Email variables are allowed in the Quick Response templates
Use these variables and add names and emails of your customers in the Quick Response templates.

Admin is able to add comments to an order from the backend ticket thread (if the ticket is assigned to any order)
Necessary information can accompany an order in the form of comments from the backend ticket thread.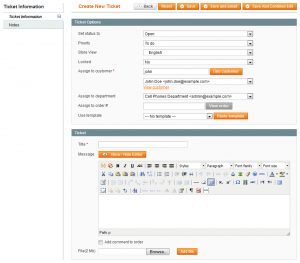 The link to the customer account in the Edit Ticket -> Ticket Options (works with registered customers only)
If a customer is registered, you can reach his/her account straight from the Ticket Options.

The Close Ticket option for a customer
When the issue is solved or not actual anymore, customer can close the ticket on its own. A store administrator will be informed.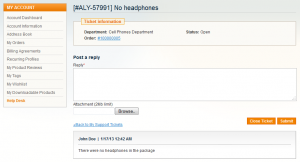 Department sorting on the frontend
Now you can determine the order of the departments shown on the frontend.

Mass-action is allowed in the email rejecting Patterns List
Choose the patterns you want to edit and turn them on/off or delete right from the Patterns List all together.





In the Help Desk Ultimate 2.10 version the following issues are fixed:

* Issues after deleting email gateway (extension stopped email parsing)

* Incorrect notification template was used while creating a ticket from the order in the backend (via Submit Comment And Create Ticket form)

* Space character is now ignored in the Default admin ticket status field

* HTML parsing improvements (" " wasn't parsed correctly)

* Incorrect CSS for the header in the customer area

* Translation file is updated

Your active support period allows you to download the Help Desk Ultimate 2.10 version absolutely for free!
Learn more about Help Desk Ultimate on the product page.