Every Magento store is a brand new world that urges a very specific individual approach. We take into account many merchants' needs: collect their requests, store them at one place and then consider for a new release. This is exactly how the Points & Rewards 1.6 version was brought to life.

The Points & Rewards extension offers the built-in referral system with flexible settings, so that you can reward your customers for inviting their friends as well as for their referrals' purchases. Your customers can also earn different number of points for different actions they perform.

I bet you wonder what the update of the Points & Rewards module is about, right?

Look through its features and find out whether it contains the one you are waiting for.




The automatic update of customer points balance if an order is refunded/cancelled (separate Cancel earned points and Restore spent points options)
It is possible for merchants now to cancel earned and restore spent points automatically when the order refund has been made or a user cancelled a purchase.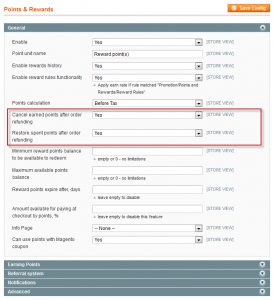 The backend option of calculating the earned points Before Tax / After Tax
Merchants can provide points to customers, based either on "Before Tax" or "After Tax" order amount.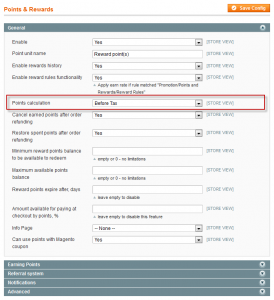 Integration with the Marketing Segmentation Suite module
Integration of the
Points & Rewards 1.6
with
Marketing Segmentation Suite
allows you to present extra points to different groups of customers according to your marketing plans. You filter your client base by rules created in the MSS, and then your selected target audience obtains points on their accounts.
Adding points on customer's Birthday event
Transfer some points to users with Birthdays. Define a certain amount of points, and the system will do it automatically on a regular basis.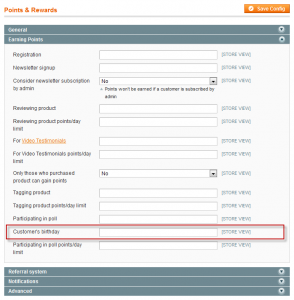 The widget with current points balance
When customers are logged in, they can see their updated points balance on the homepage (product/category page or any other web site page where a merchant inserts the widget).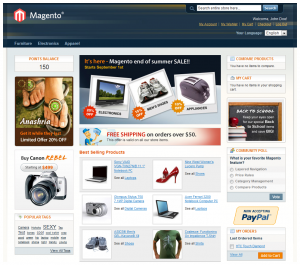 Adding points balance widget to your web site is very simple.

We have fixed the following issues:
* Incorrect points expiration calculations on multi-store (occurred with manual balance update, points for tagging/reviewing)
* Incorrect points conversion rates were applied if a customer was created from the backend
* Issues with applying customer's points for backend orders
*
Apply earn rate if rule matched
option didn't work correctly
* Translation file is updated
Remember!
If your support period is active, you can download the
Points & Rewards 1.6 version
absolutely for free! Want to know more about your support? Visit our
Knowledge Base
.
Currently
Reward Points for Magento 2
is available for both Magento editions. At the very end of the last year Aheadworks released this extension for Magento 2 stores with all necessary functionality and even several brand new features, including lifetime sales earning and spending rates. Please visit the product page of the extension in our store and follow the detailed product description.