Each business activity, and ecommerce is not an exception, has two different sides – creative searches of brilliant ideas and daily routines of managing inventory, customers, orders, etc. And usually, the last ones take much more time and efforts.
Just like the bulk of the iceberg is hidden under the water the main part of each store management routine is carried out on the backend. Managing products, prices, stocks, categories, brands, vendors, etc. is so time-consuming and irritating that sooner or later you start looking for a
solution to increase your productivity
.

Luckily, we have a great tool for Magento store owners able to
save much time each day
 you manage product attributes and other product information.
The
Admin Product Grid extension
allows you to edit product attributes inline and easily create a custom view of the Manage Products grid, which fully meets your commercial needs.
Admin Product Grid Benefits
Time Savings
On the
product page
of the extension you can find a
vivid use case
describing the benefits provided by Admin Product Grid. In a nutshell, the use case describes the situation, when you manage 5 product attributes daily in average. It clearly shows that the process flow involving Admin Product Grid takes just 6 steps to edit the attributes, while the native Magento flow requires 12 steps to be done.
This way, the advantages provided by the module are evident.
Compliance with Business Objectives
Since each business has its own and sometimes very
specific commercial objectives
 it usually needs exclusive backend tools and grid views to perform own tasks. Using Admin Product Grid you are able to create "100% right" Manage Products grids, containing all necessary attributes and special columns organized exactly as you need.
Advanced Control
The module provides you with
advanced control facilities
, which embrace automatic data validations, the opportunities to make critical attributes not editable or undo recent changes. All these allow you to reduce the number of human errors and needless corrections.
Features
Custom Grids
The module possesses multiple features designed to help you create truly
convenient and user-friendly
Manage Products grids:


Add new product attributes (size, color, brand, etc.);


Add special columns;


Delete default columns;


Change column positions within the grid;


Easily find the columns you need in the Grid Customization pop-up;


Define the image thumbnail width;


Determine the maximum number of associated/related products.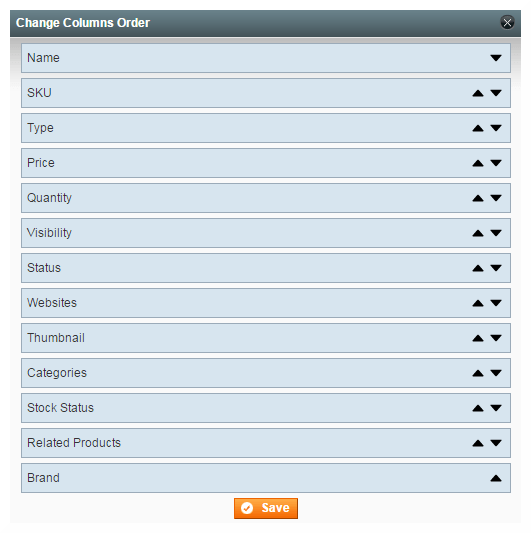 Change Columns Order Pop-Up
Inline Editions
The main and possibly the most advantageous feature of this extension is the
inline edition
. Using Admin Product Grid you are able to change product names, types, prices, quantities, colors, brands and any attributes you need directly from the grid without excessive page views:


Conveniently edit product attributes inline;


Save changes instantly without reloads (powered by AJAX).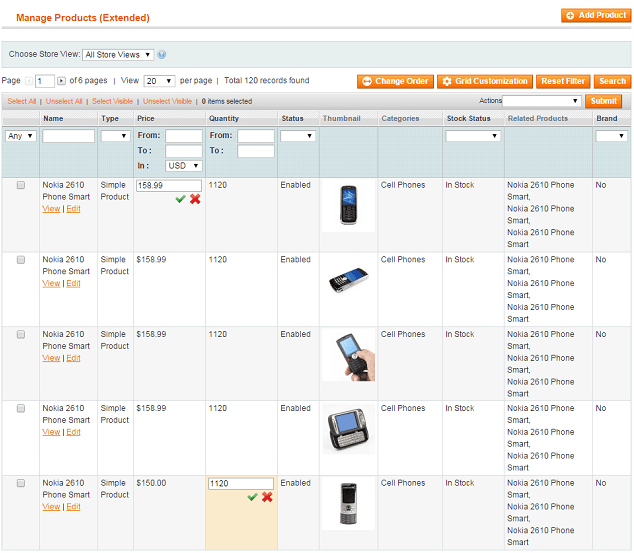 Manage Products Grid
Editing Control
The options provided
for the control
of editing allow you to:


Automatically validate input attribute data;


Make critical attributes not editable;


Undo recent changes.


Instant Checks
You can also easily
refer to the changes
you made right from the Manage Products grid. For this purpose, the Manage Products (Extended) grid provided by the extension contains links to frontend and backend pages of corresponding products.
Conclusion
Admin Product Grid
is a new  product in our portfolio, but our customers have already evaluated the practical benefits of this extension for their daily work facilitation.
Please visit the
product page
of the extension, find the comprehensive functionality description or try the module in action in our
demo store
.
If you have any questions regarding the Admin Product Grid extension, share them in comments below or 
contact our support
, please.