This spring, webmasters and site owners with bated breath are waiting for the new algorithm update announced by Google recently.

It greatly differs from other Google's updates for several reasons.

First of all, we exactly know the starting date of the modification – April 21. Secondly, Google announced this date publicly, explained the consequences and even provided the ways to avoid penalties. That's not common, at least. And everything unusual usually worries.

So, in order to dispel our own and your anxiety we tried to understand the threats and opportunities of the upcoming changes for online merchants.
Google Mobile-Friendly Algorithm

According to Google itself, this new algorithm is going to significantly expand the influence of "mobile friendliness as a ranking factor" and display more content from apps in search results.

This actually means that the mobile rankings will change greatly and current leaders will apparently be deposed. The situation when high rankings in desktop search provide similar positions in mobile search will not happen again any more. This way, Google splits two kinds of rankings completely.

The good news is that Google claims that this new algorithm won't affect desktop search and those merchants, who mostly benefit from this type of traffic, may breathe freely for a while. But, all the rest site owners have a great piece of work to be done before the designated date.

Moreover, Google says that the update is going to last about a week or even more, so we all have some extra time even after April 21.
IMPORTANT
At SMX West, Google's Gary Illyes explained that site updates for this algorithm would be considered in real time. So, site owners may hope that their positive changes will be noticed fairly quickly.
Check Your Own Mobile Status

The specific feature of this update is that along with the delay Google provided an ad hoc tool for site owners, which helps to check mobile friendliness of your pages.
Note: This update operates on the page level. This means that your site will not be affected by few not mobile friendly pages.

The second way to find out the answer is to check out the Mobile Usability Report in your Webmaster Tools. In this report Google specifies the pages, which do not comply with its requirements.

Or you can just find the pages of you site in mobile search and discover the sign "Mobile-friendly" next to it.


IMPORTANT
Your site is either mobile-friendly or not in the eyes of Google and there is no middle ground. Currently Google is not going to estimate the scale of your adaptation to its requirements. Perhaps, it's a matter of time.
Mistakes You Should Not Make While Preparing Your Site for the Update

Blocked JavaScript, CSS and Image Files
Allow Google bots to see your site the same way as real users are able to do. So, don't prevent their access to JavaScript, CSS and image files.

Irreproducible Content
Avoid an unplayable content for your mobile version, including certain types of videos, license-constrained media or media that requires Flash.

Wrong Redirects
In those cases when you have separate mobile URLs, you should redirect mobile users to appropriate mobile URLs.

Mobile 404s
In some cases site servers provide accessible content for desktop users, but deliver 404 error pages for mobile users. Instead of this, you should redirect them to equivalent and valid mobile pages.

App Download Interstitials
Do not block the view of pages trying to offer to download the site's native app. For the purpose, use an HTML banner on the top of the page.

Wrong Cross-links
This situation appears when desktop-optimized pages direct to the mobile version and vice versa. Check your links and make sure that they point to correct equivalent pages.

Slow Mobile Pages
Make sure that the pages of your mobile version are downloaded quickly and make no frustration for users. You can check your performance using Google PageSpeed Insights.
More Specifics

Google announced that this update is going to be even bigger than the Panda and Penguin updates, and revealed some other hints we can use for our own improvements.

Optimizing emails for mobile search is becoming more and more important since Google displays emails in personalized search results. So, the upcoming update will possibly push the usage of the Schema markup to let Google surface marked-up emails appear in browser-based search.

One more considerably new thing, which may change the traditional approach to the process of creating quality mobile experience for users, is mobile apps. Google tells that it will consider "high quality" apps among positive ranking factors in mobile search.

This way, those sites, which have both a mobile website and mobile app will apparently greatly benefit from this.
Conclusion

The main Google's goal of new Mobile-Friendly Algorithm is to provide better mobile experience and, no doubts, it will be consistent in its efforts. So, site owners have no other way out, except of accepting the game rules.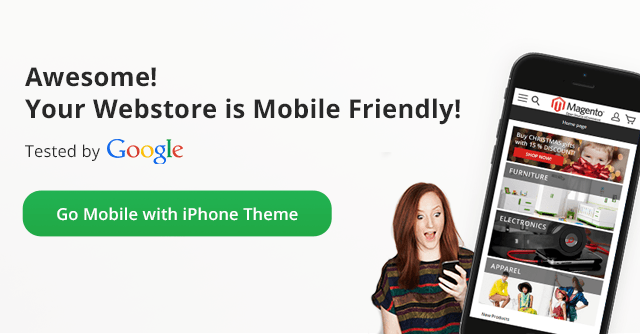 In this regard, Magento store owners have an excellent opportunity to go mobile easily with iPhone Theme 2. It is designed exactly for m-commerce needs satisfaction considering best mobile user experience practices.

Please visit the product page of this extension, which contains all features and benefits you can get with our product. You can also visit our to try in action its highly required functionality .

If you have something to add to this post, share your comments below or contact our support, please.