There are no trifles, when you sell products online.

The native Magento PDF printouts configuration is pretty scarce and requires from you significant programming skills, if you want to breathe more uniqueness to your order accompanying documents.

But, you still have a chance for an elegant overcoming of this obstacle and create professionally looking and respectable invoice and shipment printouts using the Better PDF Invoice extension from our partners.
Better PDF Invoice

The advanced functionality of Better PDF Invoice allows you to design your own nice-looking printouts from the Configuration section of your Magento.

General Settings
The extension allows you to provide design consistency for your PDF documents as it has general settings for order confirmations, invoices, shipments, and credit memos.

New configuration options include:


Margin and font settings;
Table settings, including borders, headlines, cell paddings;
Postal codes and postal address position swaps;
Adding a phone number to the delivery address.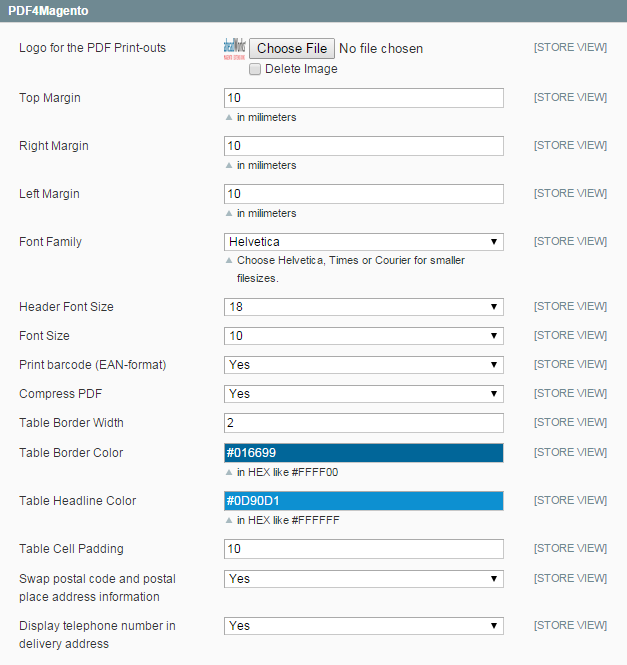 General Settings

Individual Settings
Except the general settings mentioned above the module provides you with individual configuration options for each PDF document.

Actually, these configuration options have mach in common, including Header Headline, Header Text, Footer Headline, and Footer Text.

Some options are only common for certain documents, as shown in the table below.

Table. Individual Options





Picklist Printouts
Picklists are an absolutely new documentation form for Magento and allow you to better organize your product logistics starting from the warehouse.

Packlist PDF printouts appearance is settled separately via the dedicated configuration section containing multiple setting options.

You can also generate and print packlists directly from the Orders grid even prior to shipment submissions. This functionality also allows you to print packing slips for multiple orders in one click.
Conclusion

So, if you want to provide your customers with awesome and informative document printouts, the Better PDF Invoice extension is just for you.

We've created our vision of good-looking printouts for online store documents and now you can examine their images on the product page of the extension. There you can also create your alternatives using our demo stores or walk through the related documentation.

If you have something to add to this post, share your comments below, please.
Subscribe to our RSS.