A festive time is always a busy period for both merchants seeking to introduce products in the best manner, and for customers rushing to give presents to their dear people.
Today we all are getting ready for beautiful St. Valentine's Day, which is going to be amazing this year, as always. And the great news is that Magento Merchants still have enough time to make their in-store promotions just great, and
take advantage of our special offer
.
St. Valentine's Day Offer
In order to give you some extra chances for plentiful sales we'd like to make you an advantageous offer.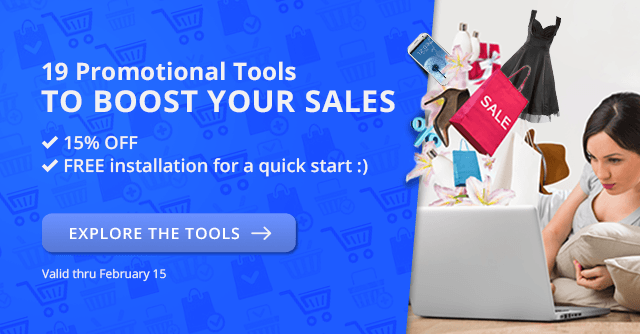 It allows you to purchase one or several sales motivation Magento extensions and
save 15%
. Additionally to the discount we provide you with the
free installation service
you could prepare for the upcoming shopping boom. The offer is valid through February 15.
Vivid in-store promotions and competent sale motivations are able to attract new customers and boost your sales, especially that 
this year you have all chances for the hit
.
St. Valentine's Day Sales 2015
According to National Retail Federation, this year St. Valentine's Day is going to be a true success for merchants since they seem to be able to get benefits from the
serious purchasing intentions
recently voiced by the majority of customers. Refer to the infographics below.
Infographics
And now, when the potentiality is revealed,
check a short list list
of some powerful and flexible Magento extensions included in our special offer, please. You can benefit from their functionality, and we'll take care about the installation.
Sales Motivation Extensions

Gift Card Certificate
The
Magento Gift Card
extension
allows your customers to purchase gift certificates
and send them to their friends and spouses. This extension is perfectly suitable for the occasion and truly popular among customers as it allows shoppers to congratulate their special people with certainly valuable gifts.
Cards can have any value and you can also update their balance from the backend. Customers have an opportunity to checkout with gift cards and use them both for the whole order or combined with cash.

Gift Wrap
One more extension offered timely within our special proposal is
Gift Wrap
. Thу module provides you with an opportunity to
organize gift wrapping in your store
.
Specific labels added to the products allow customers to make sure that this particular product is available for gift wrapping. They can wrap products individually or in groups and left gift messages.
Customers are able to check their wrapping/boxing specific options from the My Orders section, as well.

Add Free Product to Cart
The
Add Free Product to Cart extension
enhances the native Magento functionality and allows you to
automatically add free products to carts
of your customers. The module can also offer additional products with specific discounts or provide your customers with free shipping of certain items.
The information regarding additional products and the benefits offered may appear in a pop-up window or products can be added to carts without any notifications, which is always a great daze for your customers.
Use this module and surprise your customers with free products and other pleasant things.

Event-Based Discounts
The module is especially useful for the merchants, who'd like to take advantage of special occasions, just like St. Valentine's Day, improve their loyalty and get new customers.
The
Event-Based Discounts
extension allows you to
specify multiple kinds of promotional discounts
automatically and apply them to products based on specific rules or certain events, e.g. order placements, cart updates, logins, or new registrations.
The provided timer motivates customers to accomplish their purchases ASAP.

Countdown
If you want to attract additional attention to your promotions, the
Countdown extension
is the thing you need. A reverse timer placed on product pages or the home page of your site
convince customers better than any words
.
You can specify not only the position of your countdown timer block, but also its appearance and additional elements, including active URLs, titles, etc.
The functionality provided by the extension allows you to synchronize countdown operation periods with the initialization of certain products and activation of definite shopping cart rules.

Pop-Up+
The
Pop-Up+
extension adds
astonishing pop-ups
to the pages of your site, which you can use for any purpose. This kind of promotions will certainly be noticed and kept in minds of your customers.
Rich configuration options allow you to make pop-ups look natural on the pages of your store. You can determine the duration and auto-hide time for each window, the number of shows for each pop-up, and number of displays per customer.
The appearance of pop-ups is also highly customizable, e.g. you can specify window dimensions and its alignment. The built-in WYSIWIG editor allows you to easily create attractive and appealing promotions and notifications.
This is just a sort list of extensions available for advantageous purchases.
The whole "team" is here, waiting for you to be checked.
If you have something to add to this post, share your comments below, please.
Subscribe to our 
RSS
.