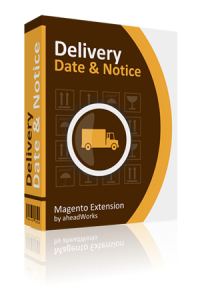 The Delivery Date and Notice extension from aheadWorks doesn't make the checkout process longer – no additional steps appear on checkout page, just two fields which allow customers to choose delivery day and leave a delivery/postman notice when ordering from your store are added on the Shipping Method page.
Don't provide delivery on Sundays or during Easter holidays? Same-day delivery is not available after 16:00? With Delivery Date and Notice extension you can easily indicate any day unavailable for delivery – recurrent day of week, recurrent date, any certain period or one single day.
With flexible Delivery Date and Notice configuration you can set up the delivery schedule convenient both for you and your customers, specify minimal interval between the order and delivery date and indicate the time when delivery is unavailable – all these settings take the minimum of your time and bring the maximum effect.
Features:


Orders can be sorted/filtered by delivery date at backend


Customer can define delivery date. If no delivery date is specified - the nearest available date is used


Customer can specify delivery/postman notice


Customizable time after which same-day delivery is unavailable


Easy-to-tune and flexible unavailable dates/days configuration tool


Minimal interval between the order and delivery date


Easy 2-minute installation


100% open source


30 day money back – satisfaction guaranteed


Lifetime bug free guarantee


Meets Magento programming practices for most versions and customizations compatibility


Free upgrades at least in current version branch


Our excellent support team is waiting to hear from you each business day from 9:00 am to 5:00 pm GMT


You can find more information about this aheadWorks extension on the
Delivery Date and Notice page
.