Valentine's Day is one of the major events on the retail shopping calendar and one of the largest spending holidays following winter shopping season. According to
Statistic Brain
, the average annual Valentine's Day spending is $13.19 billion.
To
attract the attention of your customers
and make the most of this holiday, you have to start preparing your Magento store right now.
Consider the following ideas for your To Do List, which, by the way, show great results for our own store too.
Big promotion on homepage
Make sure visitors know you have something they will be interested in right from the home page. Prominently displayed
Image Sliders
on your site is a sure-fire way to boost sales and attract holiday shoppers. Configure the animation, speed, and effects of banners rotation and let this Magento module do the whole job for you.
[caption id="attachment_30196" align="aligncenter" width="640"]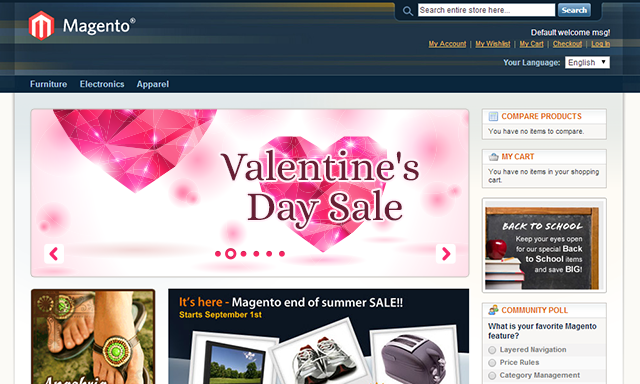 Image Slider[/caption]
Grab your visitors' attention with a limited time offer
You may also want to consider putting in a countdown promotion showing how much time longer the sale/promo is going to last. The visitor will see an eye-catching timer on Home page or any product pages with a small description and call to action text, e.g.: 'Hurry up, this knock out offer only available for 24 hours'.
Countdown
has proved to be a great ready-made solution that will do this for you.
[caption id="attachment_30180" align="aligncenter" width="640"]

Countdown on aheadWorks home page[/caption]
Decorate product pages with valentine-themed labels
Update your catalog and product pages to bring in some Valentine mood. Put little valentine-themed labels to your specials and attract budget-conscious gift givers looking for the perfect present. Set up
On Sale + Product Labels
within 3 minutes and there you go.
[caption id="attachment_30193" align="aligncenter" width="640"]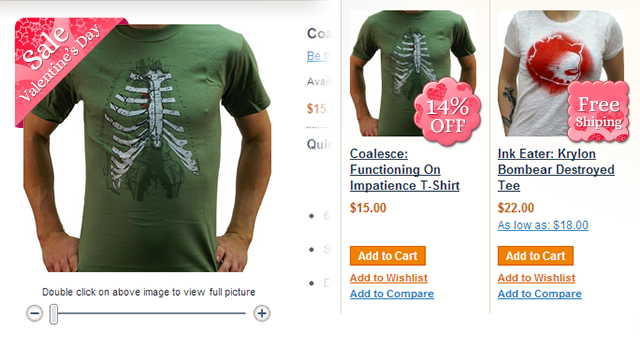 Holiday labels on catalog and product pages[/caption]
Offer gift wrap for purchases
Make your customer's life easier by offering them to wrap their chocolate-floral-lingerie presents with holiday themed bags. Use the
Gift Wrap
add-on to organize a wrapping service. Upload wrapper image, add description, and set up the price at the backend. The visitor will see a gift wrapper label on the product page and can choose the one he likes at checkout. Don't forget about gift notes! Customers can include unique notes upon ordering on the checkout page.
[caption id="attachment_30187" align="aligncenter" width="640"]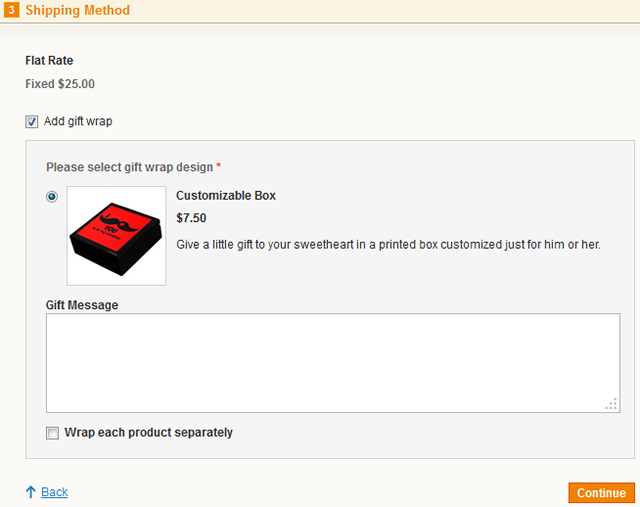 Gift wrapper at checkout[/caption]
Sell gift certificates to last-minute shoppers
Digital gift card is a simple solution for last-minute holiday shoppers. Consider the following: it is one day away from the holiday. In a rush, people run to their favorite website to find something. Unfortunately there's nothing available. But wait, you're selling online gift cards! Bingo, they get a
Gift Certificate
, and breathe easily. The comprehensive functionality and code using statistics makes this gifting solution a 'must have' to store admins and appealing to gift card owners.
[caption id="attachment_30190" align="aligncenter" width="640"]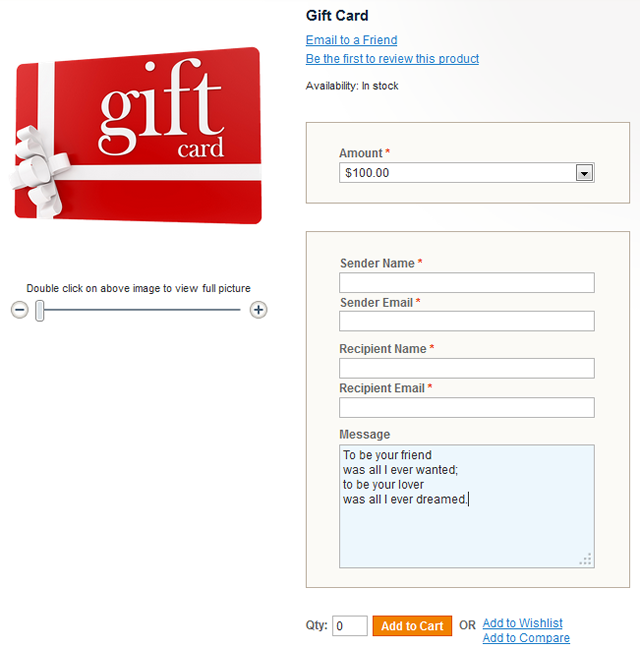 Buy gift cards with any values and leave a message.[/caption]
Create 'Free Gifts'
Choose suitable items from your catalog and offer them to your clients free of charge or at a reduced price. The
Add Free Product To Cart
module is a perfect solution to offer a promotion where shoppers receive a free gift at checkout! For example, if a customer spends $50, he receives a $5 gift, or if he buys X gets Y free, etc. This is a great way to get customers back to your store.
[caption id="attachment_30174" align="aligncenter" width="640"]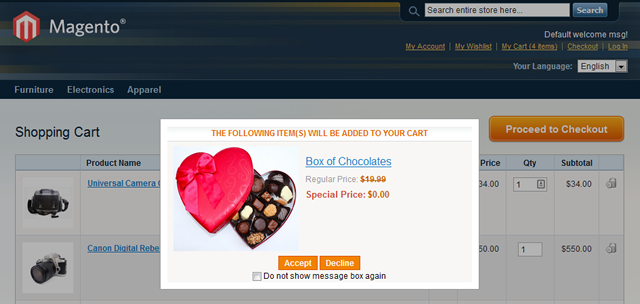 Add Free Product to Cart[/caption]
And the final touch – make special offer
You have a visitor with the intent to buy. He has put items in his cart and close to becoming a customer.
Attract the attention of your visitors at checkout
and make them the offer they couldn't resist!
Display promotional banners
on Shopping Cart page maximizing the profit from cross-selling. Target your promotional messages based on customer groups and cart items' attributes.
[caption id="attachment_30199" align="aligncenter" width="640"]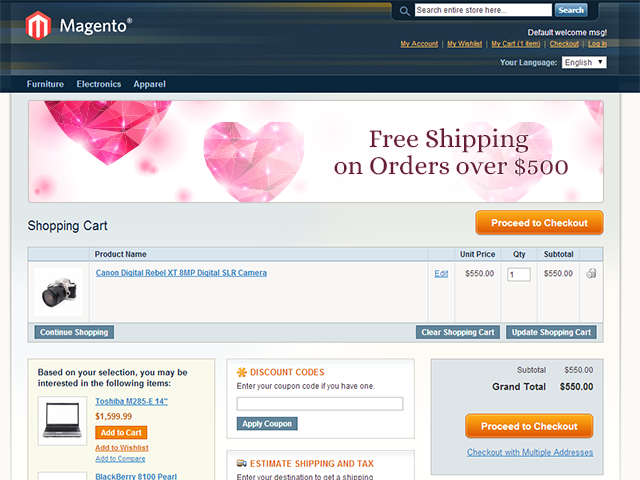 Promotional block based on subtotal[/caption]