Stimulate your customers to invite MORE NEW friends to your online store. The "referral's orders limit" condition implemented in Magento extension Refer a Friend v.1.3.3 allows you to restrict the quantity of orders that will take part in discount calculating. Buy Refer a Friend extension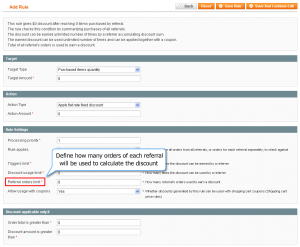 Now you can set the "1" value in this new field and only the first purchase of each invited friend will bring in a discount to referrer.

The following bugs have been fixed in Refer a Friend v.1.3.3:


Sorting doesn't work at Refer a Friend Statistics page
Incorrect extension disabling
Discount is displayed incorrectly on checkout in Magento 1.4
Compilation causes fatal errors in Magento 1.4
Incorrect window title in backend in Magento 1.4


Please find more information about this aheadWorks extension on the Refer a Friend page.