Included into our featured Magento 1 extensions block RMA is widely used and popular among our customers.
Passing through multiple functionality improvements the module became one of our most sophisticated extensions both by the implemented logic and number of available features.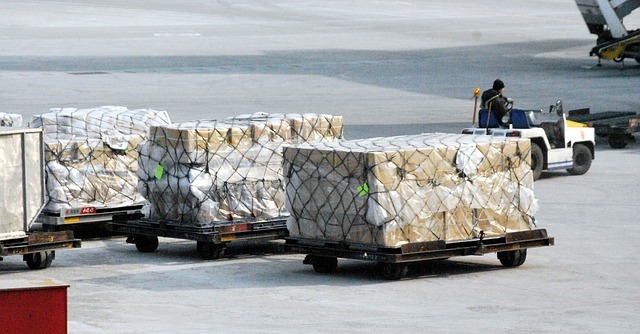 Recently we've updated
the RMA extension
with new valuable features entirely based on feature requests from our customers. So, now RMA provides you with even more opportunities to handle RMA requests properly and keep shoppers loyal to your brand no matter what happens, including product returns.
RMA 1.6 New Features
Automated Stock Updates
The most frequently asked feature is automatic stock updates available for Approved or Resolved (Refunded) requests. As soon as a request goes into the Approved or Resolved status the Save and Update Stock button appears in the RMA edition area. It enables you to update the stocks of all returned items in just one click without necessity to edit each product one by one. The functionality saves much time and eliminates any manual errors during inventory updates.
In the case you try to update it once again, you will get a popup notification warning that this operation has already been performed.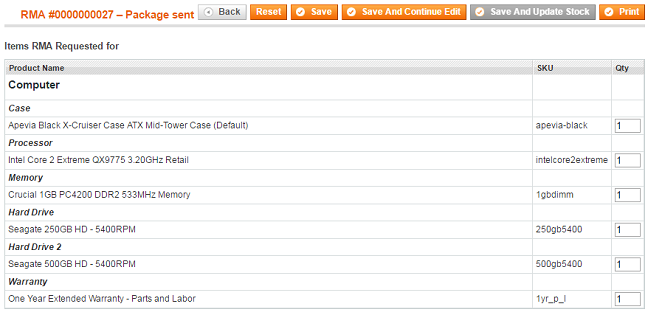 Automated Stock Updates from the Backend
Automated RMA Request Approvals
The next enhancement available with the latest extension version is the automatic RMA request approvals feature that allows you to accept all requests by default regardless of their reasons and relevance. Of course, such attitude is greatly impressive for customers and makes them change their negative attitude from the outset.
You can set up this feature in the General Configuration area under
System -> Configuration -> Aheadworks Extensions -> RMA -> Automatically Approve RMA Request.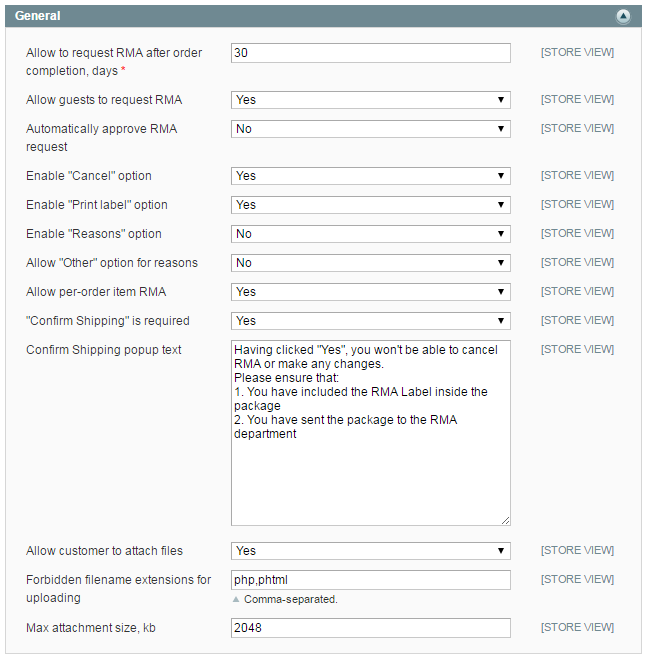 RMA General Configuration
More Features
RMA 1.6 has some more new features additional to the provided above. Firstly, with the new product release you get a chance to enable or disable frontend file attachments by customers. The RMA requests without custom attachments are more straightforward and simplify requests processing.
And, finally you can allow or disallow customers to cancel RMA request from the Customer Account Page. Both these features are available under
System -> Configuration -> Aheadworks Extensions -> RMA -> Allow Customers to Attach Files and -> Enable Cancel Option (see the screenshot above).
Conclusion
You can find additional information, purchase or update
the RMA extension in our Magento store
. Also, you can refer to the
technical documentation
and try this extension in action in our
demos
.