Merchandise returns are an inalienable detail of any online sales process. Despite all merchants strive to reduce returns they still cannot eliminate them completely.
Moreover, the average merchandise return rate is considerable nowadays and may take up to
20-30% in overall sales (Source: InternetRetailer.com)
, especially for apparel and other soft goods. The average return rate of U.S. retail stores is about
10%
, according to the Annual Return Survey by The Retail Equation.
Note: Return frauds and abuses are 6.1% of total returns. Source: Annual Return Survey by The Retail Equation.
So, any RMA process requires proper organization and the
RMA extension
is the
right choice
for this purpose. It allows you to arrange and mange returns easily, increase customers' satisfaction, avoid unnecessary losses, and protect yourself from frauds.
Features for Customers
Intuitive Frontend Interface
The frontend interface of the extension is simple and intuitive and allows customers to
submit their RMA requests in just several clicks
. They just need to select the required order and item they want to return, specify the package status and request type, and choose the reason of the request.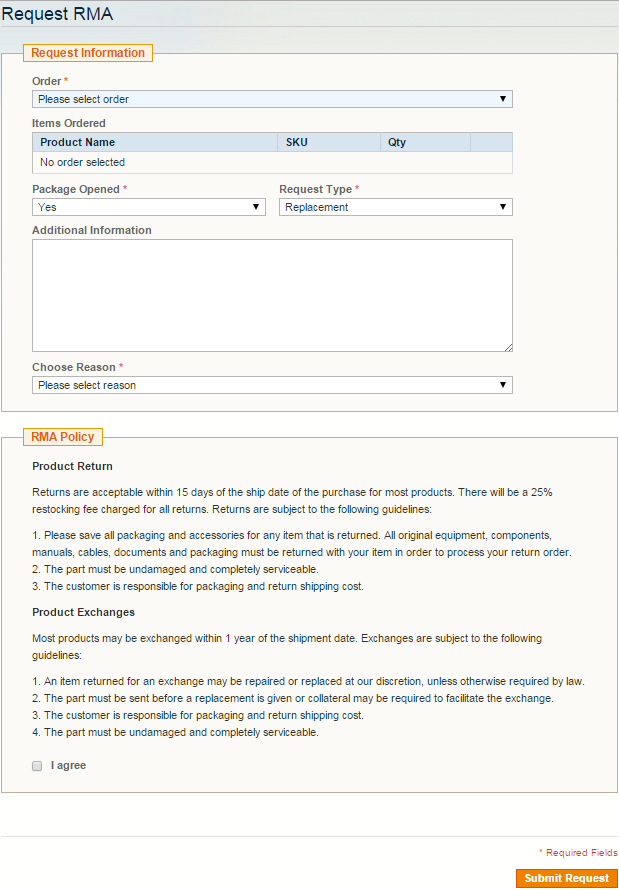 RMA Frontend Interface
The
"Additional Information"
field provides customers an opportunity to describe their particular situation in details, while the RMA Policy specification allows them to be confident regarding the legitimacy of their claims.
Anonymous RMA
Magento merchants are able to permit
 guests make RMA requests
, if they just specify an email and valid Order ID.
Features for Merchants
Easy RMA Tracking
The RMA extension provides merchants an opportunity to
assign unique IDs
 to each RMA request and use them for packages tracking. This option prevents fraud returns while the
"Print Label" option
allows customers comfortably print out their RMA labels containing item details, including their RMA ID.
RMA Policy
Magento merchants are able to compose and put in front of their customers the Terms of the 
RMA policy
. No customer is able to submit an RMA request until he accepts the RMA policy terms.

RMA Policy
Ability to Create RMA Request from Backend
Magento admins possess a valuable opportunity to create RMA requests from the backend for individual customers. They have two opportunities for that:


They can add an RMA request from the "All RMA" grid (Sales-> RMA-> All RMA);


Or via the "Create request from this order" button (Sales-> Orders-> Order View-> RMA Requests page) on the "Order View" page.


Requests History
The module saves all RMA requests and provides you their
complete history
from the very beginning. You can also export all requests to the CSV format and have the data ready at hand any time you need.
RMA Requests Tab on the Order View Page
The ability to create or browse RMA requests from the Order View page is greatly valuable for Magento admins, as order IDs usually come first from customers during any RMA request creation. With this option you can instantly find out any RMA requests related to this particular order or create a new one without any further embarrassing actions.
Unlimited Request Types, Statuses, and Reasons
The module also provides ample opportunities for creating and configuring additional RMA attributes, including RMA
types, statuses, and reasons
. Separately and together they make the RMA requests in your store more informative and easy for processing.
You have two request types by default –
replacement and refund
, but you can add any easily add any one you like, e.g. repair, utilization, etc.
Exactly the same way, you can
add multiple new statuses and reasons
 perfectly describing specific circumstances your customers face depending on particular qualities of your products and specific terms of the RMA policy.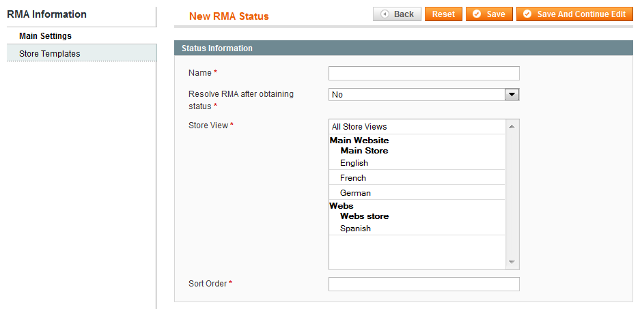 New RMA Status
Option to Return One Product per Order
If enabled, this functionality allows customers to create RMA requests of one definite item in multiproduct orders; otherwise they will be obliged to return the whole order at once.
Total Control over Every Aspect of the Extension
The flexible and powerful configuration options of the extension allow you to
control every aspect of the functionality
and tune it on your own:


Specify a return-free period since the order completion;


Allow RMA guest requests;


Enable/disable the "Print Label" option;


Enable/disable the "Reason" option;


Determine maximum attachment file sizes;


Define forbidden attachment filename extensions;


Specify the text for shipping confirmation dialog;


Enable and configure your RMA policy;


Enable and configure email notifications;


etc.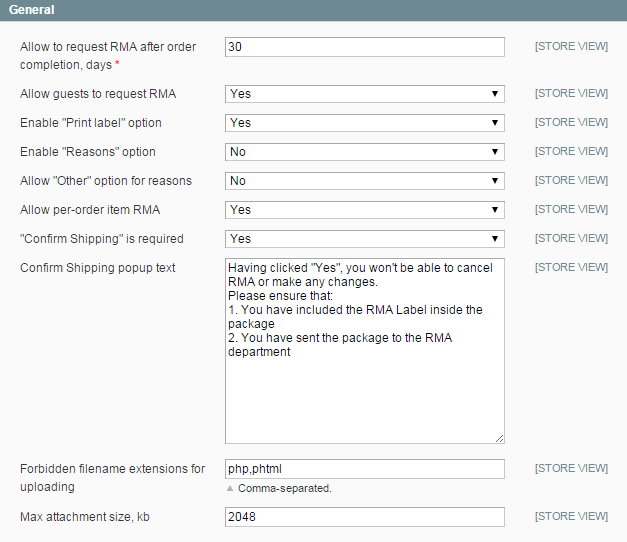 RMA General Configuration
Features for Both
Flexible Email Notifications
The RMA extension allows you to set up and configure
dedicated email notifications
to customers and store admins. This extension is able to send email notifications to both customers and admins (the "All" option",) to only customers, only admins or you can disable notifications completely. You can even specify the name of the RMA department, which is going to be displayed as a signature for outgoing emails.
Customers about RMA
The RMA module provides high-quality return merchandise authorization functionality and is highly appreciated by our customers.
Review by Mitch | Feb 21, 2013
I love this module as it took a lot of hassle out of handling returns.
Customers often sent returns with no documentation; cross referencing them against orders was difficult and keeping abreast of the email logs was problematic.
This extension solved all those issues and the installation service was painless.
Review by NS | Nov 9, 2012
I was searching around for an RMA system for my store to keep track of returns and came across aheadWorks and their RMA extension. This is going to make life easy for us now. We will have all records of RMA's in one single location. Couldn't ask for a better solution for our needs!
We constantly develop the functionality and effectiveness of the
RMA extension
and today you can purchase the 1.5.2 version of the product. The comprehensive description of the extension's functionality and other documentation, including the
Readme
file,
User Guide
,
Knowledge Base
,
FAQ
, are available on the product page.
Have something to add to this post? Share your ideas in comments below.
Subscribe to our
RSS
.