The
Call for Price Magento extension
is the perfect solution for merchants who are looking for a way to display products without exposing the price. It is extremely important while setting up a new product when its price is not established yet or additional negotiations with clients are needed before closing the deal.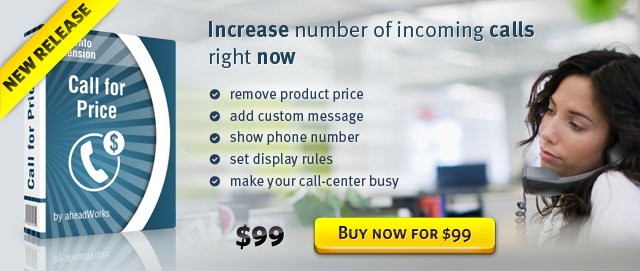 Product price and the default 'add to cart' button can be replaced by image, link, block, pop-up or any other piece of HTML code. The
Call for Price
flexible rules can be applied to a single product, product category, subcategory or the whole store. But when it is necessary to disable this feature for certain items, Magento store administrator can do it with a couple of clicks.
The
Call for Price Magento extension
is used to encourage customers to contact merchants and discover the pricing. During their dialogue the quote for a product can be discussed and the suitable price for both parties can be agreed.
Now when this new module has been officially released, become one of its first buyers! The main features of the
extension
:


Hide price and "add to cart" button


Display custom messages on catalog and product pages (HTML support)


Flexible settings via rules


Product level settings


Don't lose the opportunity to
buy this highly useful module
for the popular Magento eCommerce framework. Visit the
Call for Price page
and learn more about the extension now.