We all know that running a business requires much effort and time. A lot of important decisions should be made to find your own formula for success. For eCommerce business, one of these decisions is what business model to choose: eCommerce Purchase or Subscription model. And if we are all familiar with the One-Time purchase business model, subscriptions can raise many questions. 
Today we are going to answer the most popular questions about the eCommerce Subscription Business Model. Let's get started!
How do subscriptions work?
Subscription Business Model implies selling products or services to a customer on a recurring basis. It means that to use or receive the product or service a customer must pay recurring price at regular intervals, usually monthly or yearly.
Subscription businesses are more focused on customer retention than acquisition, as long term relationships bring them regular revenue and minimizes risks with the help of prepayments.
Can Magento stores do subscriptions?
Yes, Magento stores can offer subscriptions. Although default Magento doesn't support selling products on subscription, it can be done with the help of extensions. 
A good Magento subscription plugin allows selling both one-off and subscription products. It also should support multiple payment methods to make recurring payments as convenient for a customer as possible. Besides, in-built email service and recalculation options will be preferable.
What eCommerce platform is better for subscription businesses?
As mentioned above, on Magento you can offer subscriptions. Besides, Shopify and WooCommerce are the platforms where you can build a subscription based business. But what of these three is the best one for subscriptions? Let's describe each, so you could choose the one that suits you best.
Magento is an eCommerce platform written in PHP, which specializes in eCommerce websites. Magento Marketplace has a wide range of Magento subscription and recurring payments extensions which allow merchants to sell subscription products on their online store. 
As Magento is more technical-oriented and usually requires some coding skills to manage a website, all extensions usually come with detailed guides and sometimes with installation support by Magento experts.
Among the extension you should pay much attention to are:
Advanced Subscription Products for Magento 2

- one of the best subscriptions plugins on the market. It offers

quick subscription setup on multiple products, email notifications, mixed shopping cart, per-plan pricing options, recalculation of totals and other useful features.

Membership for Magento 2

- the extension allows merchants to create membership products and set benefits based on membership ranks.

mPower Subscription & Recurring Payment Solution

- the subscription management solution to allow buyers to make recurring orders on Magento 2. Among the features are convenient subscription management, automatic notifications, customer order details and preferences configuration.
In general, extensions provide all necessary features, that's why it's easy to build and run a business on a subscription-based model.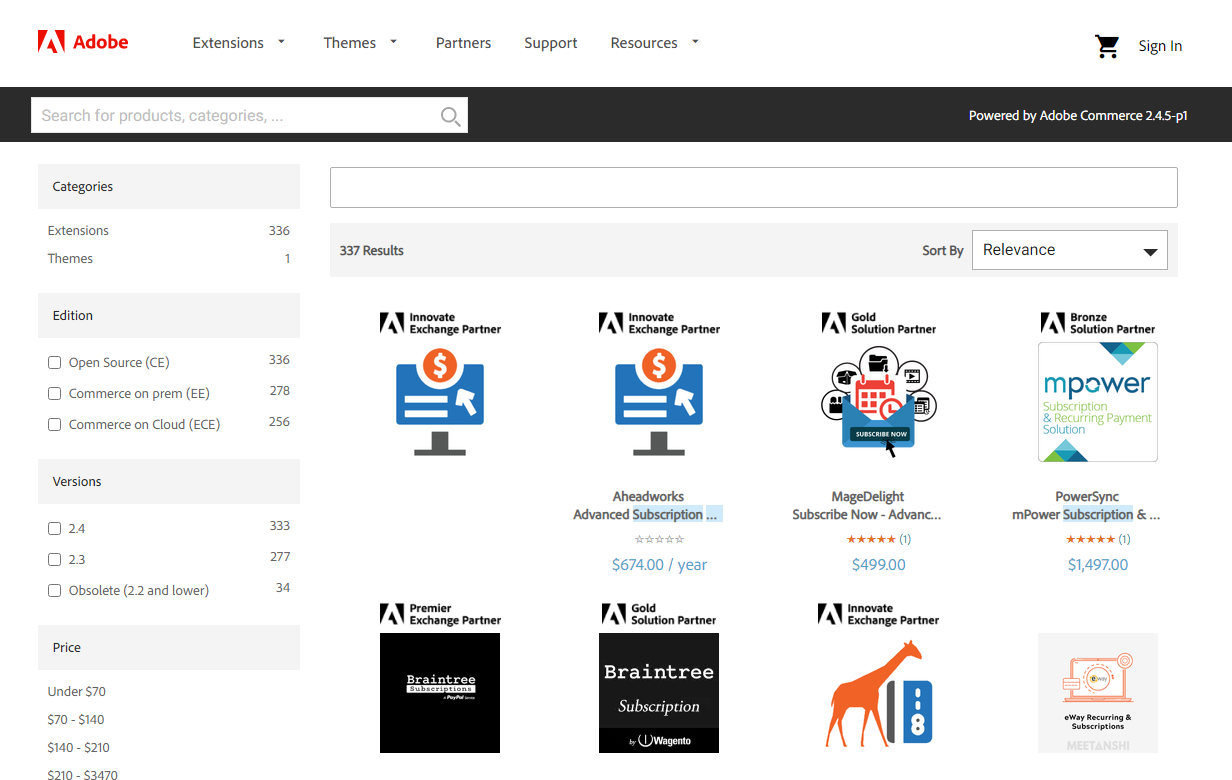 Shopify is a subscription-based eCommerce platform more oriented on small and medium businesses. Shopify offers a variety of features for the users of its subscription services. 
To create an eCommerce subscription business on Shopify you will also need a third-party plugin. Shopify App store offers around 50 plugins to choose from. 
Here are some of the most popular apps:
Rechange Subscriptions

- the app offers quick subscription configuration, mixed cart and automatic notifications.

Appstle Subscriptions

- gives an opportunity to easily create and manage recurring orders, add one-sale products in cart and send personalized notifications.

Subscriptions Recurring Orders

- the app seamlessly integrates with Shopify which makes load instantly on the product pages. Besides, it's also easy to customize  and manage customer subscriptions.
We can say that you can choose Shopify for subscriptions, especially if you have a startup business.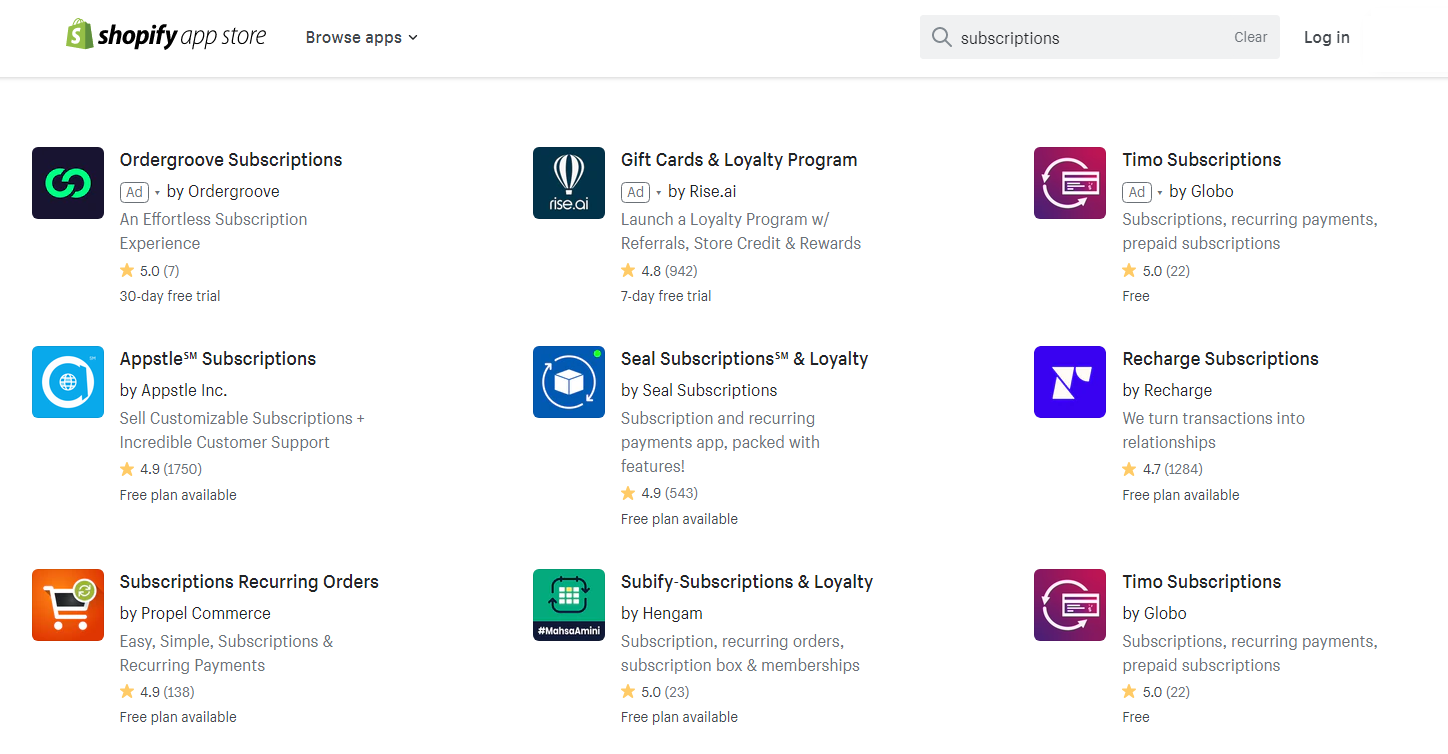 WooCommerce is an open-source eCommerce platform built on WordPress, which means that it's possible to turn a simple WordPress website into an online store.
The platform itself is free, but it requires $199 annually to enable subscriptions on your store. Regarding features, WooCommerce provides you access to multiple payment gateways, support manual renewal payments, sends automatic email notifications and offers detailed reports about subscribers and recurring revenue.
If you have a WordPress website, WooCommerce is a great option to sell subscriptions.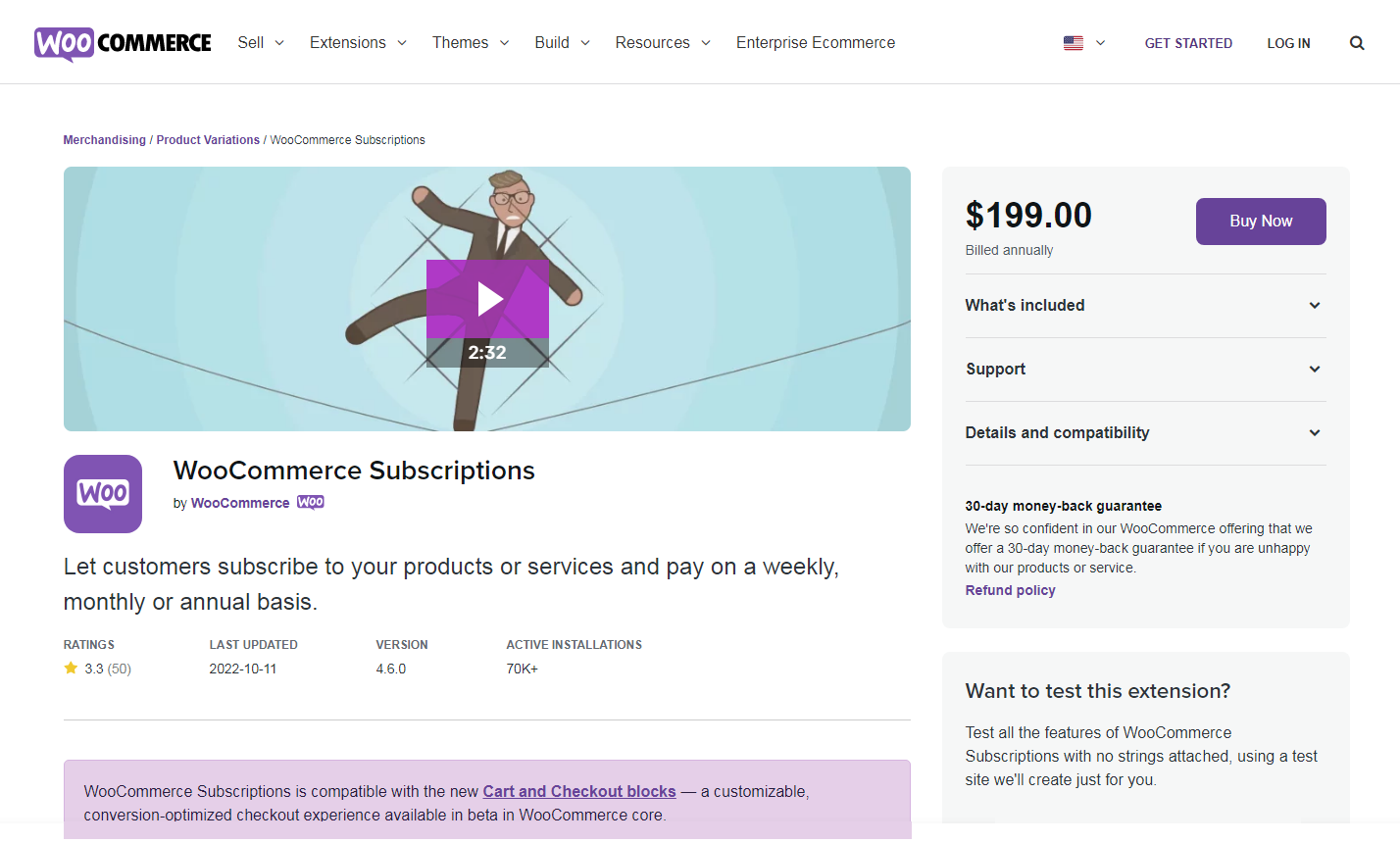 What subscription models are there?
The main 3 subscription models are replenishment, curation and membership. 
The Replenishment subscription model is familiar to all of us. It implies regular delivery of the same product for recurring payment. Often provided with a discount, this type of subscription suits consumers who need the same quantity of a certain product regularly.
The Curation model is based on consumers' curiosity. It provides customers with different products or same products of different flavors on a regular basis. This type of subscription is spread among businesses selling food products or books.
The Membership model is world-known thanks to gyms and different clubs. For the last few years it has also spread in eCommerce. Membership dives access to specific services, products or even privileges for a regular price.
How successful are subscription businesses?
To assess the value of subscriptions for eCommerce businesses, it's enough to look at the following facts:
The subscription economy has grown by 4X for the last 10 years.

Around 80% of adults utilize some subscription service.

UBS

projects subscription business model growth to reach a $1,5 trillion market by 2025.
More and more businesses turn their attention to subscriptions. Today you can even purchase a car subscription to have access to certain functionalities. 
If you still have doubts, you can offer both subscriptions and one-off products in your store.
How is recurrent payment information handled?
In comparison with one time purchases, subscription billing should be regular. It raises a question if there's a chance to store customer payment information, so the charge could pass without customer involvement every time the time for payment comes. 
In general, it depends on your extension or platform you use. Usually the fee will be charged automatically through automatic subscription payment processing, which saves customer payment details in secure payment wallets to use them when the time for a new charge has come.
What are the best products to offer a subscription for?
Food

Skin Care

Books and magazines

Hair dye

Medical products

Products for children

Tea/Coffee/Alcohol

Pet food

Sweets

 Clothes
It's a very short list of product categories to offer subscriptions for. So if you haven't found your products, don't despair. Almost any product can be offered on subscription. If you hesitate, research the market, check competitors, explore new opportunities and experiment, you can always switch to one-off sales again or offer both subscriptions and one-time purchases.
How to build a successful subscription business?
The success of any business is based on a good strategy. Here are the 7 main steps to build a prosperous subscription business:
Make a market research to evaluate your product, target audience and niche.

Choose a subscription business model to adjust your tactics for growth.

Choose

a good subscription software

to suit your needs.

Determine your subscription program stimulus to make sure the benefits you offer to customers won't harm your profit.

Promote your subscriptions.

Work on retention by implementing different rewards, bonuses, etc.

Analyze and evaluate your progress to find out weaknesses and have a room for maneuver.
We hope our article has answered all the questions you have regarding subscriptions. If you want some more information about subscriptions in eCommerce, you can also read:
All About Magento 2 Subscription Management and Improving eCommerce Sales.