In the dynamic realm of business, acquiring new customers is no small feat. The journey from first contact to conversion is a complex dance that demands time, effort, and resources. However, imagine a scenario where you can establish a constant revenue stream without the constant hustle of new customer acquisition. This is where the power of memberships comes into play, transforming how you do business and propelling your success to new heights. 
Consider this: each member who subscribes to your program commits to a regular payment, offering financial stability that is both predictable and sustainable. 
But the question remains: how can you establish a steadfast group of loyal members?
"I want to offer memberships for yoga classes, providing free 10-day trials allowing potential members to try our classes to establish the value and benefit they offer, thereby increasing the likelihood of membership signups."
Foster loyalty and ensure steady revenue growth with the help of Advanced Subscription Products for Magento 2. Seamlessly create and manage subscriptions, entice customers to subscribe, and enhance their experience through a variety of subscription benefits. Our Magento 2 membership extension provides you with:
Trial Period and Membership Activation:

Allow customers to explore your offerings with a complimentary trial period, giving them a firsthand experience of the value you offer.

Effortless Membership Registration:

Simplify the process for potential members as they register by allowing them to easily input their payment details, and sweeten the deal by waiving the initial registration fee.

Seamless Membership Transition:

After the trial period, customers who wish to continue can effortlessly transition into becoming full members, with the initial fee charged based on your predetermined amount.

Convenient Payment Structure:

Beyond the trial period, customers are charged the first installment, followed by subsequent payments according to your defined schedule. If a customer decides to cancel within the trial period, no charges are incurred.
How to create a subscription product with trial on Magento 2
Creating a subscription product with a trial period on Magento 2 using Advanced Subscription Products involves a few key steps. First, you'll need to install and configure the extension, ensuring it's set up correctly. Next, it's time to craft subscription plans tailored to your products. In the subscription plan settings, you'll discover the option to fine-tune the subscription model and seamlessly incorporate a trial period within the subscription plan. 
To better understand the process, let's analyze the example below.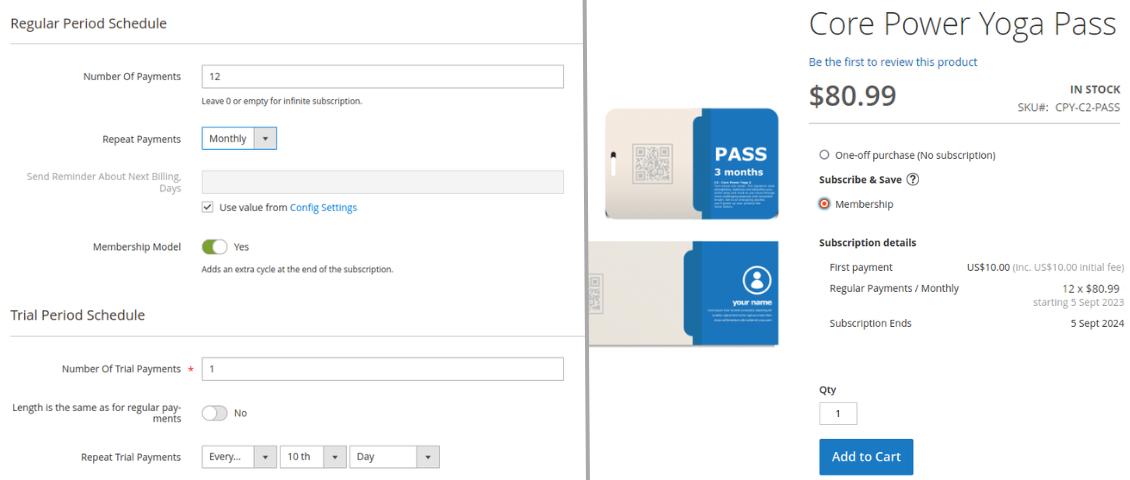 Settings made from the backend:
Name and enable subscription plan; define its sort order

Enabled Initial fee: Yes

Enable Trial Period: Yes

Allow Customer to cancel Subscription: Yes

Number of payments: 12 (annual membership)

Regular Payment / Repeat payments: Monthly

Membership Model: Yes

Number of Trial Payments: 1

Length is the same as for regular payments: No

Repeat Trial Payments: Every 10th day

Regular Payment Price (% of product price): 80

Trial Payment Price (% of product price): 0

Price Rounding: Up to XX.99
This way, you can provide a 10-day free trial to subscribers. 
Why do companies offer trials on subscription?
Offering a trial brings several benefits to both businesses and potential customers:
1. Customer Experience Exploration
Trials allow customers to explore and experience your product or service firsthand, helping them understand its value, features, and functionality. For subscription-based services, trials become particularly valuable. They allow users to delve into the service's intricacies, exploring its various offerings, and getting a real taste of what's in store for them over the long term.
By reducing or eliminating the initial cost, customers feel less risk when trying out a new product. This encourages them to give it a chance without worrying about wasting their money.
Comparing the trial-to-purchase journey to test-driving an automobile, when customers directly experience the real benefits and positive outcomes your product or service offers during the trial period, the inherent value of your offering becomes exceptionally evident. This firsthand understanding, gained through their own usage, significantly enhances their perception of your product's worth. As a result, this experiential clarity often leads to increased conversion rates. Customers, having already validated its value in their unique context, are more inclined to move forward with a paid subscription or purchase.
Advanced Subscription Products for Magento 2
Advanced Subscription Products seamlessly enhances your business's subscription offerings through a diverse range of powerful features, including mixed cart functionality, support for multiple subscription plans, comprehensive email notifications, and adaptable payment methods. Discover the full potential of this Magento 2 membership extension and revolutionize your subscription management for heightened customer engagement and substantial growth.