The importance of web hosting for the digital market grows at tremendous speed. Given this, website owners should always keep an eye on its updates in order to stay on the cutting edge.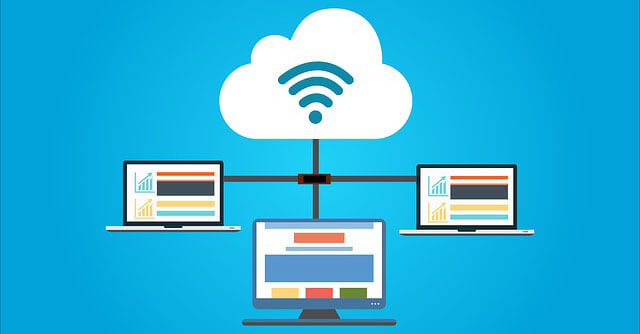 Today, we will discuss the latest web hosting trends that should be definitely considered by every online business. So, let's get started with cloud hosting.
Cloud Hosting
It's predicted that soon,
cloud hosting solutions
will prevail over the entire web hosting market. Due to the high security and uptime, thousands of online brands opt for them.
Briefly, cloud hosting works in the following way: the cloud server itself consists of
physical servers
located in a secured room. Websites are hosted on virtual servers that obtain resources from this network of physical servers. Still, cloud hosting services are not that expensive, which makes them quite
affordable
for businesses with small budgets looking for a good value for money.
Although cloud servers are based on physical ones, in fact, they are virtual, which excludes the possibility of any
hardware issues
slowing down or even interrupting website's work. So, if some outage still occurs, the system will automatically switch to another server to prevent the site from going offline.
All the above benefits make cloud hosting an undisputed web hosting trend in 2018. But what are the other equally important tendencies determining the further course of web hosting? Let's find out.
New Authentication Tools
To keep website securely protected against unauthorized access and any other suspicious activities, one should always implement the latest authentication protocols. Everything changes too fast, and traditional username and password input values do not guarantee
complete website protection
anymore.
Instead, this year, session-based
two-factor authentication
is the solution highly demanded by numerous web hosts.
Mostly, such authentications suggest sending email or text messages containing a one-time secure password used to identify a user. Alternatively, one can use
CAPTCHA
– a tool that suggests reproducing image texts to confirm the user identity.
With these new tools, user authentication became a more complicated and
intricate
issue for internet hackers, so their choice becomes just obvious.
Automated Backups
Backup automation implies making reserve copies of entire databases without any manual activities required from users. The
Joomla
and
Wordpress
platforms already offer CMS-specific automated backup solutions saving website owners from tiresome data archiving.
Thanks to their quick operational speed, automated backups can be easily performed on monthly, weekly, daily, or even
hourly
basis.
Now, let's explore such web hosting trend as website builders.
Advanced Website Builders
With such technologies as
JavaScript-based frameworks
,
HTML 5
, and the like already in action, internet brands can now develop their websites with a minimum of fuss. The above technologies are actively implemented in the latest site building software, both paid and free, making it absolutely straightforward in use.
This way, hosts that offer advanced site builders will be definitely popular and therefore highly demanded this year.
New Hosting Hardware
Advanced web hosting technologies require more powerful hardware. So, besides enhanced operative memories and advanced processors, many hosts now tend to use
Solid State Disks
(SSD's) that make overall server performance considerably faster.
In fact, today, many hosts reveal detailed hardware specifications used on their servers to users, this way, encouraging them to purchase their hosting plans.
Lastly, we will talk about such an influential trend as green hosting.
Eco-friendly Hosting
Eco-friendly hosting or the so-called '
green hosting'
means running a website that works with energy efficient technologies in use. More specifically, these are low-voltage hardware, coolers (used in hot temperature conditions to improve airflow between physical servers), air conditioners, renewable energy devices, etc.
According to expert estimations, if energy consumption by web hosting companies will keep growing, by 2020, the total air pollution rate produced by this industry will exceed the pollution rates produced by the
airline industry
.
Considering this fact, more and more digital companies now join this 'green movement', thus contributing to the
overall environmental safety
. This automatically makes green hosting one of the most important trends of this year.
Bottom Line
So, these are the main trends shaping the future of web hosting. And if you prefer a company that provides the latest web hosting services, you have all chances to stay in the game and ahead of competitors!
This guest post is provided by Finestshops
Magento 2 Managed Hosting with Finestshops
Interested in a fully managed e-commerce experience without steep startup costs? Check out our friends at
Finestshops
and take a look at their
Small Business E-Commerce Starter Package
. It includes deployment of Magento 2, a modern design, a number of essential extensions, 24/7 support, and top-of-the-line Cloud-based hosting using Rackspace Cloud and Google Cloud data centers around the world.