Advanced Reports for Magento 2
Make data-driven business decisions using reports tailored to your specific needs.
Measure key metrics quickly via dashboard widgets

Get detailed statistics on sales, abandoned carts, customer behavior, and more

Monitor profit totals and product performance reports

Schedule emailing of reports to have all the updates at hand

Integration with Gift Card, Rewards Points, Store Credit & Refund and Refer a Friend
Current extension version: 2.8.5 | Compatibility: CE 2.3.X - 2.4.X EE 2.3.X - 2.4.X

45-DAY MONEY BACK

FREE INSTALLATION

90-DAY FREE SUPPORT

FREE LIFETIME UPDATES
Advanced Reports Gallery

KPI analysis is crucial for building successful sales and marketing strategies. However, it requires lots of resources and professional skills to gather accurate data, vital for specific business needs. What's more, it is time-consuming to structure and process massive statistics in order to have access to various metrics of particular periods. Inaccurate data or lack of metrics to compare may have a negative impact on your business decisions.
Gather data fast and accurately with reports tailored to your business needs! The data reported comes via 10 report widgets and 12 reports made against a variety of metrics providing a comprehensive overview of your web store performance. Monitor profit and product performance to build sales and marketing strategies. Collect statistics on particular product attributes for deep and precise analysis of customers' preferences. Schedule and email all necessary reports to be always aware of your store performance.
Build efficient sales strategy
Analyze KPIs and make decisions to raise the efficacy of your strategies for pricing, marketing, and selling. Rely on the wide range of report types to make smart project changes and forecast steps: Sales Overview, Traffic and Conversions, Abandoned Carts, Customer Sales, Product Performance, Sales Detailed reports, and more. Access reports easily, contrast and compare data, email data to people you trust, export and import selected statistics.
Sales overview
Product performance
Traffic and conversion
Customer behavior analysis
Data comparison
Reports dashboard
Customize data representation
Advanced settings
Scheduled emailing
Sales overview
Gather data on multiple sales activities such as sales by categories, product attributes, location, coupon codes, payment types, and manufacturer. View detailed sales statistics focusing on shipping, billing, tax, customer type, or any other indices from the 45-option list.
Product performance
Find out what products are best-selling and drive more revenue to optimize marketing campaigns. Filter data by SKU, product attributes, quantity and etc. See the total number of sales of each item and compare product performance in different periods of time.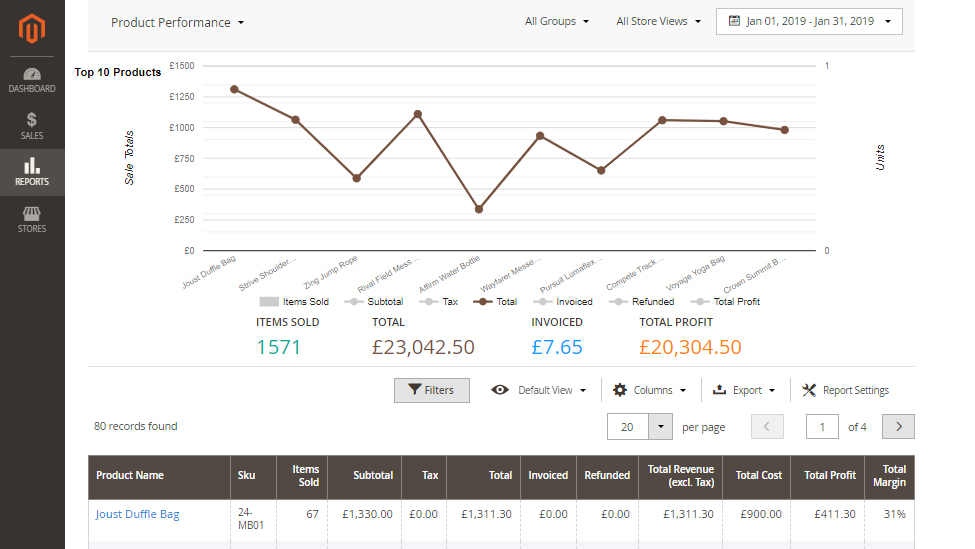 Traffic and conversion
Monitor and analyze profit totals, conversion rate, number of orders, the number of items ordered, average order value, invoices, and refunds to make beneficial business decisions.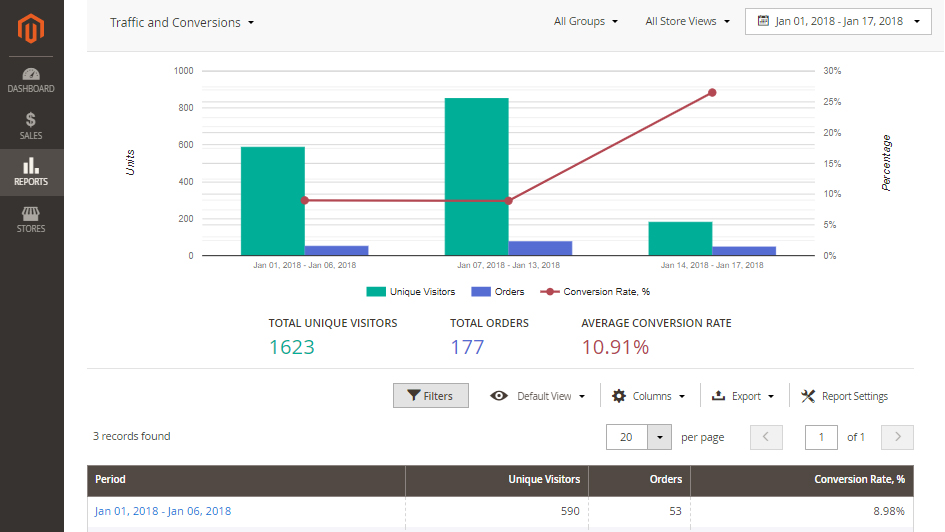 Customer behavior analysis
Customer behavior analysis
Examine customer behavior to adapt your sales strategy to any changes. See the number of total unique visitors, repeat customer information, abandoned cart rate to offer better deals and discounts.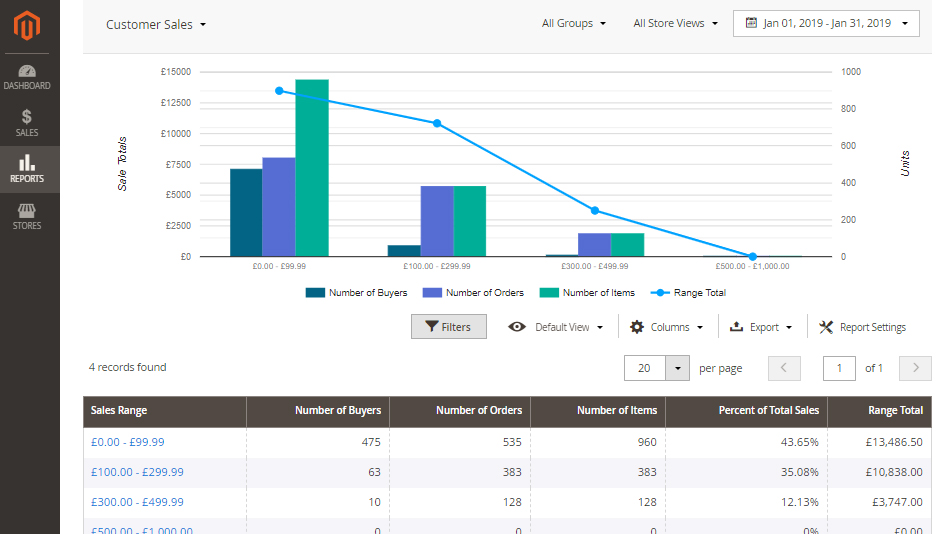 Data comparison
Compare the volume of sales, conversion rates, average order value, and other metrics within predefined or custom time periods to forecast future sales. Overlay charts and trends for more visual contrast.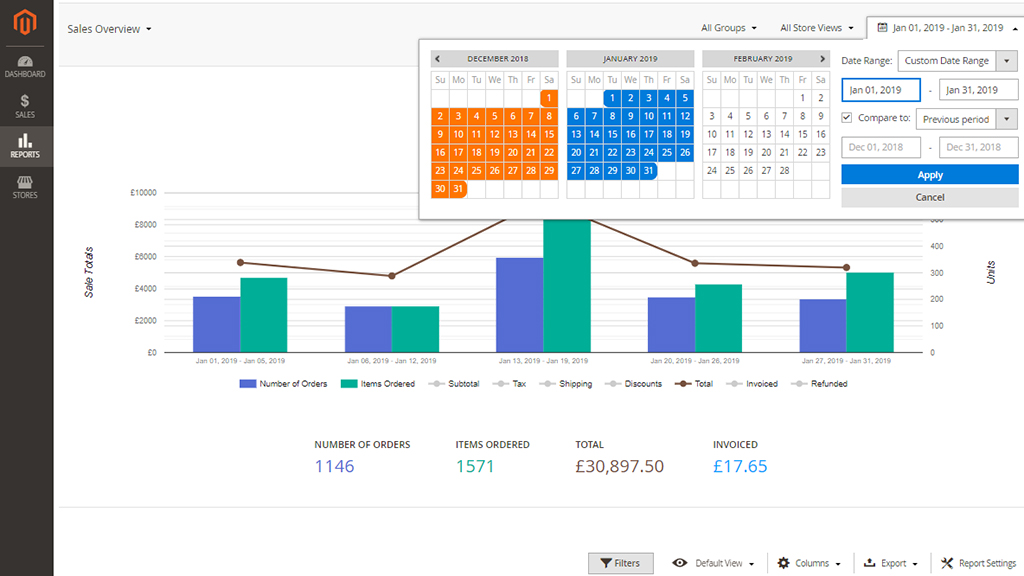 Reports dashboard
Have all the important metrics at hand on a well-organized dashboard. The KPIs are presented split by 8 configurable numeric and 2 chart widgets giving access to detailed reports.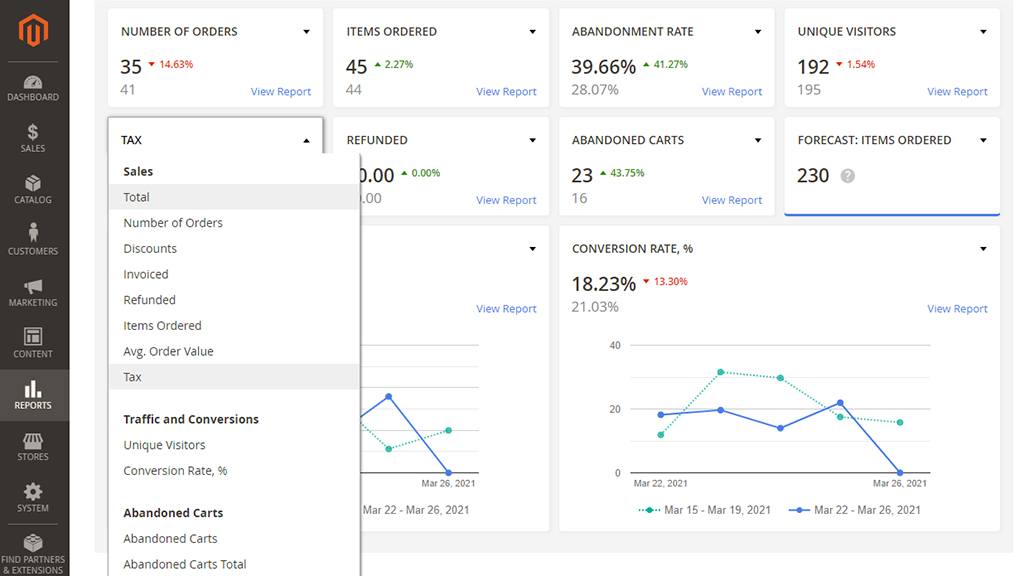 Customize data representation
Customize data representation
Feel free to control the layout of your reports to see exactly what you need by filtering data, arranging columns, and even exporting tables to CSV/XML.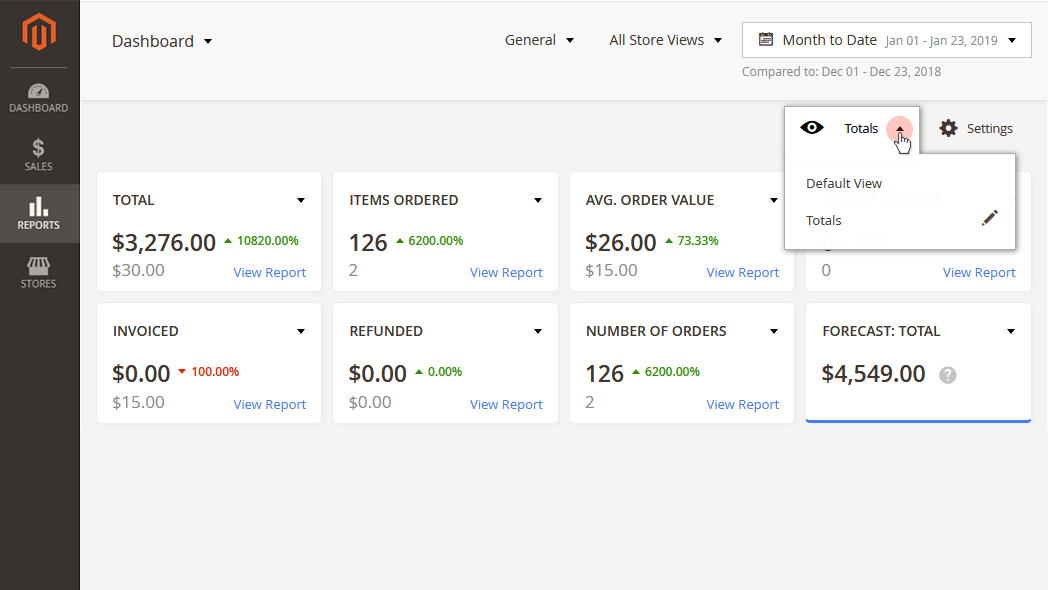 Advanced settings
Tweak reports in bulk or individually. Employ the general settings of the extension or the report settings to allow customizing column names, selecting data for email, and more.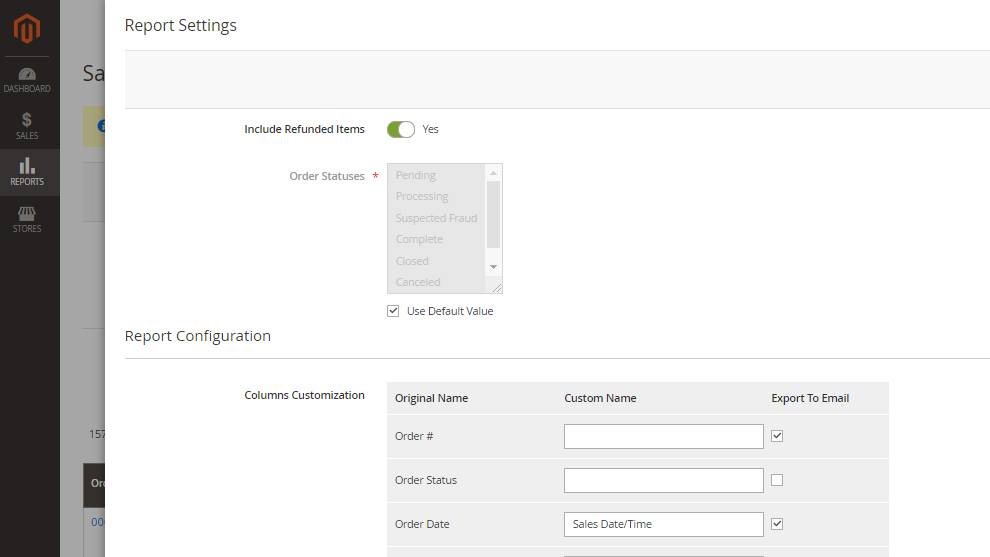 Scheduled emailing
Configure mailing schedule and send selected reports to multiple addresses, thus keeping everyone up-to-date about current store performance.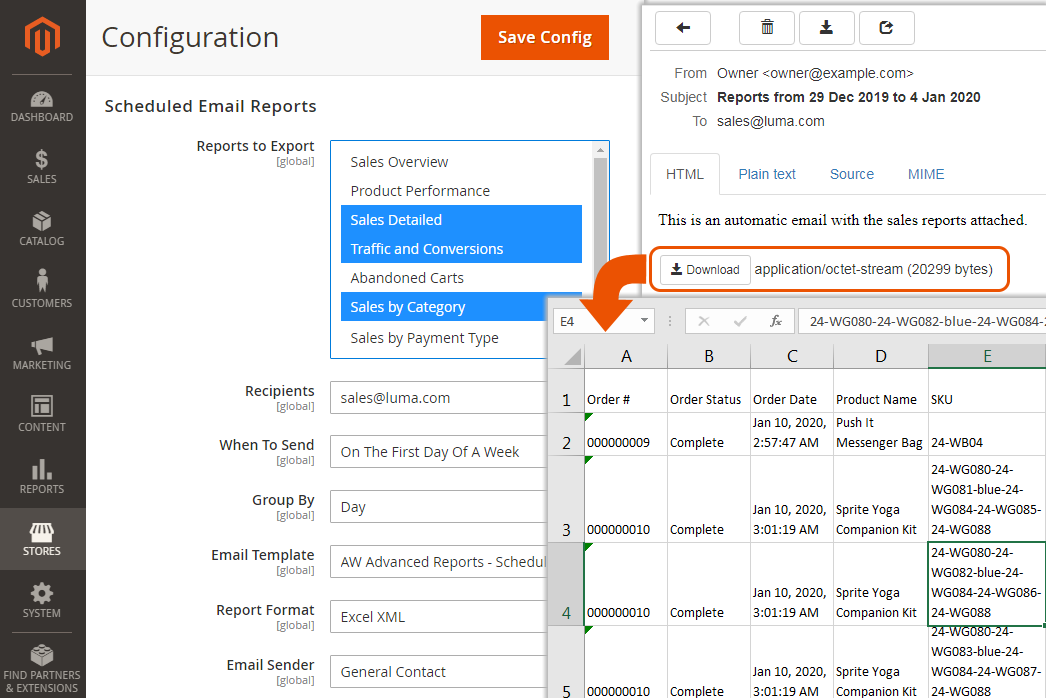 Sales by Category reports
Explore which product category is more popular among users.
Sales by Coupon Code report
Find out how many acts of sale resulted over the given time with the use of a coupon.
Sales by Product Attributes report
Evaluate sales figure by particular product attributes.
View the sales volume in details by custom sales ranges.
Sales by Payment Type report
Explore sales indicators grouped by payment methods.
Sales by Manufacturer report
Analyze which manufacturer is more converting.
Get access to the data on sales within a particular state/region.
Enable multiple dashboard views with various widgets and time ranges.
Perceive metrics easily with colorful totals, on-hover details, dual Y-axis charts.
Get an instant overview of sales thanks to reporting drill-down.
Plan future business strategy taking into account generated sales forecasts.
Set report settings and select data necessary for emailing.
2.8.5

Released 22.12.2020
* Sending emails (CC, BCC) is fixed
* Calendar styles fixed, for cases when Merge CSS Files is enabled

2.8.4

Released 22.10.2020
* Fixes related to cron job work

2.8.3

Released 22.07.2020
* Fixed issue when styles are broken with Minify CSS Files enabled
* Orders with custom statuses are not shown
* Fixed issue with calendar
* Some reports show incorrect data if row_id field and entity_id field of products are different
* Fixed issue with calculation on product perfomance tab
* Selected timezone isn't taken into account while showing the data
* Minor design fixes

2.8.2

Released 24.04.2020
* Fixed issue when incorrect folder names caused fatal errors

2.8.1

Released 27.01.2020
* Fixed issue for Magento Marketplace

2.8.0

Released 27.12.2019
+ Scheduled email reports
+ Ability to select columns for scheduled email reports
+ Extra columns for 'Sales Detailed' report


2.7.3

Released 20.12.2019
* Fix for Magento Marketplace

2.7.2

Released 05.12.2019
* Customer Sales report speed improvement
* Magento EQP tests fix

2.7.1

Released 11.01.2019
+ Magento 2.3 compatibility

2.7.0

Released 12.07.2018
+ "Total" calculation improvement in "per_order" reports
* Database gets locked when reindex is running in Magento 2.1.x

2.6.1

Released 25.01.2018
+ Reports Dashboard (including numerical and chart widgets)
+ Dual Y-axis Charts
+ "Compare to" option for the majority of the reports
+ "Compare to" functionality for Dashboard widgets
+ "Compare to" option for Bar Charts
+ "Compare to" option for blocks with totals
+ Calendar selector UI refactoring
+ "Week to Date" date range
+ "Month to Date" date range
+ "This Month Forecast" widget for Dashboard
+ Additional charts
+ Design improvements
+ Unit tests coverage for version 2.6
* Price isn't converted according to the selected website currency
* Reports grid: some issues appear when compared period is enabled
* Error appears after sorting "Sales Range" column in "Customer Sales" report
* "Wrong breadcrumbs" issue
* Error appears on Reports Dashboard page in some cases
* Days of the Week are shown in wrong order
* Compilation issues
* False qty of abandoned carts is shown on Dashboard
* Incorrect percentage value for the compared blocks

2.5.2

Released 28.11.2017
* Fixes for Magento Marketplace

2.5.1

Released 25.10.2017
* Sales by Manufacturer depends on attribute name
* No statistics in Sales Detailed report
* Unavailable dates can be selected
* Magento 2.2 compatibility
* Sales Overview page can't be loaded (+solution)

2.5.0

Released 31.05.2017
+ Customer Sales report

2.4.0

Released 10.05.2017
+ Abandoned Carts report
+ Sales by Location report

2.3.0

Released 30.03.2017
+ Customer group filter
+ Compare periods

2.2.0

Released 15.03.2017
+ Traffic and Conversions report
* AR affects index mode change
* MySQL 5.7 compatibility issue

2.1.0

Released 02.02.2017
+ Sales by Product Attribute report
+ Profit calculation for Product Performance
+ Per report order status settings
* Bookmarks now save graphs and report settings

2.0.0

Released 18.01.2017
+ Sales Detailed report
+ Code refactoring
+ Filter products by name and SKU
+ Performance Improvement
+ Unit tests coverage
+ Multiple paramenters for charts
+ Index management
+ Block of report totals
+ Bar chart for product performance report
* Timezones issue

1.0.3

Released 12.10.2016
* Magento 2.1 composer.json compatibility

1.0.2

Released 26.07.2016
+ Added support for php v7 in composer
+ Compatible with Magento 2.1.0

1.0.1

Released 11.07.2016
* Configurable SKU displayed incorrectly
* Time zone - incorrect date of sale
* Some reports not displayed/don't open at Admin
* Incorrect pagination
* Dates with orders are skipped on the graph
* Incorrect date conversion after location change

1.0.0

Initial release 27.06.2016