Customer Attributes for Magento 2
Gather all the relevant information with customer attributes of various types.
Choose attributes from an extended list of options and configure them to your needs
Collect data from both guests and registered customers
Benefit from attribute variables option
Use filtration by attribute properties in the Customers Orders grid
Integration with Customer Segmentation, Web API support
Current extension version: 1.2.0 | Compatibility: Open Source 2.4.4 - 2.4.6

License:
Starting At
Special Price
$129.00
$129.00

30-DAY MONEY BACK

FREE INSTALLATION

30-DAY FREE SUPPORT

LIFETIME RIGHT TO USE
Customer Attributes Gallery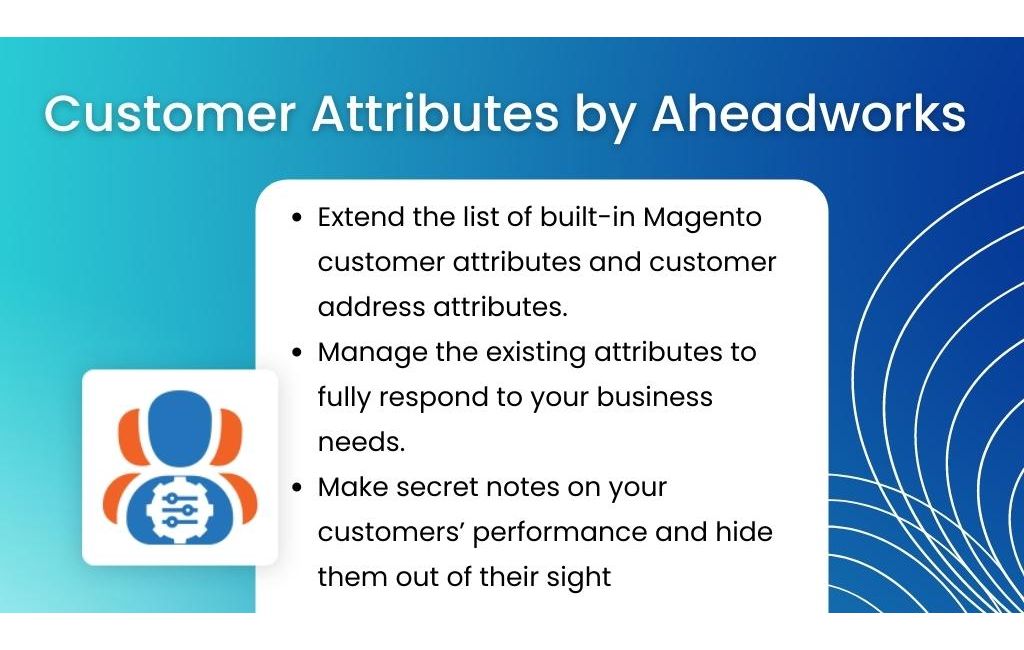 Smartly Add and Manage Customer Attributes for Magento 2
To serve your shoppers best have their profiles as complete as required: let customers provide you with any specific details on their business roles, addresses, buying habits, taxation nuances, choice motivators and more. Alternatively, make secret notes on your customers' performance and hide them out of their sight: karma and other labels, for example. Wisely enough, the attributes may serve later well for segmenting customers or drawing reports. Attributes customization has never been easier with further help of data validation, adaptive properties and dependable attributes. Magento 2 Customer Attributes is a module for particular customers, individual and clear-cut needs, and for perfect merchants, of course.
How Customer Attributes Magento 2 Extension Works
On the front-end
On the back-end
On the front-end
Prompt your customers, both registered and guests, to submit as much information about themselves as you need to facilitate best of services, and not less as they need to feel comfortable in your store.
Get customers know what extra details can improve their profiles: add attributes to the relevant storefront forms, sort attributes in the form and accompany them with meaningful labels.
Set up the parameters for automatic verification of data with which customers fill-in the forms: check against the type and min/max value of the input, compare it with the default content, manage html tags.
Allow alternatives for further choice with dependable attributes for the Drop-down, Yes/No and Multiple Select input types.
On the back-end
Create 'hidden' attributes and utilize them alongside the ones open to customers to filter, categorize or search data against the many possible use cases.
Extending Customers/Orders grid
Make use of edited or newly-created attributes in the Customers and/or Orders grids, enabling them for filtering, as well as columns layout and search features.
Get attributes available in the Customer Segmentation and Advanced Reports extensions as separate parameters for segments conditioning, as well as for statistics collecting and analysing.
Multiple adaptive properties
Feel free to fine-tune your customer attributes against the numerous input types which give individual way to input validation parameters, default values, html-filters, input value size limits and more.
Magento 2 Customer Attributes Detailed Feature List
1.2.0

Released 23.08.2023
+ API support
* Fixed issue with displaying Customer Address Attributes on the Multiple Addresses checkout
* Fixed issue with the customer attribute "date" that is always set as default in the backend order creating page for Magento CE v.242
* Fixed issue with displaying "Image" and "File" customer address attributes on the shipping checkout page
* Fixed issue with the absence of a field for the "Text Area" attribute for filtering on the All Customers page
* Fixed issue with an empty column for a created attribute on the Orders page
* Fixed issue due to which the 'Display on Forms' setting overrides the default values
* Fixed issue with reindex
* Fixed issue with custom attribute in the email template

1.1.3

Released 30.06.2022
+ A field "Read-Only on Front-End" has been added
* Fixed issue with overlaid Google ReCaptcha on a button

1.1.2

Released 24.03.2022
+Declarative schema upgrade
*Created customers are not displayed in the grid

1.1.1

Released 01.10.2021
*Fixed issue with the checkbox on the checkout page

1.1.0

Released 06.08.2021
+Integration with OSC
*Impossible to edit address attributes

1.0.4

Released 11.06.2021
* Data disappear when sorting is applied
* Fixed issue with attribute types
* It's impossible to place an order with required customer address attribute
* Fixed issue with customer attribute in the Customers grid
* Layout is broken when input type is switched

1.0.3

Released 30.07.2020
* Fixed issue with export


1.0.2

Released 06.11.2019
* Error occurs on the Storefront when "Display on Forms" = "Customer Address Registration"
* Error appears in an attempt to manage relations in an attribute
* Fixed issue when address attributes cannot be modified by admin with limited permissions
* Error occurs when altering Multiple line attribute
* The array *customAttribute* in shipping-information is not passed when the shipping address changes
* Attribute value is not saved when creating an account
* "Use in the Orders Grid" and "Show on the Order View Page" options can't be set to "No"
* Customer Attributes with "Input Type" = "File", "Image File" aren't displayed in the Orders grid and Order View Page Customers
* When Customer Attribute with "Input Type" = "Date" is created, "Minimum Value" and "Maximum Value" options change into current date
* When order is created in Backend and "Date" attribute is filled in, data aren't displayed in Orders grid
* Unnecessary options are shown on "Customer Address Attribute" page
* Fixed issue with customer creation if customer date attribute is set by default
* Incorrect default date is shown in an address attribute on Checkout page
* Default values aren't shown in customer address attributes if create an order in Admin
* Fixed issue when required customer attribute doesn't work correctly
* All dependent attributes are shown even if they don't relate to current option of the dropdown

1.0.1

Released 28.08.2019
* Fix for Magento Marketplace

1.0.0

Released 12.08.2019
* Initial release