Custom Static Blocks for Magento 2
Promote special offers with catchy banners or videos.
Content types ranging from banners, to video and all kinds of widgets
Targeted display via customer groups
Block sharing across multiple product pages
Scheduling options to enable blocks at specific days and times of the day
Current extension version: 1.0.12 | Compatibility: CE 2.3.X - 2.4.X EE 2.3.X - 2.4.X

45-DAY MONEY BACK

FREE INSTALLATION

90-DAY FREE SUPPORT

FREE LIFETIME UPDATES
Custom Static Blocks Gallery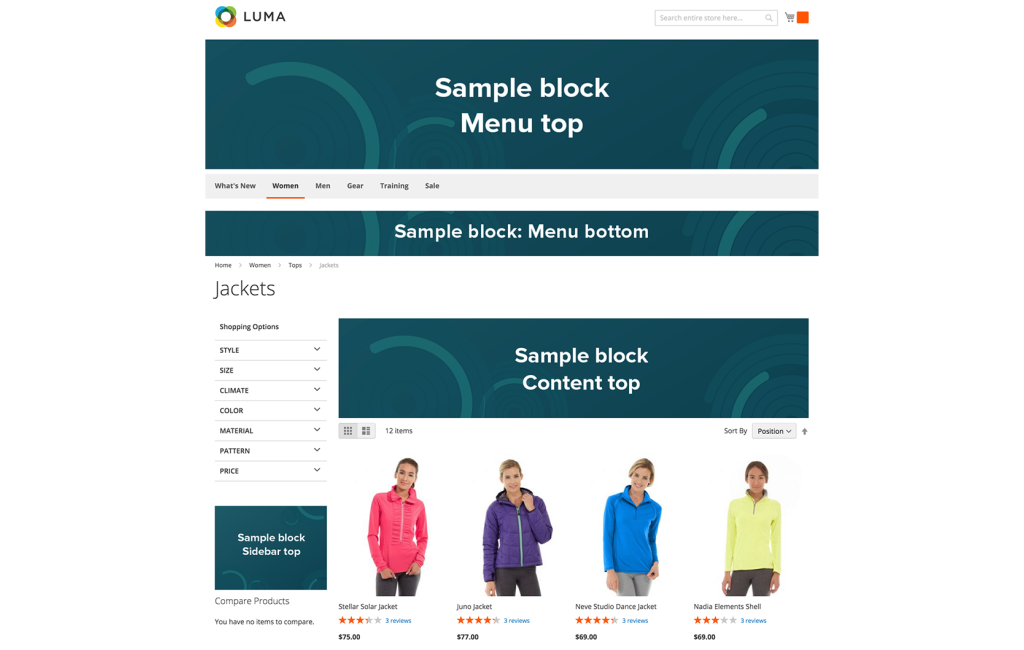 How Magento 2 Custom Static Blocks works
This Magento 2 static blocks extension adds a great deal of convenience and flexibility to working with static blocks. First, the extension provides benefits of timing and segmentation, showing blocks to particular customer groups and according to a specific schedule. Second, administrator may use conditions to assign a block to a custom selection of pages - all at once.
Magento 2 Custom Static Blocks Feature Highlights
Checkout is a money page. Any shift in behavior here has a significant impact on the revenue.
That is why Aheadworks introduces the Magento 2 One Step Checkout extension with three essentials on board:
Best checkout practices, advanced built-in analytics, flexible checkout settings
Customer groups
Product conditions
Display schedule
Block placement
Grid & mass action
Multilanguage blocks
Customer groups
Employ customer segmentation by displaying different products to different people.
Product conditions
Apply the block to a custom selection of products with just a few clicks.
Display schedule
Display the block on specific days of the month/week and at specific times during those days.
Block placement
Home, product, catalogue, shopping cart, and catalogue pages are all available locations for a custom static block, with a number of options within the pages.
Grid & mass action
Custom blocks are assembled in a grid with an option to change status or delete multiple blocks simultaneously
Multilanguage blocks
Within the same block add different content for different store views - no need to add several nearly identical blocks just for the language!
1.0.12

Released 22.02.2021
* Broken page appears after trying to add a product from a block to the cart
* Products are displayed incorrectly in the block
* The fourth level of categories nesting does not work
* Fixed issues with filtering and sorting

1.0.11

Released 19.11.2020
* Fixed issue when an error occurs while validating the fields on the Create New Block page
* Custom static block is duplicated after double clicking the"Save" button
* Infinite loading occurs after saving a block with blank required fields

1.0.10

Released 17.08.2020
* Magento 2.4 compatibility issues

1.0.9

Released 12.11.2019
* Error occurs on 'Manage Blocks' page
* Error appears when saved block is opened
* Magento EQP tests fix
* Error appears in console after compilation

1.0.8

Released 16.01.2019
+ Magento 2.3 compatibility

1.0.7

Released 14.11.2017
*Fix static tests

1.0.6

Released 08.08.2017
* "Manage blocks" tab should be clickable from "Edit block" page
* Unable to set a date display for block after changing interface locale
* "Even days of the month" schedule pattern issue
* Titles in customer account are misplaced
* Validation is missing for 'To Date' field

1.0.5

Released 04.08.2017
* Mistake in the message
* "Save As New" button block page issue
* If no conditions set block displayed at all catalog pages
* "All Groups" condition issue


1.0.4

Released 25.04.2017
* Pages with blocks are not cacheable

1.0.3

Released 14.10.2016
* Magento 2.1 composer.json compatibility

1.0.2

Released 01.09.2016
* Custom static block is not displayed on product page if conditions with "Price" attribute are set
* Filters don't work at Admin
+ Compatibility with Magento 2.1.0

1.0.1

Released 12.07.2016
* https protocol issue

1.0.0

Initial release 27.06.2016