Store Credit and Refund for Magento 2
Boost sales by allowing customers to utilize store credit for purchases.
Refund orders automatically to store credits

Add promo credits with a discounted prices on products

Update credit balance seamlessly 

Provide transparent credit movement tracking

Integration with M2 Smart One Step Checkout, Web API, GraphQL

Current extension version: 1.2.1 | Compatibility: Open Source 2.4.4 - 2.4.6; Commerce 2.4.4 - 2.4.6



License:
Starting At
Special Price
$149.00
$149.00

30-DAY MONEY BACK

FREE INSTALLATION

30-DAY FREE SUPPORT

LIFETIME RIGHT TO USE
Store Credit and Refund Gallery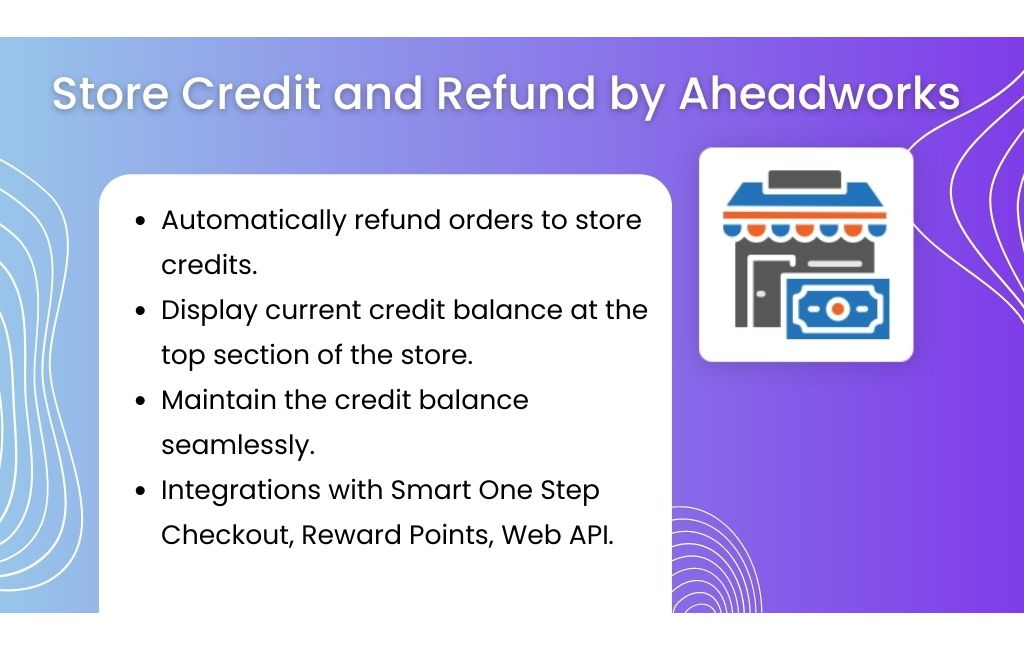 Every business is faced with refunds from time to time. The reasons why customers return products are different, but the effect on store owners is the same - the decrease in revenue and tedious procedure of refunding. 
Turn refunds into revenue with your own 'store currency'.  Conveniently handle returns by offering customers store credits instead of real money back. The store credit can be used for future purchases, thus creating new sales opportunities and keeping money within the store. 
Boost sales revenue with the ability to convert refunds into new purchases!
In-store currency is an effective way to combat the revenue loss caused by refunds. Integrate Aheadworks Store Credit and Refund Extension for M2 to process refunds or reward customers. Enable the ability to allow customers to pay with store credit directly from the credit memo page, and track credit balances within their dedicated account area.
Manual or Automated Refunds
Credit Management
Advanced Payment Process
Email Notifications
Manual or Automated Refunds
Manual or Automated Refunds
The store owner can update customers' credit balances at any time required. Add new transactions within several clicks after specifying balance adjustment value and entering notes for customers or store admin. Save time with smart configurations that allow you to turn refunded orders to store credits automatically.  
Credit Management
The backend interface is perfectly suitable for quick credit management. The transaction grid is equipped with handy filters to advance transaction search and identification. The admin can monitor transactions and other statistics of individual customers and subtract store credit from customer accounts either one by one or via mass actions. The Customers grid provides an overview of customer store credit balances. It, furthermore, comes with reference links to customer accounts.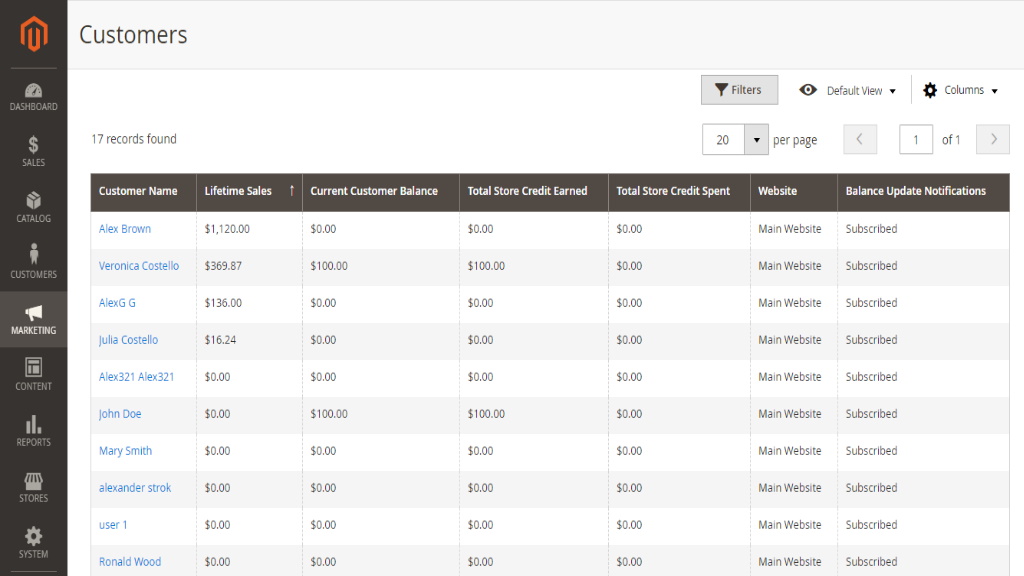 Advanced Payment Process
Let customers checkout using a credit balance that can cover all costs including tax and shipping. The current credit balance, transaction grid, and subscription to credit balance updates are reflected in the Customer Account section. The current credit balance of the customer can be displayed at the top section of the store.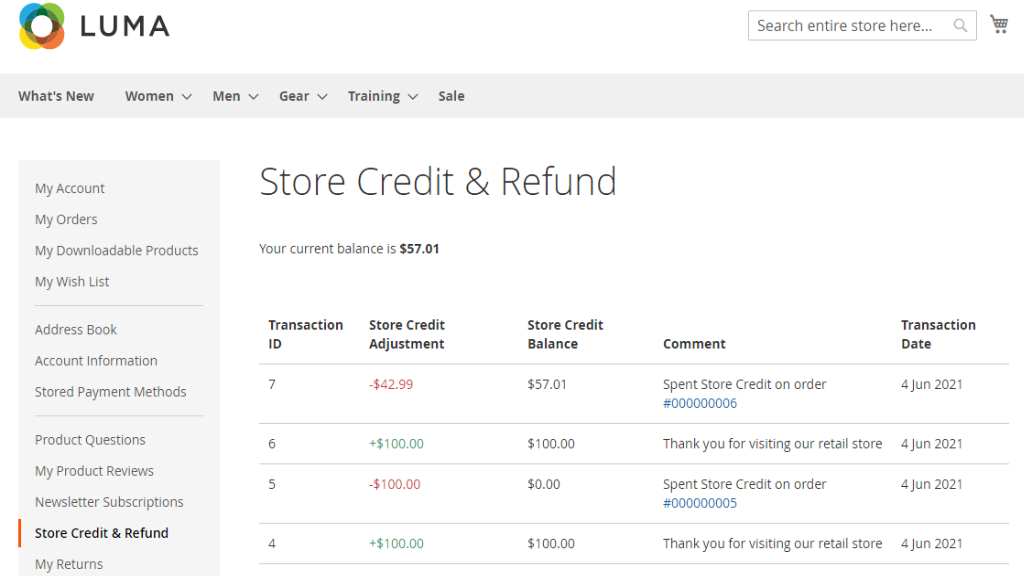 Email Notifications
Arrange email notification sending in case of any credit balance change. Moreover, you can enable credit reminders for clients to notify them how much they can save by spending store credit.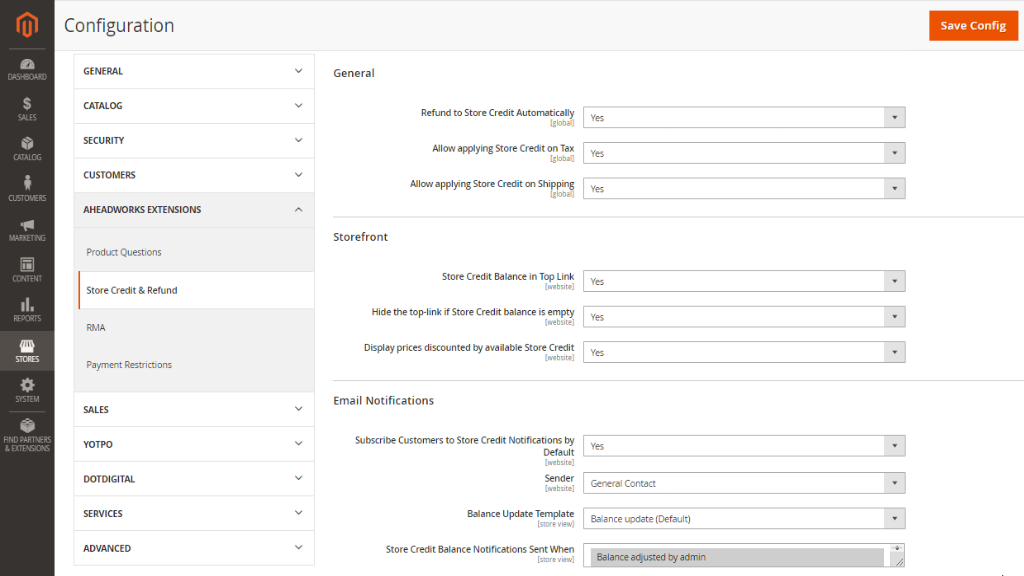 Store owners can manually update the credit balances of customers individually or in bulk.
Decide if the available store credit balance of the customer should be displayed in the page header.
Customers can see a notification of how much they can save by spending store credit below the product price.
Define whether to hide  'Store Credit Balance in Top Link'  if the customer does not have store credit available.
Store Credit & Refund section on the storefront
Customers can find credit and refund history, current balance, all store credit transactions in a separate section in their accounts.
Comments for customers and admins
Add short transaction messages that are visible respectively for customers or admins.
Email subscription by default
Make sure all customers receive email notifications on credit balance updates.
Define on what conditions the balance updates are sent (Balance adjusted by admin; Order canceled; Refund by Store Credit; Reimburse of spent Store Credit; Store Credit used in the order).
Allow using store credits on the checkout page generated by the OSC module.
1.2.1

Released 15.08.2023
* Fixed issue for Magento Marketplace

1.2.0

Released 01.08.2023
+ GraphQL Support
+ Module logic refactoring
* Fixed issue with searching and filtering clients by Name and Surname

1.1.11

Released 07.04.2023
+ Compatibility with Magento 2.4.6
* Fixed issue with a limit on manual transactions
* Fixed issue when trying to add store credit by Admin

1.1.10

Released 06.06.2022
+ Compatibility with Magento 2.4.4
* Fixed issue with creating a transaction in Admin for Magento 2.4.4
* Fixed issue with navigating to the Customer Account for Magento 2.4.4

1.1.9

Released 28.03.2022
+Declarative schema upgrade
*Fixed issue with balance rounding in transactions grid

1.1.8

Released 06.08.2021
+OSC 2.0.0 design integration

1.1.7

Released 15.02.2021
* Redirection does not happen after clicking "Customer name"

1.1.6

Released 31.08.2020
* Speed improvements

1.1.5

Released 19.08.2020
+ Compatibility with Magento 2.4
* Fixed error on compilation when using PHP 7.3
* Fixed issue when points are reimbursed twice on orders cancellation via MassActions (Magento v. 2.3.4)
* Minor design improvements

1.1.4

Released 24.02.2020
* Store Credit is reimbursed multiple times on pressing 'Cancel' order button in admin
* Error appears when trying to manage a 'Newsletter Subscriptions' page in a customer account
* Error occurs while trying to create a new transaction (with more than 9 websites)
* Fixed issue when Totals sorting doesn't work on frontend
* Installation error occurs when using PHP 7.3
* Translation improvements

1.1.3

Released 28.01.2019
* Magento 2.3 compatibility

1.1.2

Released 06.12.2017
+Integration with One Step Checkout from Aheadworks
*Lifetime sales value becomes negative if discount covers Shipping in order
*Store Credit is not issued when you cancel order from Orders grid
*Block with Store Credit discount is not shown on product page in some cases
*Design improvements

1.1.1

Released 10.04.2017
* Incompatibility with AW_RewardPoints: SC subscription block doesn't appear at "Newsletter Subscription" page
* SC subscription message appears even if SC subscription isn't changed

1.1.0

Released 22.03.2017
+ Additional column in the Transactions grid
* "Comment To Customer" filter doesn't work correctly at Transactions page

1.0.1

Released 24.02.2017
* Top link balance issue

1.0.0

Initial release
Does this work with the Amazon Pay extension by Amazon? And the Stripe extensions?
Question by: Nathan Bland on May 22, 2017, 4:36 AM
The extension will work with any payment method installed in your Magento.
Answer by: Aheadworks on May 26, 2017, 2:31 PM
Can we refund through below credit memo API or any other API calls?
Question by: Julia Gorobets on Apr 28, 2022, 11:46 AM
Our Store Credit and Refund allows refunding to Store Credit automatically. The refund should be processed using the Magento standard functionality.
The list of API endpoints that are supported by our extension doesn't contain any special API method for making refunds.
However, your developers are free to develop custom integration or customize existing APIs for making refunds since the code of our extensions is open.
Also, if any assistance with the mentioned integration is required, our team can always help via additional Customization service:
https://aheadworks.com/magento-services/custom-development/
Answer by: Julia Gorobets (Admin) on Apr 29, 2022, 11:42 AM
Is your extension compatible with Magento 2.4.6 ?
Question by: Anjana on Sep 6, 2023, 1:32 PM
Yes, It is compatible with Magento 2.4.6. You can also find more information about it in our user manual in the Compatibility section.
Answer by: Julia Gorobets (Admin) on Sep 6, 2023, 1:33 PM
Can merchant set the limit ( maximum and minimum ) for the Wallet Amount?
Question by: Mohammad Reza Shirazi on Jan 28, 2021, 9:52 AM
No, the merchant cannot set a limit.
Answer by: Julia Gorobets (Admin) on Apr 21, 2022, 8:14 AM