Store Credit and Refund for Magento 2
Boost sales by allowing customers to pay with store credit and refund at ease.
Automatic refunds to the store credit
Promo credits added for all customers at once with a discounted prices on all product pages
Seamless credit balance update
Transparent credit movement tracking
Current extension version: 1.1.7 | Compatibility: CE 2.3.X - 2.4.X EE 2.3.X - 2.4.X

45-DAY MONEY BACK

FREE INSTALLATION

90-DAY FREE SUPPORT

FREE LIFETIME UPDATES
Store Credit and Refund Gallery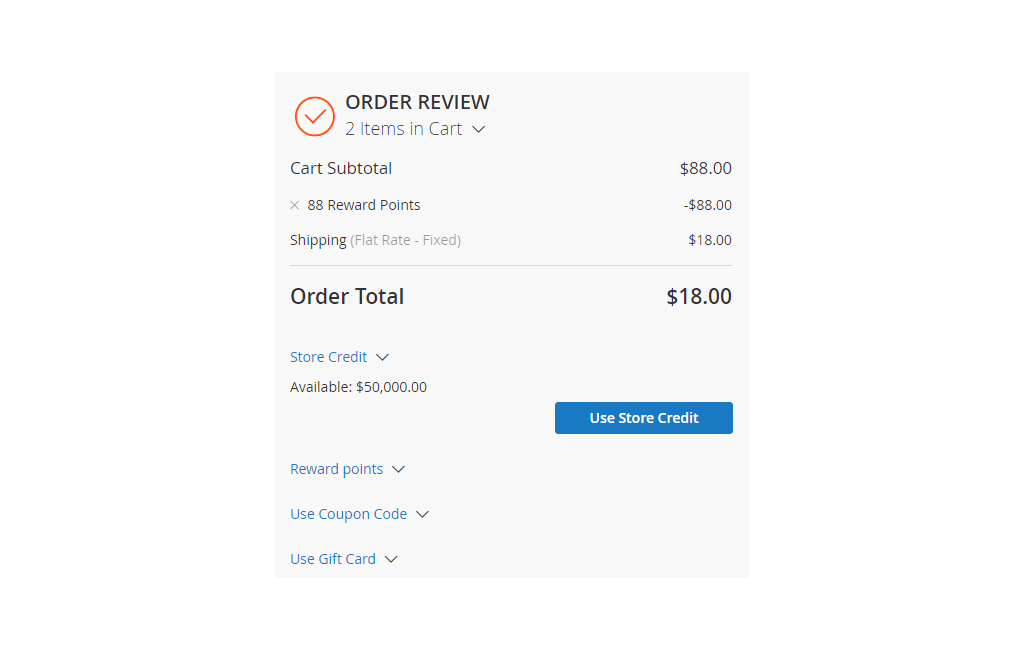 What makes the Magento 2 Store Credit and Refund extension worth to your financial contribution?
In-store currency is a great sample of how you can effectively overcome the pain caused by the refunds. Gin it up with our Magento 2 Store Credit extension and apply it to process the refunds or award customers. Let your customers pay with store credit directly from the credit memo page, track their credit balance in the dedicated account area, and be sure that enabling this mechanism you make a significaте contribution to customer loyalty growth.
Get more satisfied clients with the solution converting refunds into new purchases!
Let your efforts be minimum and the results be maximum
Make all for your customers
Add more functional conveniency
Let your efforts be minimum and the results be maximum
Our Magento 2 Refunds extension makes this process of your in-store credit and refund program management successful without your close engagement.
Try out the power of automation and stop thinking it's complicated to refund the orders to store credits.
We created the backend interface that is perfectly suitable for quick credit management. We equipped transactions grid with handy filters to advance transaction search and identification.
Make all for your customers
Magento 2 Store Credits and Refund extension take care not only about youк business but primarily about your customers.
Provide dedicated functionality
Customer account area includes all significant figures clients want to have at hand.
Seamlessly inform your customers
You can arrange email notification sending in case of any credit balance change. More to that, you can enable credit reminder for clients at the store top or notify them how much they can save by spending store credit.
Make payment process advanced
Let customers checkout using credit balance including tax and shipping cost covering.
Add more functional conveniency
Integrate Magento 2 Store Credit extension with Smart One Step Checkout allowing using store credits on the checkout page generated by OSC module.
Pitch in shopping experience enhancement
Enable paying for the purchases with store credits the same way as customers are used to doing it on the default Magento checkout page.
Magento 2 Store Credit and Refund Detailed Feature List
Product Questions
Sort by
1.1.7

Released 15.02.2021
* Redirection does not happen after clicking "Customer name"

1.1.6

Released 31.08.2020
* Speed improvements

1.1.5

Released 19.08.2020
+ Compatibility with Magento 2.4
* Fixed error on compilation when using PHP 7.3
* Fixed issue when points are reimbursed twice on orders cancellation via MassActions (Magento v. 2.3.4)
* Minor design improvements

1.1.4

Released 24.02.2020
* Store Credit is reimbursed multiple times on pressing 'Cancel' order button in admin
* Error appears when trying to manage a 'Newsletter Subscriptions' page in a customer account
* Error occurs while trying to create a new transaction (with more than 9 websites)
* Fixed issue when Totals sorting doesn't work on frontend
* Installation error occurs when using PHP 7.3
* Translation improvements

1.1.3

Released 28.01.2019
* Magento 2.3 compatibility

1.1.2

Released 06.12.2017
+Integration with One Step Checkout from Aheadworks
*Lifetime sales value becomes negative if discount covers Shipping in order
*Store Credit is not issued when you cancel order from Orders grid
*Block with Store Credit discount is not shown on product page in some cases
*Design improvements

1.1.1

Released 10.04.2017
* Incompatibility with AW_RewardPoints: SC subscription block doesn't appear at "Newsletter Subscription" page
* SC subscription message appears even if SC subscription isn't changed

1.1.0

Released 22.03.2017
+ Additional column in the Transactions grid
* "Comment To Customer" filter doesn't work correctly at Transactions page

1.0.1

Released 24.02.2017
* Top link balance issue

1.0.0

Initial release