Abandoned Cart Email for Magento 2
Attract customers back to store via scheduled automatic mailing.
Create flexible messages with text and variables
Preview content and send test emails
Schedule abandoned cart emails
Archive sent emails

Integration with

Automatic Related Products
Current extension version: 1.1.6 | Compatibility: Open Source 2.4.4 - 2.4.6; Commerce 2.4.4 - 2.4.6

License:
Starting At
Special Price
$129.00
$129.00

30-DAY MONEY BACK

FREE INSTALLATION

30-DAY FREE SUPPORT

LIFETIME RIGHT TO USE
Abandoned Cart Email Gallery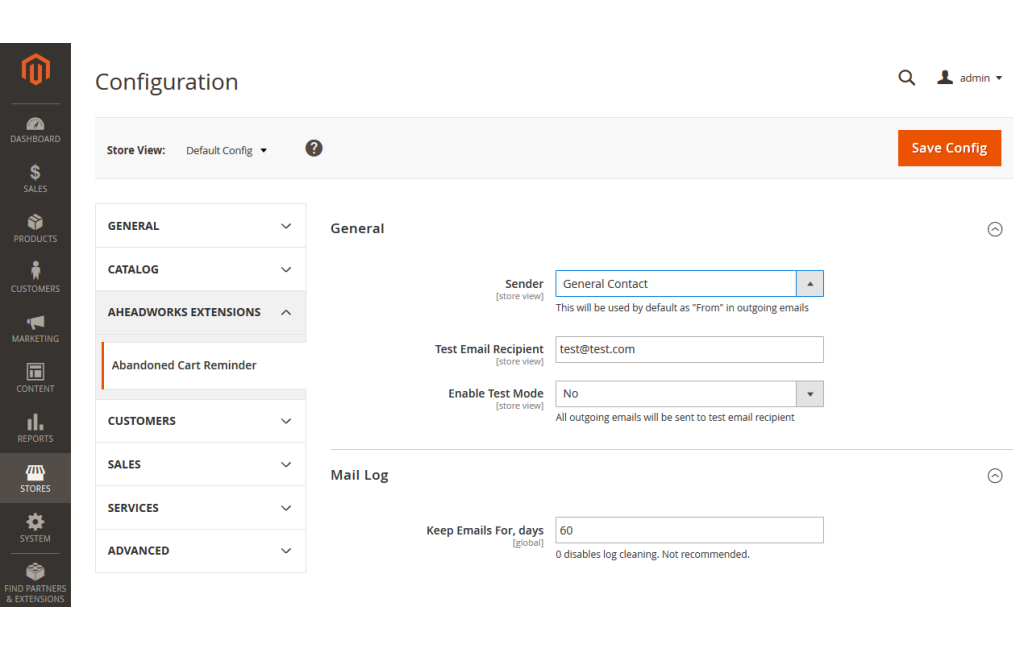 The idea behind the Magento 2 Abandoned Cart Email extension
The Abandoned Cart Email extension for Magento 2 introduces an intuitive functionality that will return customers to your store. Create powerful emails, schedule automatic mailing, select products and carts applicable to the abandoned cart rules. Keep emails within the database and check mail log any time to ensure your return campaigns go well.
Re-engage and influence with Abandoned Cart Email module for Magento 2
Manage abandoned carts effectively
Enable extra promotions
Manage abandoned carts effectively
The Abandoned Cart Email extension for Magento 2 provides user-friendly experience while dealing with incomplete purchases and assists in attracting customers back to the store.
Target multiple audiences
Customize messages, time of email sending and rule conditions to reach out all the customers
Control campaigns on every step
Monitor logs to stay aware of email statuses. Act appropriately to each situation.
Enable extra promotions
Make the email impact intense
Display the widget with related products in the abandoned cart email.
Magento 2 Abandoned Cart Email Detailed Feature List
1.1.6

Released 22.07.2022
* Fixed issue with appearing the sample data after disabling and enabling the module again

1.1.5

Released 10.06.2022
+ Compatibility with Magento 2.4.4
* Fixed issue on the New Rule page for Magento 2.4.4
* Fixed issue with displaying the Cart items table on Email for Magento 2.4.4

1.1.4

Released 10.03.2022
+Declarative schema upgrade
* Fixed MDVA-43395 and MDVA-43443 vulnerabilities

1.1.3

Released 15.10.2021
*Fixed issue with a fatal error appearing on Email Preview

1.1.2

Released 31.03.2021
* Product image is missing in the email
* JSON decode error occurs if the browser does not have a sections cookie
* Hitting the Preview or Send Test Email button causes out-of-memory errors


1.1.1

Released 20.11.2019
+ TinyMCE editor was added as a default
* Magentо 2.3.3 сcompatibility fixes
* Fixed issue with Page Builder
* Fixed issue when Product Image is missing
* Fixed issue when Coupons aren't generated for abandoned cart emails
* Error appears after adding products widget to an email
* Error occurs in logs after saving the default rule

1.1.0

Released 19.06.2019
+ Added Restore Cart Link
+ Abandoned cart emails can be sent to guest users
+ Product image in the email
+ Integration with Aheadworks Automatic Related Products
* IWD Order Manager compatibility
* Fixed issue when emails are sent without delay
* Error occurs during compilation (Magento 2.1.16 Open Source)
* Fixed issue when 'Sender email' and 'Sender name' do not correspond to different stores
* Error appears on Preview page in Admin if Test Email Recipient is not configured
* Magento 2.3.1 Commerce compatibility improvements

1.0.2

Released 14.02.2019
+ Magento 2.3 compatibility

1.0.1

Released 10.11.2017
+Magento 2.2 compatibility
*"Rule" page is not opened for editing
*Product conditions adjustments
Will coupon code be the same for all customers or unique?
Question by: David Coder on Dec 13, 2018, 11:06 AM
Since only Cart Price rules with Use Auto Generation option enabled can be used in Abandoned Cart Email rules, every coupon code will be unique for every customer.
Answer by: Tatiana Poleshchuk on Dec 13, 2018, 12:18 PM
Does it use its own coupon code generator or it must be purchased additionally?
Thanks.
Question by: Matthias Linnemann on Mar 17, 2017, 11:42 AM
The extension has its own coupon generator. If you only need to send coupons in the reminders, there is no need to buy another one.
Answer by: Aheadworks on Mar 17, 2017, 11:44 AM
Does this have cross device compatibility? If user abandons on their desktop then opens the email and clicks to go to cart on their mobile device will the contents of their cart still be there?
Question by: Harry on Oct 28, 2021, 10:12 AM
Yes, it has cross-platform compatibility. The content will be there.
Answer by: Julia Gorobets (Admin) on Apr 21, 2022, 8:40 AM
is this extension also worked for the guest customers?
Question by: Dot on Feb 27, 2019, 12:55 PM
Current version works with guests after a separate patch is applied (our support team has the solution).
Nevertheless, we are going to release a new version of the extension within a month, it will work with guest users out of the box.
Answer by: Tatiana Poleshchuk on Feb 27, 2019, 1:28 PM