Advanced Reviews for Magento 2
Encourage customers to share their purchase experience by providing a clear and simple review submission process.
Customize form fields to control the content of the review

Make fields required to collect all the necessary information

Allow guests to submit reviews, thus extending the customer base

Improve the credibility of reviews by adding "Verified Buyer" labels

The email submission form to customers to get every client's opinion

Integration with  M2 Reward Points
Current extension version: 1.6.2 | Compatibility: Open Source 2.4.4 - 2.4.6; Commerce 2.4.4 - 2.4.6



License:
Starting At
Special Price
$199.00
$199.00

30-DAY MONEY BACK

FREE INSTALLATION

30-DAY FREE SUPPORT

LIFETIME RIGHT TO USE
Advanced Reviews Gallery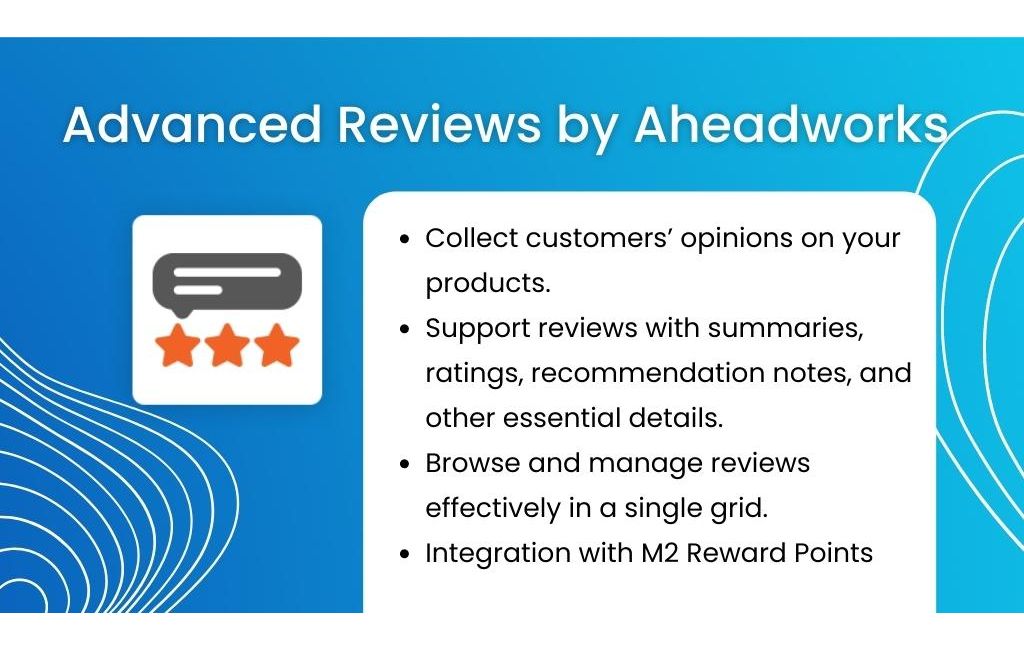 By far and large, reviews make up well for purchase decisions and, most importantly, build trust. All that comes when your shop is customer-centered and prompts an easy and enjoyable experience of writing reviews. Unfortunately, native Magento functionality is not a suitable solution for that sort of strategy. This might be the main reason why you are still struggling to gather customer feedback and increase brand awareness.
Increase your sales by creating a favorable environment for deeper customer engagement with the brand! Realize your policy on feedback management with the extensive list of review configurations, let your shoppers know when their opinion is so much expected, guide them clearly on what to write, allow encountering opinions in rating and commenting, and, finally, make them feel free to unsubscribe anytime they wish.
Get User-Generated Reviews to Increase Sales
Magento 2 Advanced Reviews allows embracing your customers' opinions, as well as sharing your ones about the products and services on offer. Opinions come as reviews, summaries, comments, ratings, recommendations, and flags of abuse. Furthermore, alongside some useful integration options, the extension provides a powerful set of configurations to guide, stimulate, notify and control customers in putting their opinions into writing.
Opinion collection
Intuitive review forms
Featured reviews
Unsubscription from review notifications
Review management
Review policy configuration
Opinion collection
Prompt your customers to speak out on the products, and facilitate the reviews to be complete and meaningful enough to build trust and foster further feedback from other shoppers. Collect customers' opinions on your products via the front-end form or submission link in a notification email. Support reviews with summaries, ratings, recommendation notes, and other essential details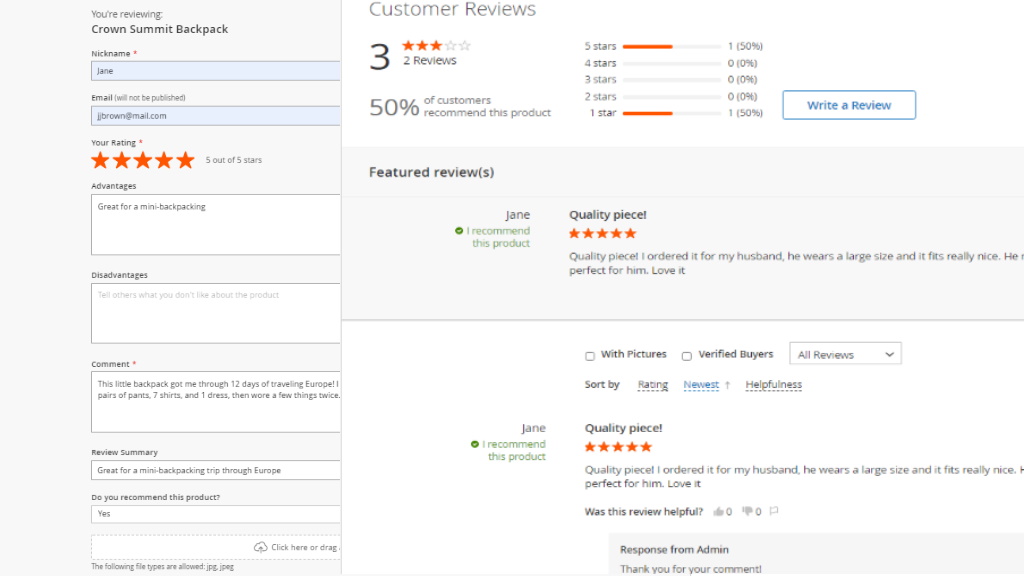 Intuitive review forms
Guide users through the review process and get all the relevant information by customizing review forms. Add advantages/disadvantages fields, enable review summary auto-filling, show rating, and recommendation options. Allow customers to submit reviews wherever they want - either from an email reminder or a frontend form.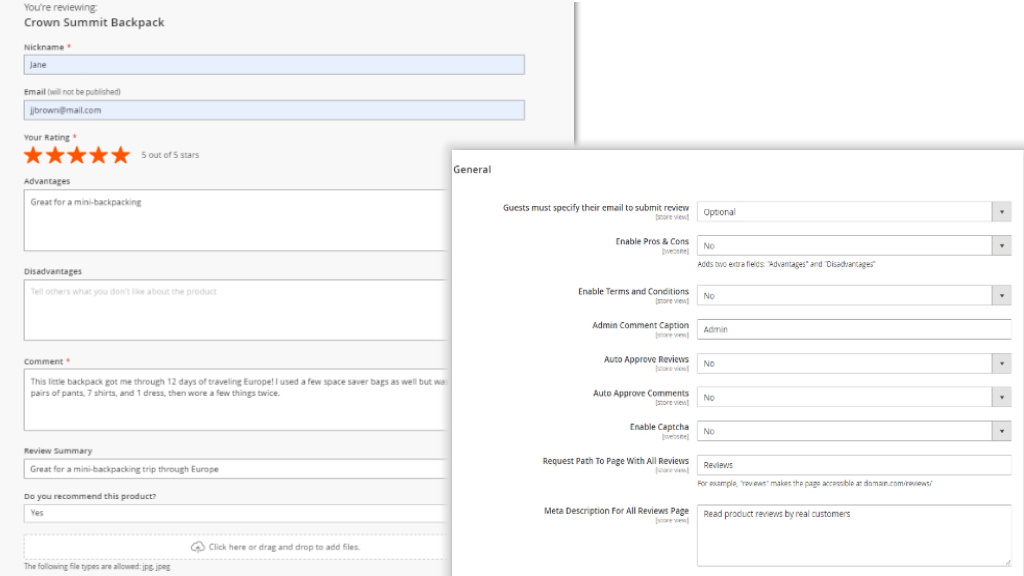 Featured reviews
Highlight up to 5 most relevant and powerful reviews into a featured block. Let authors feel that you value their opinion and appreciate it to be a significant part of the product.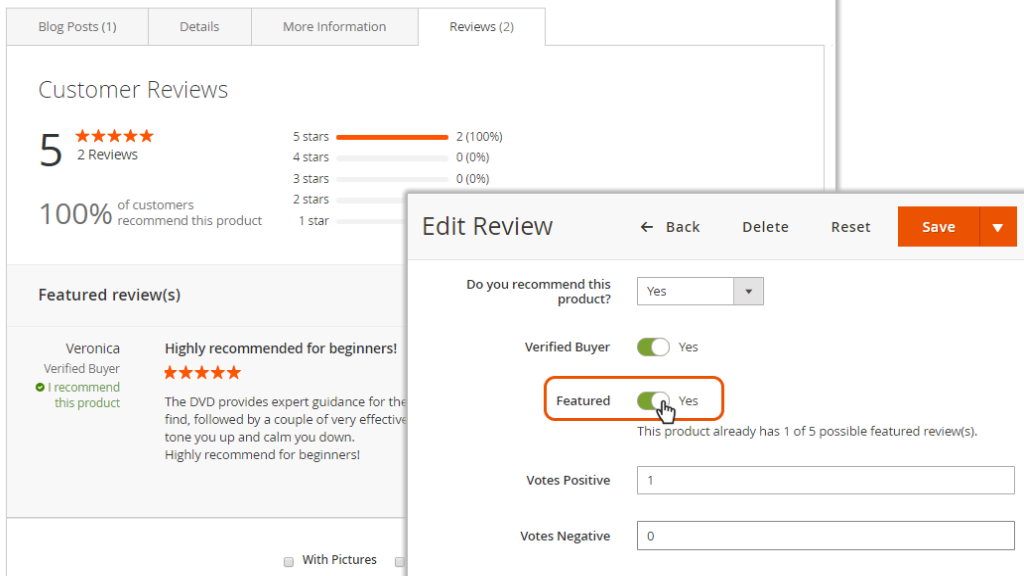 Unsubscription from review notifications
Unsubscription from review notifications
Give your customers more freedom and do not push them to receive all your notifications. Allow unsubscribing and let shoppers decide for themselves whether they are idle contributors or proactive advocates.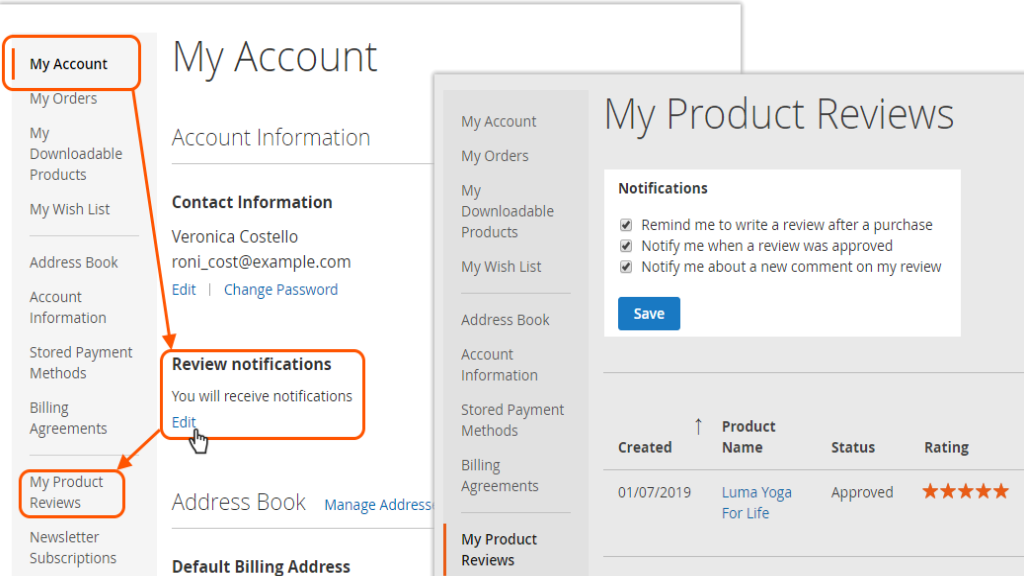 Review management
Browse and manage reviews effectively in a single grid. Store admin can edit reviews before publishing, leave comments, and change reviews status. Set an automated review approval workflow, if needed. Enhance reviews credibility and improve user experience by indicating featured reviews (auto counter is available) and applying status to 'Verified Buyer.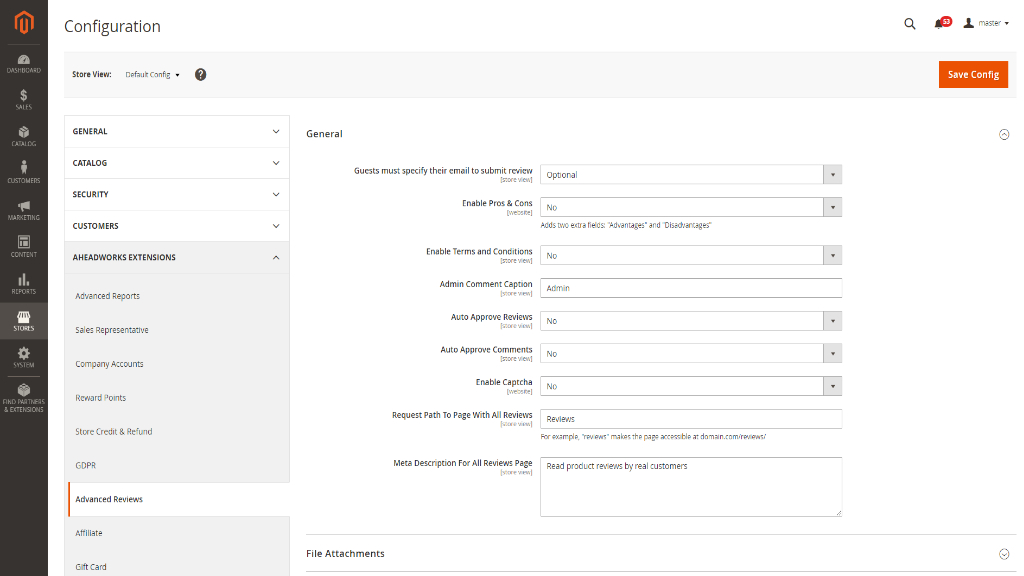 Review policy configuration
Review policy configuration
Choose a review policy that is more suitable for your business. Enable guests to specify their email addresses to leave a review and secure real reviews with a Captcha. Specify a page for the collection of all reviews and add the Terms and Conditions page. Set regulations on auto-approval of reviews and comments, configure parameters for image attachments, refine email notifications, and more  - all these options will help to protect both the interests of customers and your store.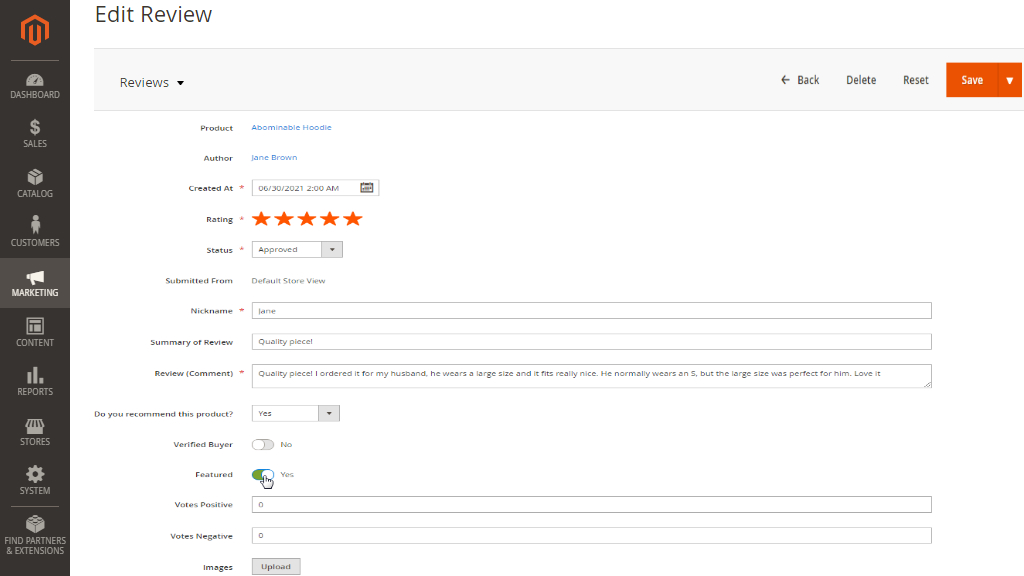 Use every opportunity to promote products by adding a review widget to any page.
Sort reviews by rating, date, and helpfulness value; filter them by verified users and images.
Rating on the usefulness of the review/comment
Allow users to vote for helpfulness by clicking the Finger Up icon or Finger Down.
Allow users to report abuse by clicking the Flag icon and confirming the choice in the popup window.
Give 'Verified Buyer' badge automatically or manually to customers who leave reviews via the email review submission form.
Enable the 'Review Reminder' function to reach every customer via email.
Indicate the number of days for a review reminder to be sent on completing the purchase.
Create individual email notification templates for different store views to be sent to customers on approval of their reviews.
Select the email template for abuse reports and specify the email address for alerts about negative reviews.
Make sure review notification emails do not get lost in the spam.
Import existing reviews into the present module by submitting commands to the command line.
1.6.2

Released 26.07.2023
* Fixed issue with the submit review in some mailing services
* Fixed issue with displaying the 'Add Comment' form after updating the review grid
* Fixed issue with an empty 'Reviews' tab after navigating to it via the 'Catalog' page for Magento 2.4.6
* Fixed issue with Filtering by email

1.6.1

Released 23.01.2023
* Fixed issue with deleting tables after disabling the extension
* Fixed issue with displaying the customer's full name in the emails
* Fixed issue on the product page when image is removed from server
* Fixed issue with the Review Reminder emails on websites for which extension is disabled

1.6.0

Released 10.01.2023
+Reviews import from Yotpo
+Shared reviews
+Reviews import via CSV
+Indexer logic improvements


1.5.1

Released 30.11.2022
* Fixed issue with the setup upgrade and the composer autoload
* Fixed issue with the email template
* Fixed issue with the configuration options on the non-default store view
* Fixed issue with an invalid link in the admin email notifications
* Fixed issue with the helpfulness of ratings if the 'Use Categories Path for Product URLs' option is enabled
* Fixed issue with the missing and duplicated translation lines
* Fixed issue with the Adobe Commerce B2B Requisition List conflict
* Fixed issue with the "Email review reminder" template preview
* Fixed issue during the 'setup:upgrade' command execution if the product URL suffix is empty

1.5.0

Released 22.11.2022
+ Design changes for advanced reviews
+ SEO research
+ Separate reviews page per product
+ Top 10 reviews on the product page
+ SEO-friendly reviews
+ Rebuilt reviews on the product page with static html instead of ui components
* Fixed issue with displaying the 'request_form.phtml' template in the customer review reminder email

1.4.2

Released 26.07.2022
+ GraphQL update

1.4.1

Released 10.06.2022
+ Compatibility with Magento 2.4.4
* Fixed issue with module installation for Magento 2.4.4

1.4.0

Released 06.04.2022
+ GraphQL support
*Fixed issue with ACL
*Removed jquery/ui dependency

1.3.5

Released 06.04.2022
+Declarative schema upgrade

1.3.4

Released 13.10.2021
*Fixed issue with the error appearing in "Reviews" tab on Storefront

1.3.3

Released 11.06.2021
* All reviews are deleted if "Select All" for filterable reviews is applied
* Fixed issue with translation
* Product card on another widget isn't displayed properly

1.3.2

Released 27.05.2021
* It's impossible to set a product for a new review after setting up multisource inventory
* Captcha is not displayed (Magento 2.4.1 EE)
* MSI: It's impossible to select product when admin creates a new review

1.3.1

Released 08.09.2020
+ Compatibility with Magento 2.4
* Minor design improvements

1.3.0

Released 30.07.2020
* Added feature to export reviews via CSV

1.2.2

Released 21.10.2019
* Fix issue when structured Data for Reviews is not displayed
* Error occurs after clicking "Reviews" grid


1.2.1

Released 29.07.2019
* Nickname output in widget is not sanitized properly on frontend

1.2.0

Released 21.06.2019
+ Pin up to 5 reviews on top (Featured review)
+ Pros/Cons
+ Unsubscribe options
+ Option to ask email address of guests
+ Terms & Conditions support
+ Mail log
+ Auto-attach a guest review to an existing account if email addresses match
+ Notifications for a customer about comments on their review
+ Auto-fill Summary field
+ Counter for featured reviews per product in backend
+ An option to approve review right from a grid in backend
+ Minor UX and UI improvements
* Cursor is incorrect on the image preview
* "Be the first to review this product" does nothing
* Error when admin posts a new review with admin comment added to it.
* Admin review is duplicated after creating
* Incorrect product name is shown in a reviews grid in backend

1.1.0

Released 30.04.2019
+ Images support
+ A separate page with all reviews on the site
+ Customer comments
+ Comments Auto-approval
+ Reviews Auto-approval
+ Abuse report
+ Anti-spam protection
+ Review widget
+ Improved reviews filtering:
- with images only
- by rating
- from verified buyers only
+ Improved helpfulness voting behavior
+ Email address for alerts about negative reviews
+ Integration with Reward Points
* Minor UI fixes on Magento 2.3

1.0.2

Released 07.02.2019
+ Accessibility: keyboard navigation improvement
+ Magento 2.3 compatibility
* Error appears while saving information about the customer in the admin panel
* Translation improvements
* Error occurs when a guest tries to add a product review
* Fixed issue with Review Schema loading
* Review stars do not show up in Internet Explorer (version 11.0.96)
* Error message appears on an attempt to create a new review in the admin panel
* Fixed issue with recommendation block displaying
* Column "object_id" has the SMALLINT type in the "aw_ar_email_queue" table
* Reviews are not created via email
* Magento 2.2.6 compatibility issue

1.0.1

Released 07.06.2018
*'Module' attribute exception fixed

1.0.0

Released 06.06.2018
*Initial release
Do you have a way to get container-header to homepage?
Question by: Deverloper on Dec 1, 2021, 10:16 AM
You can create a widget. Creating a widget via the native functionality allows adding a review widget to any page in a store. Go to Content → Widgets.The widget is available for setting up when you select the "Review Widget by Aheadworks" type in the relevant dropdown.
Answer by: Julia Gorobets (Admin) on May 27, 2022, 1:34 PM