Product Questions for Magento 2
Let customers ask questions right from product pages.
Registered customers and guests can ask questions
Public and private questions can be asked
Both admins and customers can give answers
Current extension version: 1.1.4 | Compatibility: CE 2.3.X EE 2.3.X
How Magento 2 Product Questions works
Let shoppers give a valuable product info with the Magento 2 Product Questions extension! Manage questions and answers by sharing questions among products and automatically approving answers (optional). Introduce a convenient rating system for assessing the helpfulness of each question and answer. Notify users of new replies to their questions, question and answer status change via email.
Gain Trust By Answering to Customers' Questions
Asking questions
Leaving replies
Helpfulness rating
Q&A permissions
Rate permissions
Manage Questions grid
Admin questions
Q&A editing
Question sharing
Admin alerts
Customer alerts
Asking questions
The 'Product Questions' tab allows your customers to ask questions (both public and private) regarding products.
Leaving replies
Besides asking questions, the customers can give answers to the already existing ones.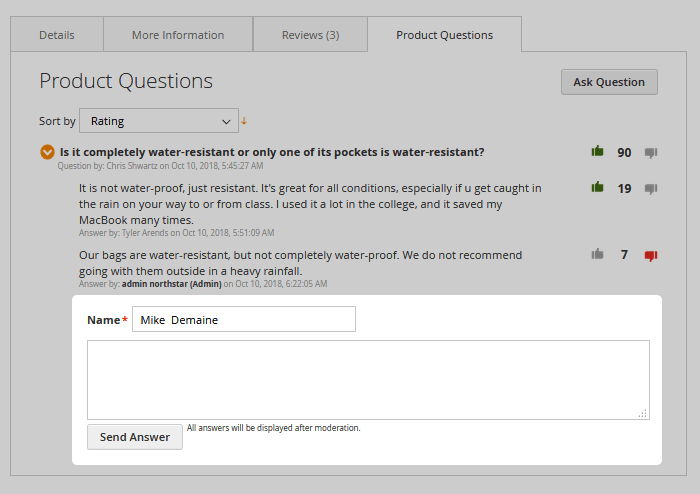 Helpfulness rating
The customers can vote the usefulness of each particular question or answer and see other users' votes.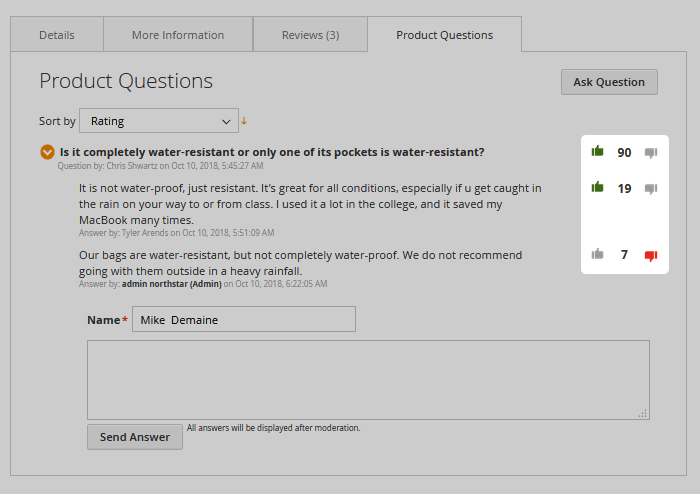 Q&A permissions
Define who can ask and answer from product pages (registered users, the guest ones, or both).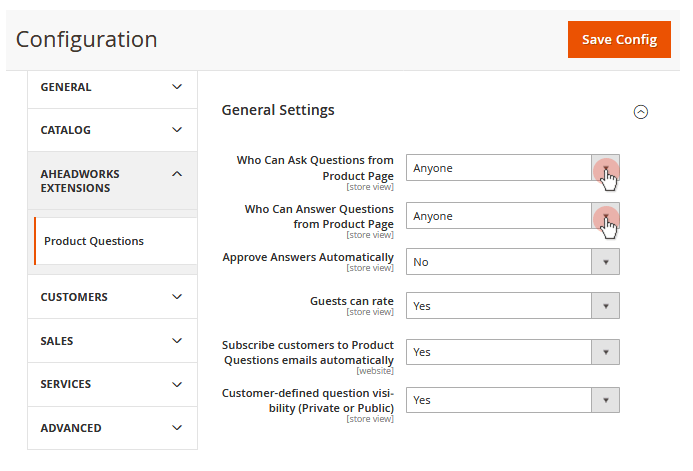 Rate permissions
Decide if guests will be allowed to rate questions and answers.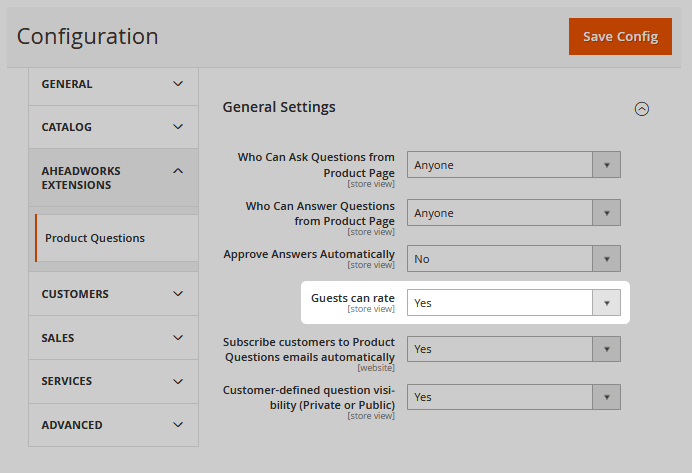 Manage Questions grid
Delete, publish, reject, change the visibility of particular questions in a single grid!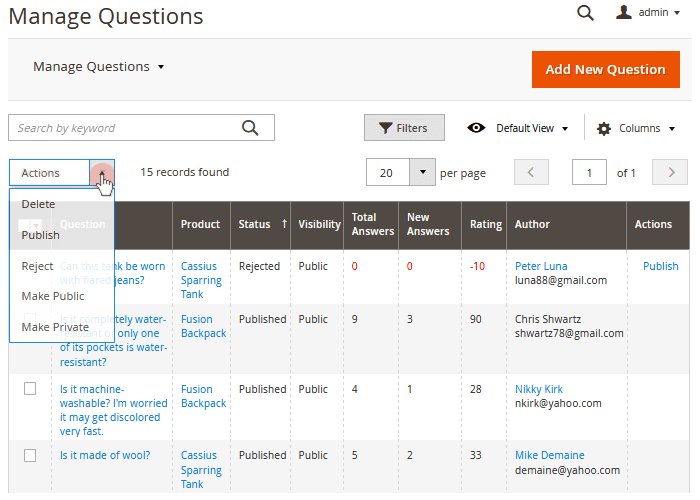 Admin questions
Add your own questions and provide answers to them.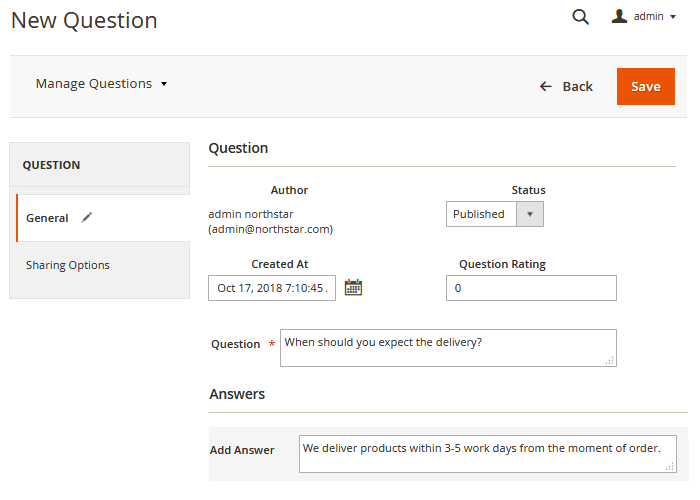 Q&A editing
Moderate questions/answers on the go! Change the visibility and rating of individual questions. Edit the content of questions and the related answers one by one.
Question sharing
Optimize your workflow by sharing questions among websites and products (all or the particular ones).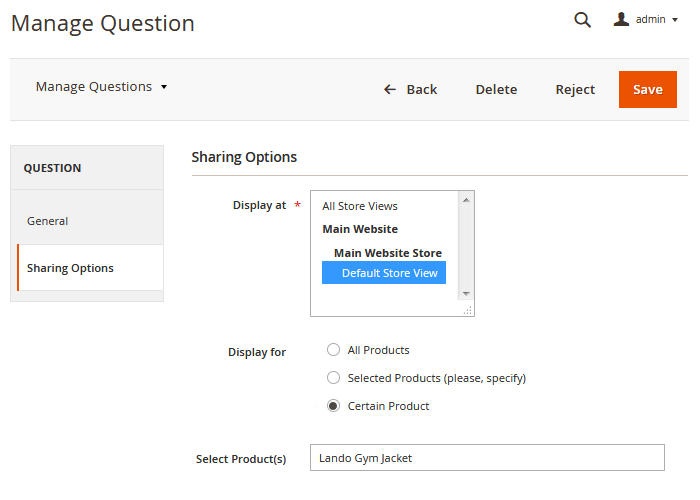 Admin alerts
Enable admin notifications about new questions and answers.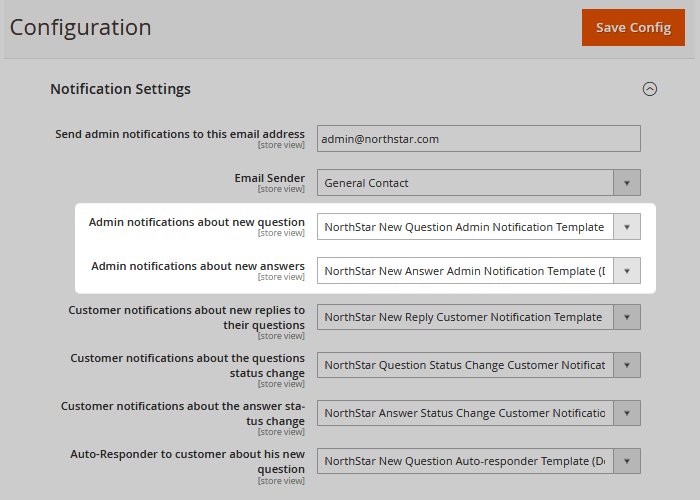 Customer alerts
Send customers alerts on new replies to their questions and/or Q&A status change.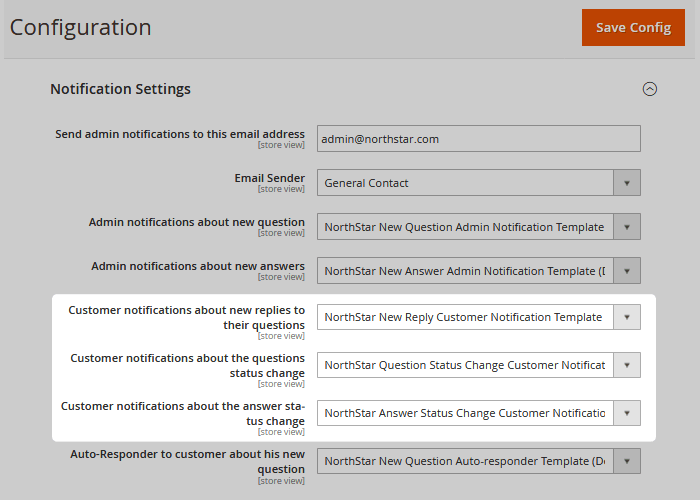 Magento 2 Product Questions Detailed Feature List
Customer questions & answers
1.1.4

Released 23.01.2020
* Fixed issue for Magento Marketplace

1.1.3

Released 04.12.2019
* Error occurs when adding script on frontend (question field)

1.1.2

Released 25.10.2019
* Fixed issue with incorrect Question output
* Error appears when the rating of question is changed on the Storefront
* Questions related to configurable products aren't published
* Admin grid show wrong product names (Magento Commerce)
* Uncaught ReferenceError: jQuery is not defined
* Improved sorting
* Deleted customer is still shown as registered in Product Questions grid
* Wrong product URL in emails for multistore
* Product Questions tab is not shown at Product page if Layout = "Product -- Full Width"
* Rating of answers can't be changed in Admin
* Improved compatibility with Pagebuilder
* Fixed issue with validation on Rating field in Admin
* Admin notifications about new questions and answers aren't sent (Magento v.2.3.2)
* Error occurs during compilation
* When the product is "Disabled" or "Out of Stock", the product is displayed and link to the product is active in "Product Questions" tab




1.1.1

Released 18.01.2019
*Magento 2.3 compatibility

1.1.0

Released 18.01.2018
+Product Questions migration tool
*SEO improvements
*Error occurs after using mass actions in Question grid
*Magento 2.2: compilation issue

1.0.9

Released 22.11.2017
+Magento 2.2RC compatibility
*Support for php v7 in composer
*Fixed timezone issue: Question with the wrong date is created at Admin
*Changed label in system.xml

1.0.8

* Magento Marketplace QA review
* Product questions are not shown if admin answers to customer question
* Error using product question URL being not logged in user
* Error when saving a customer account in admin


1.0.7

Released 01.02.2016
* Code refactoring
* Installation issue

1.0.6

Released 31.10.2016
* Fixed issue with Full Page Cache incompatibility
* Fixed issue with incorrect position of Product Questions tab on product page

1.0.5

Released 14.10.2016
* Fix for Magento Marketplace

1.0.4

Released 14.10.2016
* Magento 2.1 composer.json compatibility

1.0.3

Released 08.07.2016
* Added progress bar for search at "Sharing Options" page
* Stability and speed improvements

1.0.2

Released 11.04.2016
* https and FPC issue

1.0.1

Released 08.04.2016
* Uncaught Type Error on product page
* Question page opened in two tabs

1.0.0

Initial release 01.03.2016