Product Questions for Magento 2
Increase conversion rates by facilitating customers to learn more about products by asking questions and getting answers right from product pages.
Allow both registered customers and guests to ask questions

Let customers ask public or private questions

Specify users, allowed to answer and rate questions 

Choose to display the most important or frequently asked questions on the product page

Configure email notifications with useful variables to keep everyone updated on any changes
Current extension version: 2.3.1 | Compatibility: Open Source 2.4.4 - 2.4.6; Commerce 2.4.4 - 2.4.6



License:
Starting At
Special Price
$229.00
$229.00

30-DAY MONEY BACK

FREE INSTALLATION

30-DAY FREE SUPPORT

LIFETIME RIGHT TO USE
Product Questions Gallery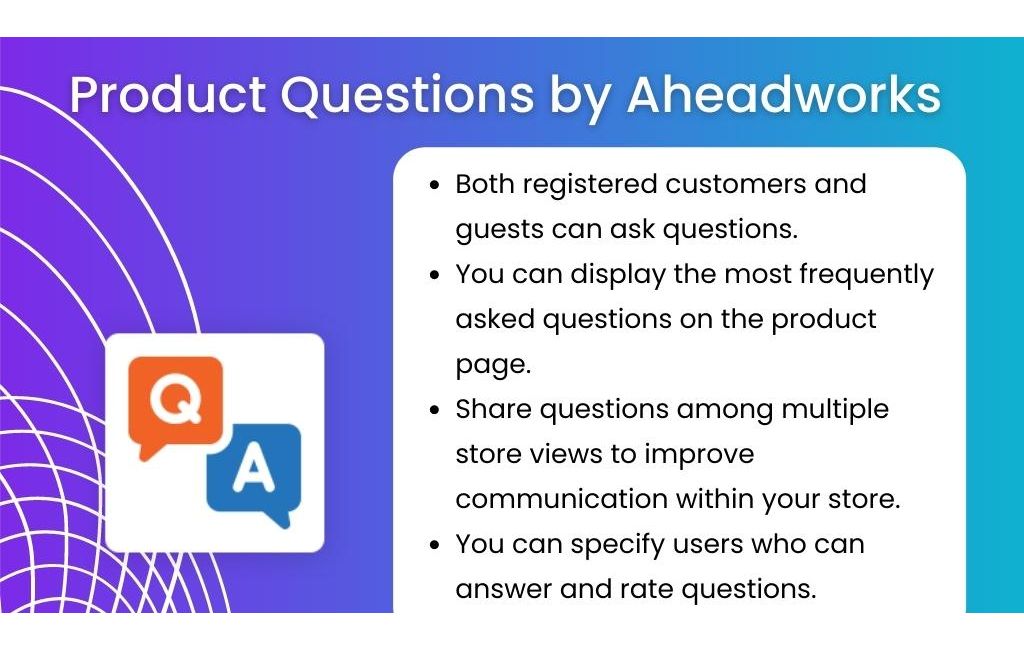 Every online merchant experiences challenges inherent to the eCommerce business such as limited product representation. Customers can't try the item before buying it, they have to rely on product description coupled with reviews. Occasionally causing doubt and eliciting questions users typically address with the support team. Oftentimes, this causes visitors to abandon the store, without a convenient way to address their questions. 
Convert guests into buyers providing all important product info directly on the product page! Customers can ask questions and get them answered right away in the 'Product Questions' tab. Enable users to vote for the most or least useful Q&A to increase customer engagement. Detailed answers to the most popular queries contribute to gaining customers' trust, eventually boosting sales. This way you free up the sales and support teams from answering repetitive questions and help visitors to make the purchase decision faster.
Convert guests into buyers with immediate product answers
Improve customer service and brand trust by providing shoppers with valuable product info. Manage questions and answers by sharing questions among products and automatically approving answers if needed. Introduce a convenient rating system for assessing the helpfulness of each question and answer. Configure email notifications both for users and admin to stay informed about new replies and questions/answers status change.
Questions and answers
Helpfulness rating
Questions managing
Questions sharing
Email alerts
Q&A page
Questions and answers
Figure out shoppers' concerns and solve them right away on the product page where customers can ask public or private questions regarding products. Users can give answers to already existing questions, thus generating valuable and authentic content without any effort from the support team. Admin can configure permissions to define who is allowed to ask and answer from product pages: registered users, the guest ones, or both. It is also possible to allow answering for customers, who bought the specific product.
Helpfulness rating
Find out what bothers visitors most and understand product issues by letting customers vote on the usefulness of each question and/or answer. Thanks to ratings, you encourage customer engagement and analyze customers' interest in the products of your store. To establish long-lasting relationships with potential clients, allow guests to rate questions and answers as well as registered customers.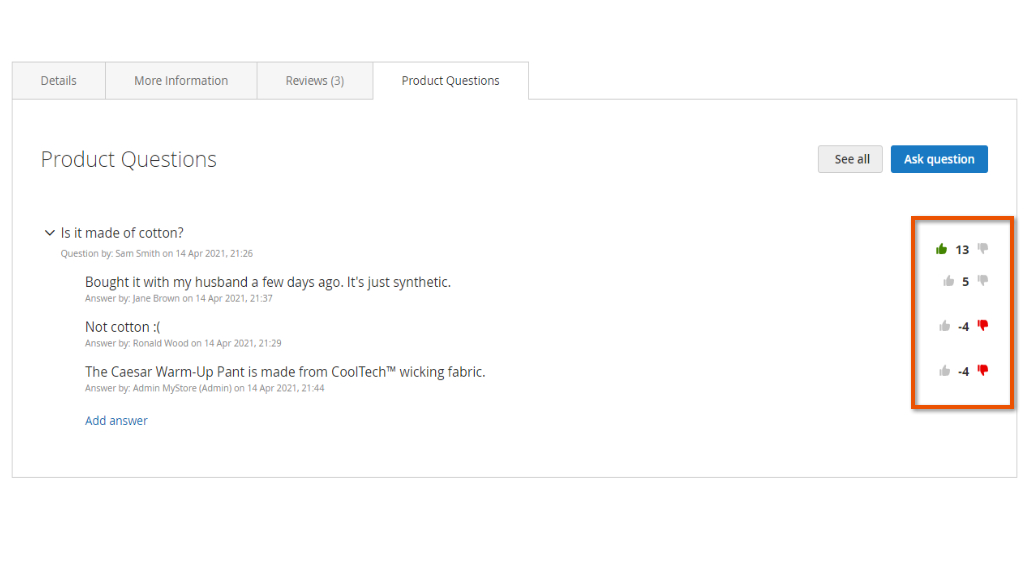 Questions managing
Create well-organized Q&A sections and help visitors to learn more about your products and business. Moderate questions and answers on the go: delete, publish, reject, change the visibility of particular questions one-by-one or by mass-actions in the grid. Edit the content of questions and related answers to provide essential information that your customers are looking for. Add your own questions and provide answers to them to present benefits and promote product features, not included in the product description. Let store admin monitor all the answers, submitted by users, or enable auto-approval.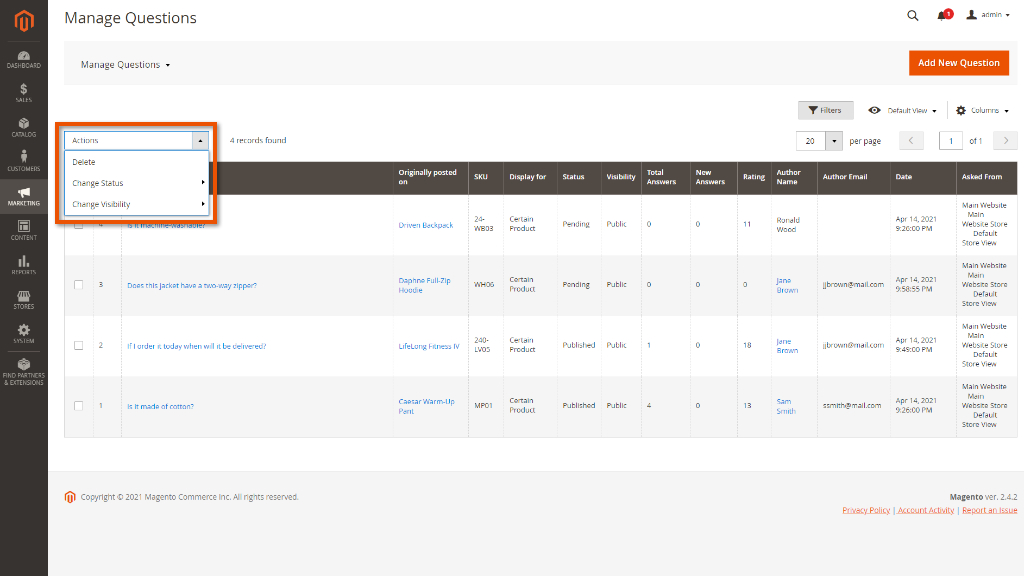 Questions sharing
 Improve the communication within your store and optimize your workflow by sharing questions among multiple store views. Now website visitors can find outstanding aspects of your products easier, as questions can be shared by one specific product or according to product conditions. As a result, users can go through all the details on one page and quickly make the purchase decision.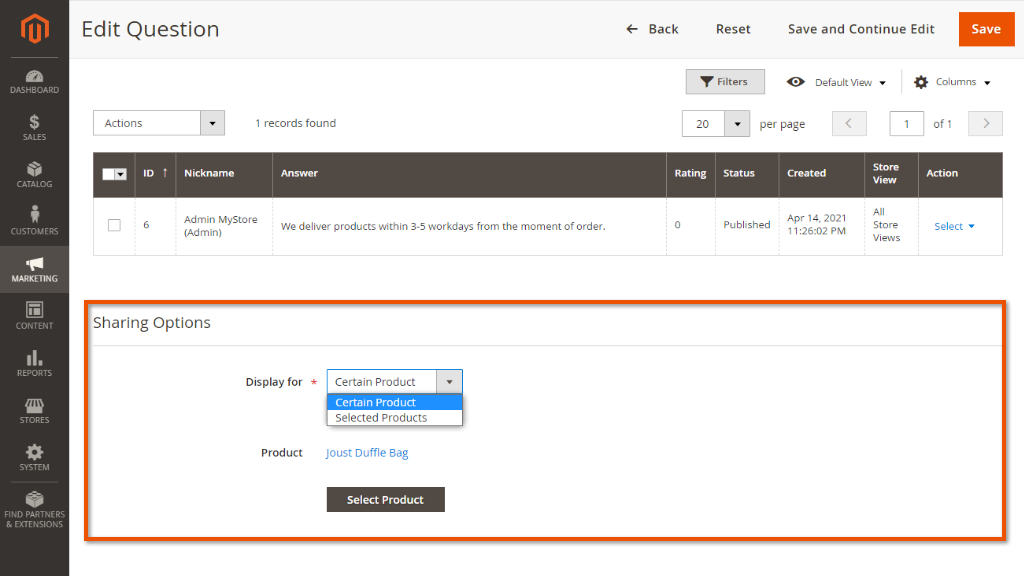 Email alerts
Keep everyone updated on any changes via email. Benefit from brand new templates with a lot of information and variables that can be easily used for customization. Configure admin notifications about new Q&A; send customers reminders and alerts on new replies to their questions. After the store admin decides which questions should be published, made private/public, or rejected, users, will be informed about their Q&A status updates by email. Both guests and registered customers can easily unsubscribe and manage their email settings.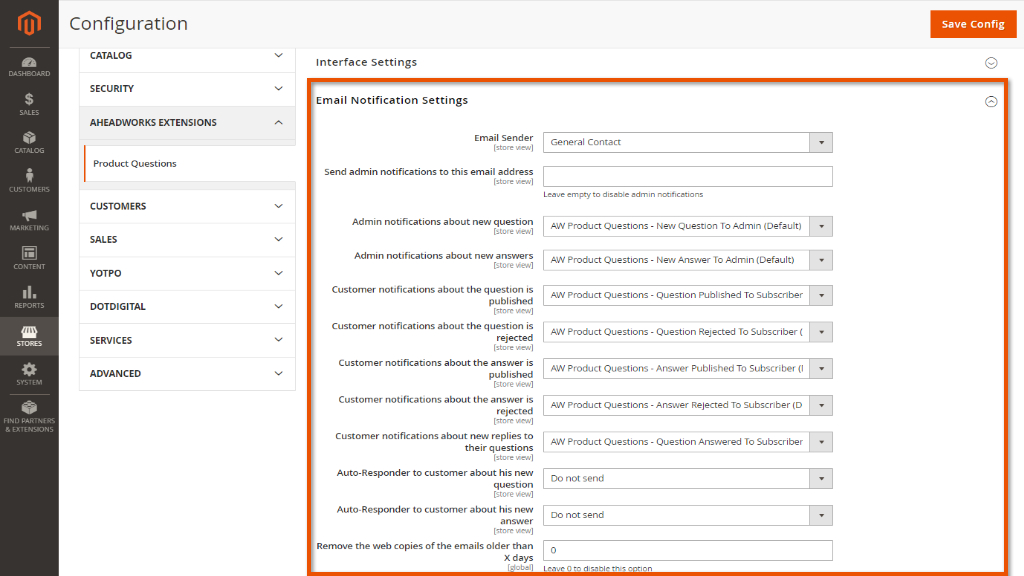 Q&A page
By clicking the 'See all' button in the Product Questions tab on the product page, customers can view the separate page with all questions and answers for a product. The appealing layout represents Q&A in a readable and easily perceptive manner. Intuitive interface, sorting, and pagination help users to find relevant product info easily. In addition, customers can ask and answer questions right from the 'All Questions' page.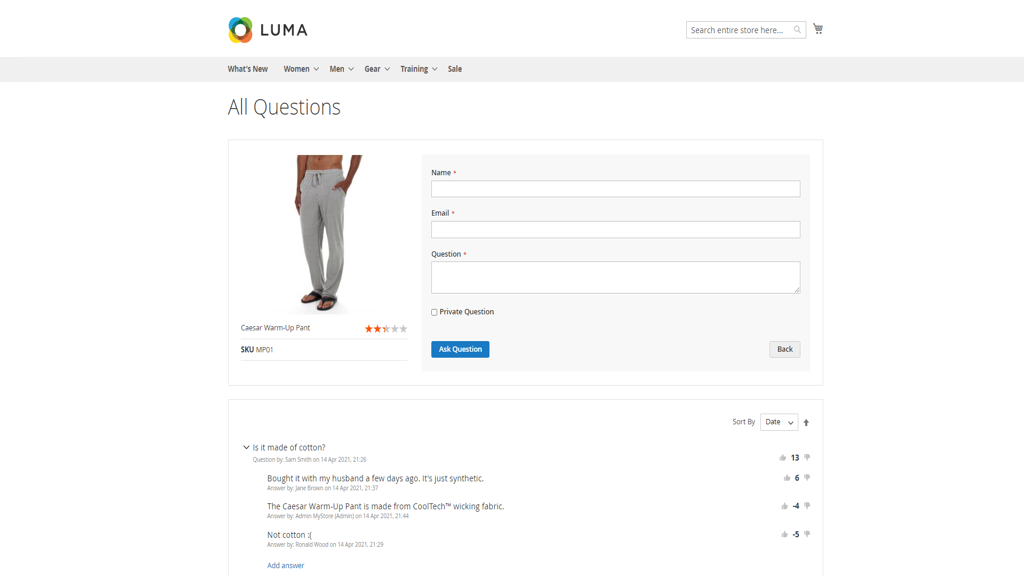 Decide whether to enable or disable the module on the storefront.
Q&A in a customer account
The 'Product Questions' tab in a customer account lists all the customer's questions asked and the answers given to other questions, as well as email notifications settings.
Admin can conveniently view questions by customers or related products with all the relevant details and apply mass actions.
Let users search for related info faster by sorting Q&A by date or rating on the separate page with all Q&A.
Admin can see the status, visibility, rating, author, total and new answers, store view, and date of all product questions.
Specify the number of questions and answers to display on the product page, default sorting, admin answer caption, etc.
Admin can monitor all emails in one grid, filter them by notification type and other parameters, apply mass actions.
Subscribe customers to Product Questions emails automatically.
Auto-cleaning of the already sent emails can be set up.
Users can submit questions quickly from an intuitive form where only name, email, and the question itself are required.
If it is allowed in the configurations, any visitor can answer already existing questions. 
As an add-on for the native M2 migration solution, the AW migration tool can be installed. It moves the Q&A generated by the M1 Product Questions module to the M2 Product Questions in a few steps.
Increase security level and obtain defense from bot attacks.
 On the frontend questions and answers become visible right after the page is loaded.
Enjoy WebAPI support out of the box.
2.3.1

Released 03.10.2023
* Fixed issue if question is not answered
* Fixed issue with the same query loads in a loop

2.3.0

Released 09.08.2023
+ Optimization of AJAX requests on the page with questions
+ Product path for different categories for the All Questions page
* Fixed issue on the product page if the Product URL Suffix is disabled

2.2.0

Released 24.07.2023
+ FPC management improvement
+ Added index for speed optimization for the Questions sharing by product conditions
+ Refactoring of the frontend block dependencies
+ Data Migration Tool for Magento 2.4
+ Added 'Cancel' button to the question/answer form

2.1.0

Released 13.06.2023
+ GraphQL support
+ Product price at the All Questions by product page
* Fixed issue with displaying question popup in the admin panel

2.0.7

Released 25.01.2023
* Fixed issue with the automatic filling of the "Name" field on the Product page
* Fixed issue with saving customer in the backend
* Fixed issue after executing 'setup:upgrade' If products have 'url_key'
* Fixed issue with the wrong form keys generated for an email admin links
* Fixed issue with URL rewrites after changing the product URL Suffix
* Fixed issue with unsafe usage of URL generator

2.0.6

Released 14.11.2022
* Fixed issue with rating when Advanced Reviews is installed
* Fixed issue with upgrading PQ data to version 2.X.X
* Fixed issue during extension update: 'Unable to apply data patch'
* Fixed issue with design after adding an answer on the PQ tab on Storefront
* Fixed issue with the 'var subscriber_email' variable in email templates
* Fixed issue with "Custom Admin URL"
* Fixed issue where the product URL key was being overridden for store view
* Fixed issue with incorrect edit question URL if 'Add Store Code to Urls' is enabled
* Fixed issue with displaying the question only on the 'See All' page if 'Selected Products' is selected in the Sharing Options

2.0.5

Released 10.06.2022
+ Compatibility with Magento 2.4.4
* Fixed issue with installation for Magento 2.4.4
* Fixed issue with the Product tabs when question is published

2.0.4

Released 17.03.2022
+Declarative schema upgrade

2.0.3

Released 25.10.2021
+Product name is added to alt title

2.0.2

Released 26.04.2021
* Fixed issue for Magento Marketplace

2.0.1

Released 19.04.2021
* Product name is not displayed in the Sharing Options section after saving

2.0.0

Released 19.04.2021
+ The module functionality is updated according to Magento best practices
+ reCaptcha support
+ Extra variables are added to email templates
+ A separate page for product questions is displayed on the frontend
+ Enhanced UI

1.1.4

Released 23.01.2020
* Fixed issue for Magento Marketplace

1.1.3

Released 04.12.2019
* Error occurs when adding script on frontend (question field)

1.1.2

Released 25.10.2019
* Fixed issue with incorrect Question output
* Error appears when the rating of question is changed on the Storefront
* Questions related to configurable products aren't published
* Admin grid show wrong product names (Magento Commerce)
* Uncaught ReferenceError: jQuery is not defined
* Improved sorting
* Deleted customer is still shown as registered in Product Questions grid
* Wrong product URL in emails for multistore
* Product Questions tab is not shown at Product page if Layout = "Product -- Full Width"
* Rating of answers can't be changed in Admin
* Improved compatibility with Pagebuilder
* Fixed issue with validation on Rating field in Admin
* Admin notifications about new questions and answers aren't sent (Magento v.2.3.2)
* Error occurs during compilation
* When the product is "Disabled" or "Out of Stock", the product is displayed and link to the product is active in "Product Questions" tab




1.1.1

Released 18.01.2019
*Magento 2.3 compatibility

1.1.0

Released 18.01.2018
+Product Questions migration tool
*SEO improvements
*Error occurs after using mass actions in Question grid
*Magento 2.2: compilation issue

1.0.9

Released 22.11.2017
+Magento 2.2RC compatibility
*Support for php v7 in composer
*Fixed timezone issue: Question with the wrong date is created at Admin
*Changed label in system.xml

1.0.8

* Magento Marketplace QA review
* Product questions are not shown if admin answers to customer question
* Error using product question URL being not logged in user
* Error when saving a customer account in admin


1.0.7

Released 01.02.2016
* Code refactoring
* Installation issue

1.0.6

Released 31.10.2016
* Fixed issue with Full Page Cache incompatibility
* Fixed issue with incorrect position of Product Questions tab on product page

1.0.5

Released 14.10.2016
* Fix for Magento Marketplace

1.0.4

Released 14.10.2016
* Magento 2.1 composer.json compatibility

1.0.3

Released 08.07.2016
* Added progress bar for search at "Sharing Options" page
* Stability and speed improvements

1.0.2

Released 11.04.2016
* https and FPC issue

1.0.1

Released 08.04.2016
* Uncaught Type Error on product page
* Question page opened in two tabs

1.0.0

Initial release 01.03.2016
Can i add the question to other SKU's ? Maybe by rules , if question for product A add questions also for product B
Question by: Jan on Aug 30, 2019, 11:49 AM
Yes, it is possible to share 1 question between several products either by using Select Product(s) option or Magento conditions.
Answer by: Tatiana Poleshchuk on Oct 7, 2019, 1:17 PM
is this Q&A is your Product Questions module?
Question by: Guest on Jul 13, 2016, 1:32 PM
Yes, it is. We hope you liked it
Answer by: aheadWorks on Jul 13, 2016, 1:33 PM
Does this extension support GraphQL?
Is this extension optimized for SEO (does google read the added content from q&a)?
Question by: BK on Dec 30, 2021, 3:26 PM
This extension doesn't support GraphQL. As for SEO optimization, content with the module is loaded without AJAX or delays, so Google should read it with no issues.
Answer by: Julia Gorobets (Admin) on May 27, 2022, 1:35 PM