Review Reminder for Magento 2
Increase brand trust and customer loyalty with automatic review reminders.
Getting more reviews helps build new customer's trust in the store and the brand
Reviews help to build product pages weight for search engines, improving SEO
Once set up, the review reminders are sent automatically
Current extension version: 1.0.8 | Compatibility: Open Source 2.4.4 - 2.4.6; Commerce 2.4.4 - 2.4.6

License:
Starting At
Special Price
$99.00
$99.00

30-DAY MONEY BACK

FREE INSTALLATION

30-DAY FREE SUPPORT

LIFETIME RIGHT TO USE
Review Reminder Gallery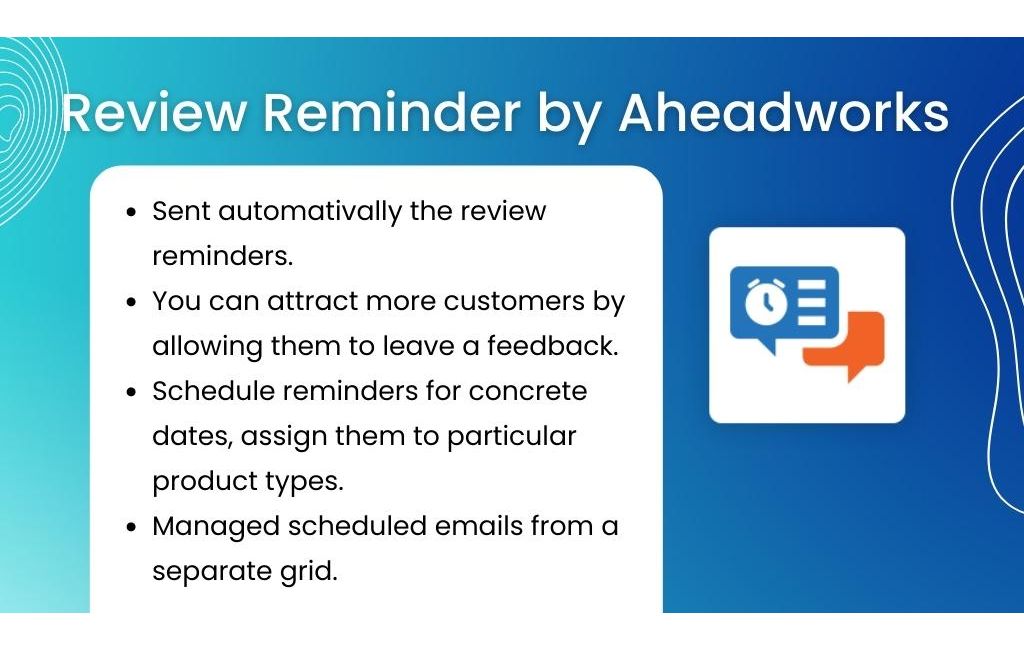 How Magento 2 Review Reminder works
Review Reminder Magento 2 extension allows sending automated notifications to customers who have purchased products from the store. The reminders are controlled by the rules and rule conditions. Thus for customer segmentation, storeowners can use store views and customer groups. For product conditions there are product types, cart conditions, and product attribute conditions. For example, one can specify a rule that will target the main store view and customers from a general group who purchased new products two weeks ago. It will help get the reviews for new products. If customer has already left a review no email will be sent saving the trouble. In the end the more reviews customers leave the more lively and trustworthy the store looks.
Let customers promote your products
What people really are interested in, and spend most time reading - are the product reviews. Actually, 70% of online shoppers say that they are looking through the reviews to decide on the purchase. However, when it comes to leaving a feedback, customers often back away, or simply forget to leave one. Ask customers to share an opinion and help other make the right choice with Aheadworks Magento 2 Review Reminder.
Create a rule
Compose the reminder message, define an email subject, and decide when the reminder should be sent. After finished, you can preview the reminder email to make sure it is displayed properly on the customer's side.
Set conditions
Decide customers from which store view and what customer group should receive a reminder. Narrow down the audience with shopping cart and product attribute conditions.
Click save
Save the rule and enjoy the results. All the scheduled and sent reminders can be tracked in the mail log.
Thorougly planned reminders can increase the review count up to 6 times. Once set up and configured the extension offers a fully automated process of getting more reviews for the products - generating additional content, gaining people's trust and creating additional promotional opportunity with the email follow-ups.
Magento 2 Review Reminder Feature Highlights
Store view, customer group, shopping cart, and product attribute conditions, available for reaching customers with individual emails
Enrich the email layout and look with the help of WYSIWYG editor. No HMTL knowledge required
Send the email reminders with any delay convenient
Keep track of all sent and scheduled emails and take actions whenever required
Make sure to reach customers with several consecutive reminders that are cancelled automatically if the review is placed
Send, cancel, or delete multiple emails from mail log anytime
1.0.8

Released 27.10.2023
* Fixed issue with corresponding the 'From' field to the different store views in emails
* Fixed issue with duplicate content in emails
* Fixed issue with unidentified entities in messages and previews when the default rule is running

1.0.7

Released 10.06.2022
+ Compatibility with Magento 2.4.4
+ Declarative schema upgrade
* Fixed issue on the New Rule page for Magento 2.4.4
* Fixed issue with displaying the Cart items table on Email for Magento 2.4.4
* Fixed issue at the top of the New Rule page after clicking Preview button for Magento 2.4.4

1.0.6

Released 22.03.2022
+Declarative schema upgrade

1.0.5

Released 15.10.2021
* List of purchased items isn't shown in review reminder email [Magento EE v2.4.2]

1.0.4

Released 04.12.2019
+ Magento 2.3.3 compatibility fixes
* Error occurs when "Send now" button is clicked
* Fixed issue when Review Reminder affects integration tests
* Error appears while trying to sent or preview the default email
* Fixed issue with product widget in email

1.0.3

Released 15.02.2019
+ Magento 2.3 compatibility

1.0.2

Released 02.11.2017
+Magento 2.2 compatibility
*Magento EE installation issue

1.0.1

Released 08.09.2017
* Installation error when memory limit is less than 8GB
* Guest group is missing from "Customer Groups" option at rule page

1.0.0

* Initial release