Drive more traffic to your store with easily configured affiliate programs.
Promote products via link or coupon codes
Set flexible conditions for affiliate groups
Recommend products for promotion with predefined commission rates
Encourage customers to apply for affiliate programs with simple and intuitive application form
Current extension version: 1.2.0 | Compatibility: CE 2.3.X - 2.4.X EE 2.3.X - 2.4.X

45-DAY MONEY BACK

FREE INSTALLATION

90-DAY FREE SUPPORT

FREE LIFETIME UPDATES
Affiliate Gallery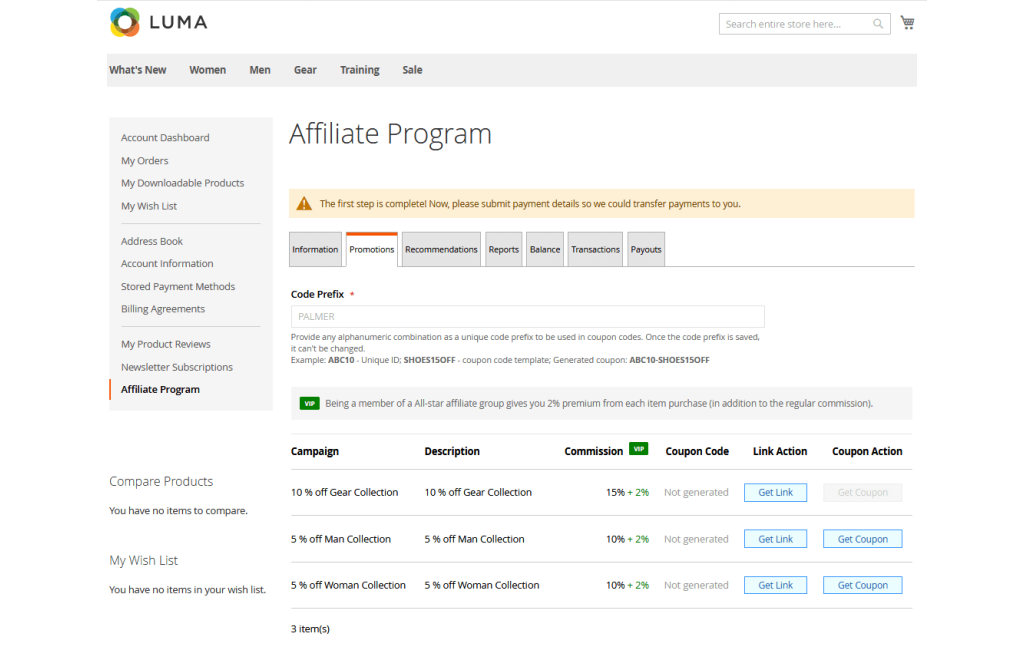 Build up a robust network of affiliates to promote your products more widely and reach for higher revenues. Recruit affiliates with Magento 2 Affiliate, establish clear bonuses and promote affiliate programs. Launch multiple program campaigns to profit from not only the sales of ordinary selling products but also the sales of Affiliates. Track the success of your affiliate marketing to the best advantage.
How Magento 2 Affiliate Works
Monitor the performance of your affiliate marketing strategy on the Backend too.
Design potent campaigns
Invite and motivate affiliates
Flexibly manage payouts
Provide transparent data
Lifetime bond with a customer
Design potent campaigns
Condition campaigns like they do in Amazon for your affiliates to earn commisions from every purchase (of either a promoted or not promoted product) within a campaign.
Promotion/commission types
Decide how affiliates will promote your products: via link, coupon, or both. Define in which format the commission will be calculated: fixed or percent.
Invite and motivate affiliates
Magento 2 Affiliate extension ensures a simple and intuitive interface for affiliates.
There are two ways for customers to join your network of affiliates: they place applications from the customer account, or you distribute them from Backend.
Let affiliates quickly pick the right products for promotion. Provide recommendations with commissions calculated in advance.
Reward top performers with higher commissions! The bonuses will be displayed next to the regular commission rates.
Flexibly manage payouts
Payout creation condition
Define the minimum required affiliate balance for payout creation. After the value is reached, a pending payout with all the available commissions will be created automatically.
Schedule automatic payouts. When the Affiliate sends a request, the payout is created automatically.
Mark payment processing stages with respective payout statuses. Complete payouts once they are processed via 3rd party payment gateways.
Provide transparent data
Both the Affiliate and Admin can track commissions and performance of the campaigns with the help of the two statistical reports.
Let affiliates track campaign efficiency separately for link-based and coupon-based campaigns.
Monitor the performance of your affiliate marketing strategy on the Backend too.
Both the Admin and Affiliate can track the history of all transactions filtered by items and dates.
Lifetime bond with a customer
Lifetime bond with a customer
If your business model presupposes that the affiliate, who introduced the customer to your store, should get credit for all his purchases, you can enable the 'Lifetime bond" feature. In that case the customer will be bound with the affiliate, and affiliate will be getting commission on every order of 'their' attributed customer even in cases when client is not using a coupon/link on that order or not and even if he makes a purchase with a coupon code provided by some other affiliate.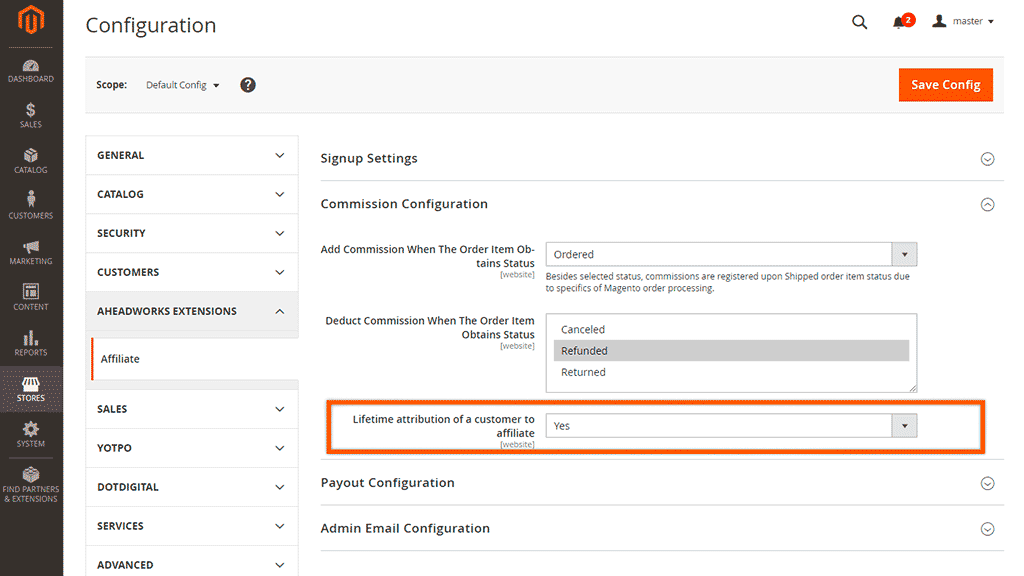 Magento 2 Affiliate Extension Detailed Feature List
1.2.0

Released 27.04.2020
+Assign to affiliate permanently
+"-"removal from the affiliate coupon

1.1.0

Released 23.09.2020
+ Added feature to make website and payment information optional
+ Option to add affiliates from the admin panel
* Fixed issue when campaign information and promotions can't be saved

1.0.5

Released 31.08.2020
+ Compatibility with Magento 2.4
* Minor design fixes

1.0.4

Released 22.06.2020
* Magento 2.3.5 compatibility fixes

1.0.3

Released 16.06.2020
* Magento 2.3.5 compatibility fixes
* Removed ZEND dependencies
* Pagination doesn't work in "Recommended Products" grid
* Unfriendly error appears in Admin if try to open not existing page

1.0.2

Released 12.05.2020
* Fixed issue when commision is added to wrong affiliate (when following several campaign links)

1.0.1

Released 01.04.2020
* Fixed issue when dates in grid and exported file differed
* Signup Request cannot be approved
* Error appears when trying to delete Affiliate Group
* Commissions are rewarded for orders placed from backend
* Recommended products grid isn't rendred with multisource inventory
* Fixed issue when with incorrect discount name in Cart


1.0.0

Released 20.12.2018
*Initial release