Every year selling products and services online is getting easier. Only 10 years ago, online shopping used to be a technical venture that needed large investment and constant developers support. Today eCommerce is a prosperous sphere with over 2.14 billion customers around the world and about $5 trillion of income. 
Along with that, for creating a website from scratch you don't need any special knowledge and skills anymore, with modern page building tools and highly functional platforms non-technical sellers have got freedom in the world of eCommerce. 
Among other platforms, Shopify has received recognition for its flexibility and ease of use. So if you decide to build a Shopify store, you go the right direction starting from this article. Today we are going to figure out how to start selling on Shopify, and what tool to choose to build a Shopify website from scratch.
Shopify is a subscription-based online platform that allows anyone to create an online store and sell their products and services. Shopify was founded in 2006 by Tobias Lütke, who failed to find a good platform for his store and decided to create it instead. The platform was designed to quickly start, run and grow a business. 
There are a number of reasons why 32% of US store owners choose Shopify to launch their business. First of all, it's super easy to start with Shopify. You can set a storefront, checkout, payment and shipping options, a back office and marketing activities within a day - in other words, get all right out of the box. 
Thus, you get free web hosting, which is included in all Shopify plans. It means you don't need to hire an agency to take care of your website security, software updates, etc, Shopify takes over the responsibility to keep your store up and running.
With Shopify you can connect your physical and online store, its inventory and prices. It's possible thanks to Shopify POS, which is also included in Shopify plans, so no additional charges will apply. 
Shopify offers quick and easy Shopify Payments for those who don't want to mess up with the third-party payment providers. The rest can set a desired payment gateway and maintain it themselves. The Shopify Checkout is able to process over 2.5 billion orders, saving the original speed.
Besides, you can track store statistics, take advantage of the Shopify App store and Marketing Platform, set up Shopify Shipping if you target Canada, US and Australia markets. These and many other Shopify features create a perfect environment for building a successful eCommerce business.
How to start selling on Shopify?
To start selling on Shopify the first thing you should do is analyze the market to ensure you're allowed to sell your products on the platform (e.g. tobacco, alcohol, cold weapons are forbidden). Explore the desired sphere, research potential customers and competitors, consult with experts about the market peculiarities. 
And when you decide that market is explored enough, you can start creating a website on Shopify platform. To do this, follow this steps:
1. Decide on goal and message
Before starting selling items, it's important to set specific goals: when you know what to achieve, you'll complete it faster. You can set multiple goals like providing more useful information about products and encouraging them to convert, or expressing the brand identity and increasing brand awareness.
When you have decided on the goal, think over the message your brand and website is going to transmit. It's a popular trend in eCommerce to tell your story and share your message with customers over the last two years. It leads to customers purchasing your products because they respect and share your views.
2. Set up an account on Shopify
To do this, you need to sign in and fill in the required information about your business: the name of the store, your goals, current revenue and the industry you are going to choose. After that add your business address and click the Enter my store button.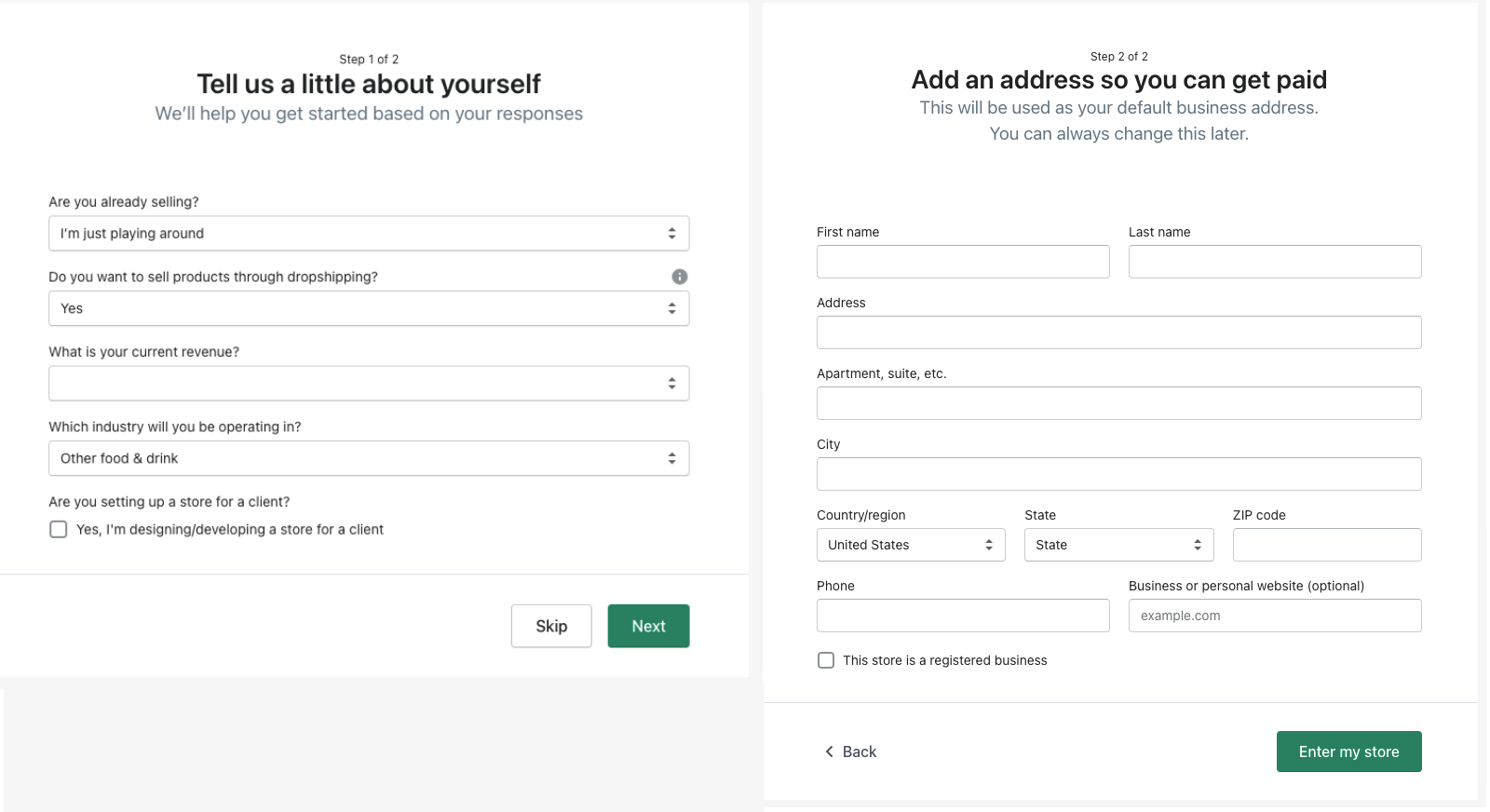 3. Choose a web hosting service
Web hosting is an online service that allows you to publish your website files onto the internet. Depending on your needs, you can try Shopify web hosting included in Shopify plans or hire an agency.
A domain name is an identification string, which serves as a digital address of your online store. The default domain names on shopify are [shopname].myshopify.com. However you can change it anytime in the Online Stores section > Domains. Here you can change domain name, transfer domain or buy a new one.
5. Choose a website builder
Page builders are the tools to build a website without manually writing a code. Page builders are easy-to-use frameworks equipped with premade templates and customizable widgets, allowing even dummies to create their own website without hiring a professional developer.
You can try Buildify Landing Page Builder, which allows you to create the whole website without using a single line of code.
6. Create website pages using page builder
Now when primary settings are completed, you can start building a website directly. First of all, you need to decide what pages you want to include and key design peculiarities. Remember, all your pages should be connected with unique design and reflect your brand. 
Let's see how to build a page using Buildify page builder.
Install the app and open it: from Shopify Admin go to Apps > Buildify Landing Page Builder. Open the Pages section in the top menu and click the Add Page button.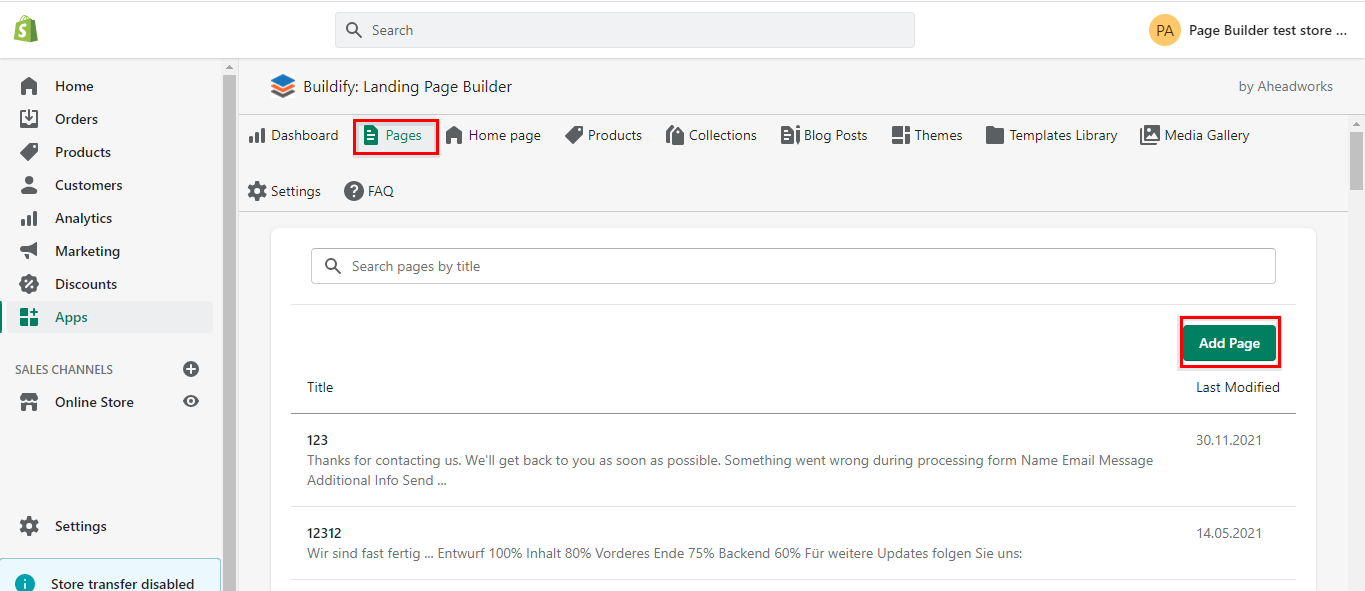 Now you can create an ideal web page simply by dragging-and-dropping widgets. If you are not keen on design, you can use premade templates from the Templates Library and add your content there.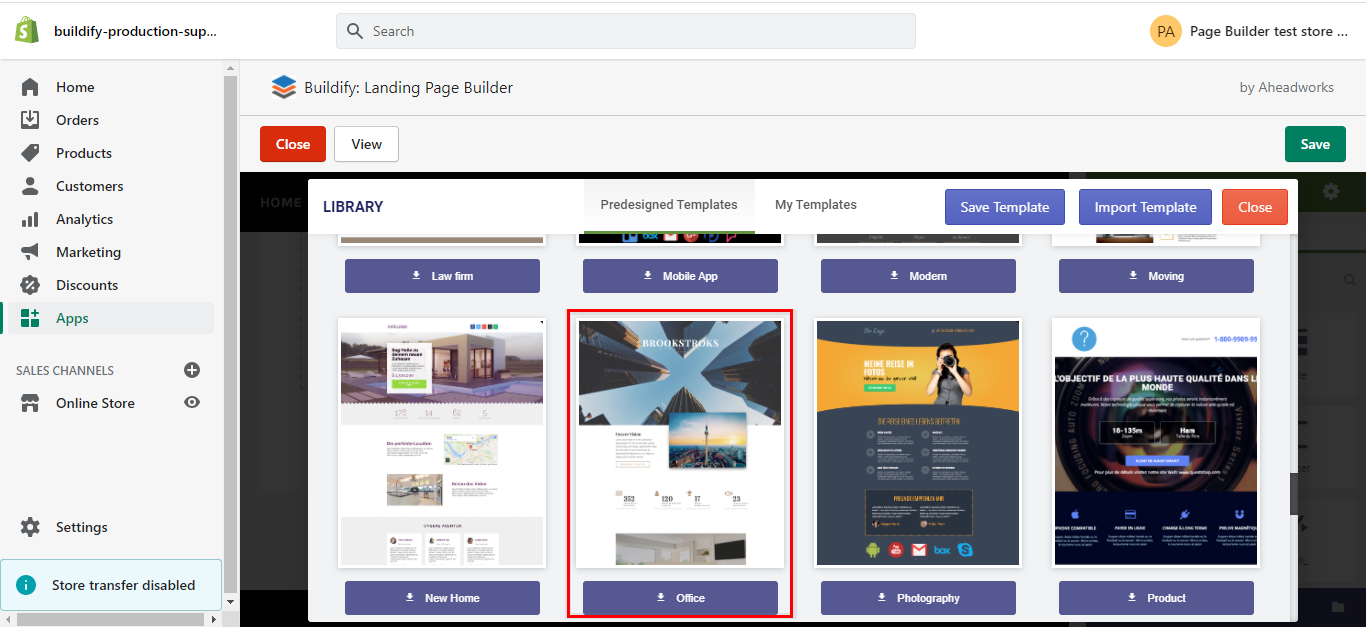 7. Connect a payment system
The next important step is to choose a payment system. Shopify supports numerous payment methods, which store owners can implement via third-party tools or Shopify Payments. You can customize the payment methods in the Payments section in Settings.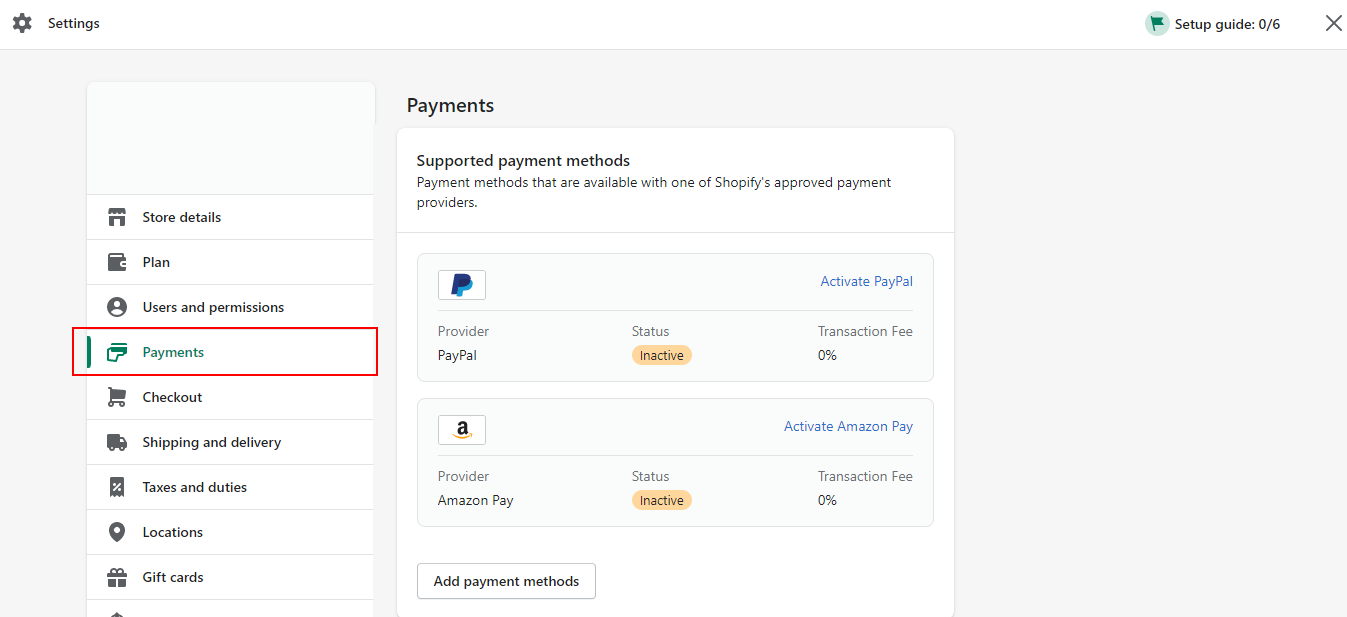 8. Add additional features
Though Shopify is a multifunctional platform, you may need some additional features to run your store smarter. Here you will need Shopify App Store with a wide range of apps of different purpose and customization opportunities. To explore the App Store click a Customize your store button in the Apps section.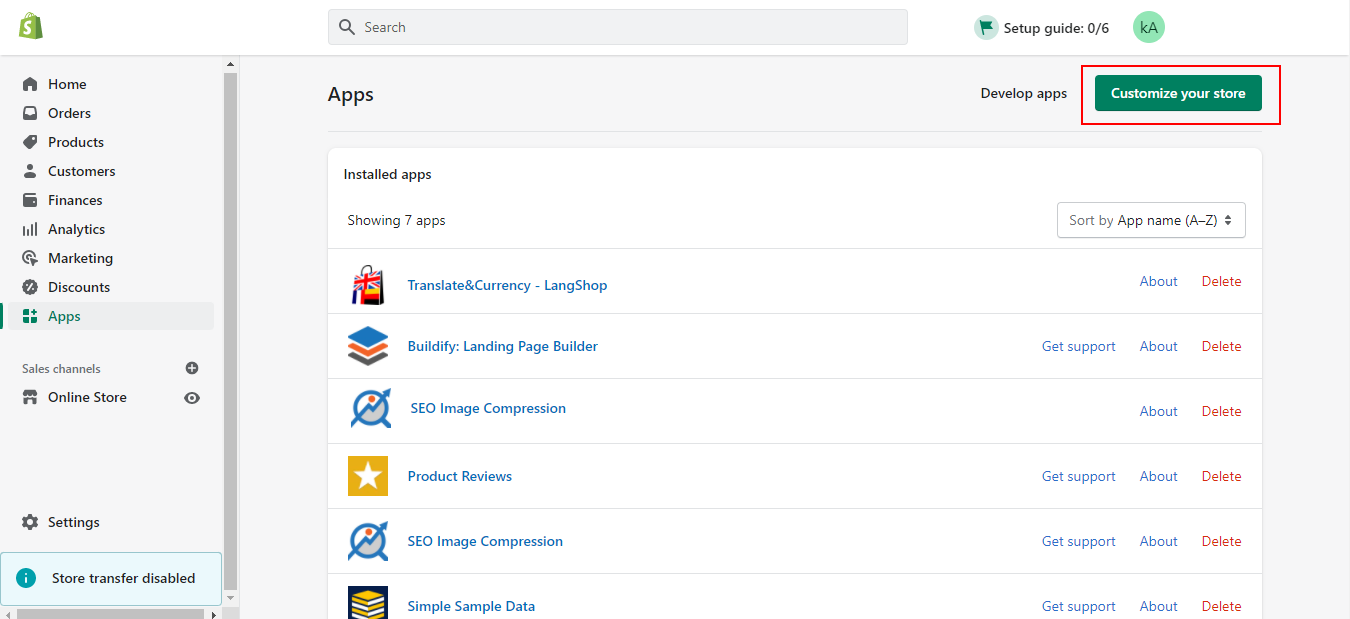 9. Preview and test the website
The last crucial step is to test and preview your online store. Make sure everything works and looks well. Hire a tester or ask your friends to browse your website with fresh eyes. 
When you decide your website is ready to go live, preview it for the last time and publish.
The reasons why you should use Buildify to build your store
1. No need for technical training
Designed especially for non-technical users, Buildify allows store owners and their employees to create and edit a Shopify store without additional training. The interface of the page builder is absolutely intuitive, so you can easily add desired content without hiring a professional developer.
With Buildify web development and designing gets much easier - you don't have to spend hours learning features and figuring out operation peculiarities. As a result, you can focus on essential functionalities and create a website in minimal time with maximum efficiency.
Buildify offers advanced settings for those who want more than is provided with the app's features. In this case, users can choose the appropriate widget and extend its functionality with code in advanced settings. Besides, within the section users are able to set field margin and padding, as well as add entrance animation to the chosen element.
Buildify has a number of partners to improve your store opportunities. You can check the SEO Image Compression app. It is designed to optimize your freshly created Shopify website, speeding up its page load and improving search performance. It works in several directions to make your store works smoothly: 
optimizes metadata which increases your search position

compresses images to reduce the loading time 

adds JSON-LD markup to attract qualified traffic

activates prefetching and lazy loading to speed up your store

optimizes alt tags and file names for better SEO

allows to add watermarks to prevent content theft
The importance of SEO is not something to overlook, as it's a vital part of your website visibility. Install the app and allow shoppers to find your new Shopify store.
The professional Shopify developers stay alert to attain best user experience, add desired updates and solve any issue you face.
One of the biggest advantages of Buildify is responsiveness: your content looks good on any device. When building a page, you can benefit from 3 image dimension options and check how the page looks on desktop, tablet and mobile device with the preview mode. If you want some element to hide from any device view, you can customize it in the Advanced settings section.
7. Control over content look and feel
As you are able to create a website on Shopify yourself, there are no limitations for you - add whatever you want and whenever you want. It's especially convenient when you need to employ minor edits - no need to contact a developer every time you need to add one sentence or remove the typo. Add new pages, use favorite templates, fonts, animation effects; with Buildify you can choose all the aspects as per your choice! And don't forget to check the result with preview mode before publishing.
As you see, to start selling on Shopify you don't need any specific knowledge or skills, all you need is a goal and a right tool. Check out Buildify plans in Shopify App Store and take a step toward the business website of your dreams!
Your Buildify Team.