One of the most important decisions to take when running an e-commerce company is to choose a platform. There are so many different options and possibilities available in the market but only good research can help you make the right choice. 
If you already have an online store, you probably have to deal with a lot of trouble keeping it running.You might need to hire agencies or have your own developers. Constantly keep an eye on security patch releases and module upgrades, deal with hosting issues and other every day problems. So here we introduce Aheadworks Commerce Cloud, a new yet powerful platform in the eCommerce market. 
Being a hosted website builder it takes care of webstore hosting, health and well-being plus provides merchants with unlimited flexibility, a wide range of B2B features, and DIY interface.
What are the possible methods to Aheadworks Commerce Cloud Migration?
If you choose Aheadworks Commerce Cloud platform and decide to move your existing online store to it - just get in touch with us, we will assist you with the entire migration process from start to finish. We'll help migrate your data such as products, customers and orders from your ecommerce platform.
What about additional functionalities/features?
AW Commerce Cloud provides a wide range of in-built functionalities, including company accounts management, B2B credit management, payment options, eCommerce reports, design tools, etc. But sometimes the built-in functionality doesn't cover all your business needs, and only additional modules can provide the functionality you need. If you wish to add more features, AW Commerce Cloud allows you to easily install custom modules and different extensions from Marketplace with a fewer restriction applied.  Like, the extensions should be compatible with the latest platform versions. Also, the number of plugins allowed would depend on the plan you choose, see in Pricing.
That's all you need to do to migrate to Aheadworks Commerce Cloud platform
On the main page click on the Start Free Trial Now button to fill in the general information about your future store. When you click on the Continue button you will receive an email about provisioning your Cloud store, this usually takes 20-30 minutes. Once your store is ready an email will be sent with full details including access URL and login details.
After your trial period ends, you would be required to choose a plan in order to continue using the AW Cloud platform.(You can read more about AW Cloud plans here). Aheadworks Commerce Cloud establishes fixed subscription fees, so the pricing is clear and transparent. CPU optimization, memory optimization, and storage optimization are included in the subscription fee with no extra charge. The pricing starts from $5,988 / year and includes 5 plans to choose one, depending on the business size and needs.
Step 3: Configure your store
To configure your store please use articles from our Help Center. If you have questions about this, contact our professional services team. Feel free to contact us with any issues, be it a bug fix or a general question. Our response time is within 3 hours on weekdays and 24 hours on weekends for emergency issues.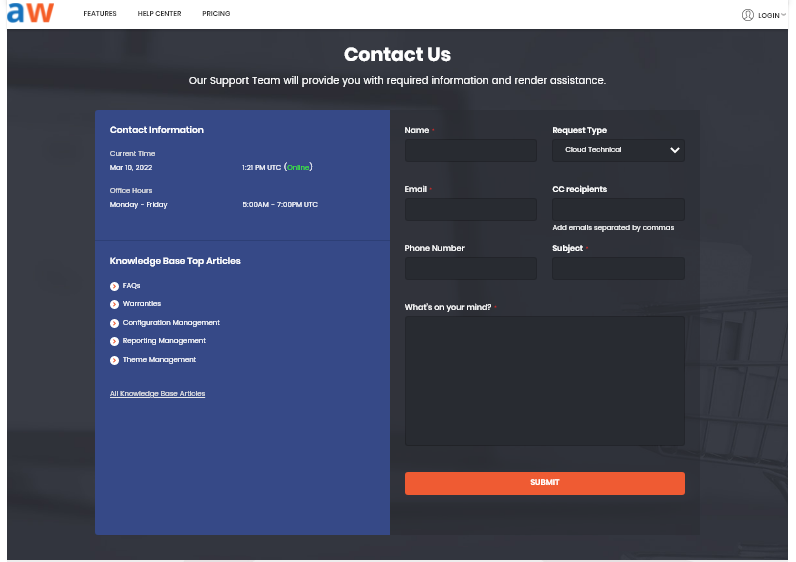 Step 4: Migrate your store
Сontact us to migrate from your old ecommerce store to AW Commerce Cloud. The migration process will take at least one week and more, it depends on the size of the database. 
That's it, we'll take care of the rest. You don't need to be a developer to get the best of Aheadworks Cloud Commerce, you will receive all updates on time. This is a better strategy for not only future-proofing your store, but also ensuring higher profitability.