Whether we like it or not, Google is still the main traffic source for the vast majority of online stores.
And, despite of the great changes happened in search engine algorithms, which put content at the head of ranking factors, we still are not able to neglect the role of cognitive SEO for our success.
But, since the technical aspect of SEO is complicated, we need
valuable and powerful SEO software
to track all facets of our search engine optimization strategy. In order to discover objectively the best custom SEO software suite we found most popular tools, according to multiple blog posts and user reviews.
As a result, we got 9
most mentioned online
SEO tools and offer you their brief overview below.
ahrefs
Ahrefs combines several software tools, but most of them
analyze site links
and show them in a user friendly manner. Many users consider their base of links one of the biggest in the segment and suppose it to be the most frequently updated.
The software provider declares the 15 minutes update interval of their data, and the results of their operations
impress greatly
. 958,539,826,459 found external backlinks deserve applause alone.
The main tool, provided by the company, Site Explorer offers a
wide range of site related information
, including the top content analysis, inbound and outgoing links, broken links, etc.
Additionally the service offers:


Domain comparisons by different parameters;


Crawl reports, which present sites as if through the eyes of search engine crawlers.


Cognitive SEO
Cognitive SEO software suite also provides tools for the analysis of backlinks, but
the overall scope of services is a bit wider than ahrefs has
. Additionally it tracks your keyword ranks and monitors your visibility in social media.
Started in 2010 by Razvan Gavrilas, Cognitive SEO is now among the most popular marketing and SEO tools. The professional version of this toolset is $99 per month, while the most expensive plan starts from $999 per month.
Among the most interesting features the company highlights the 
user-friendly and informative dashboard
, backlink analysis, rank tracker, etc.
Google Analytics
Google Analytics is possibly the most famous analytical tool online. According to W3techs.com,
Google Analytics is used by 50.4% of all websites worldwide
, which is a really terrific fact.
As far as most of you are familiar with its interface, we can only say that it covers almost all little or less significant website statistics, including detailed audience overiews, traffic sources, onsite behavior, and conversion descriptions.
The history of the service, as we know it, goes back to 2005, when Google acquired Urchin Software Corp., and in November 2005 rolled out the
Google-branded version
of the service.
Except the data Google Analytics provides for its users, it also comprises several integration options for even more detailed and valuable reports. In particular, it can be easily
integrated with Google Adwords and Google Webmaster Tools
, which help users track their PPC advertising and referral keywords via single dashboard.
Google Trends
Google Trends is an online service providing the information regarding how often people enter certain search terms in Google compared to its maximal historical performance.
Google trends allows users to segment results by countries and cities, date ranges, subject categories, and kinds of searches or
compare several keywords
by their popularity in Google.
The
main advantage of this service for SEO
purposes is that it shows the change of popularity of one or another search term over time. So, we can estimate the potential of any keyword in the nearest future depending on its current failing or increasing.
Majestic
Majestic positions itself as the world's biggest link index base, since claims
2,844,485,039,149 found URLs
within its Historic Index.
The service provides wide range of valuable tools, including Site Explorer, Search Explorer, Webmaster Tools, Link Map Tools, and two plugins for Firefox and Chrome.
Site Explorer
provides the information regarding backlinks
of certain sites. It does not only show the number of referring links, domains or IPs, but also provides backlink history charts, and backlinks breakdown by anchors or other types of backlinks.
Additionally Site Explorer provides several own metrics -
Trust Flow and Citation Flow
, which reflect the number of clicks from trusted sites and the number of citations to a given URL or domain, accordingly.
Search Explorer discovers most relevant sites to certain keywords, so you can
use it for the competitive analysis
, as well.
The Link Map Tools set by Majestic include five more great tools:


Bulk Backlinks;


Keyword Checker;


Neighborhood Checker;


Link Profile Fight;


URL Submitter.


MOZ
"
Making the Web a Better Place
" is the Moz's slogan of the existence. It is one of the most respectable online marketing companies. Launched in 2004 as a consulting firm in 2008 it shifted towards software development and now joins more than one million digital marketers worldwide.
Its toolset includes
both paid and free tools
aiming to improve your organic traffic, keywords rankings, and search visibility.
Available by the subscription Moz tools:


MOZ Analytics;


Fresh Web Explorer;


Rank Tracker;


On-Page Grader;


Keyword Difficulty;


Crawl Test.


Free Moz tools:


Open Site Explorer;


Followerwonk;


MozBar;


Moz Local;


MozCast.


Open Site Explorer is one of freely offered tools intended to identify content and link building opportunities.
Open Site Explorer
Open Site Explorer is a
robust SEO tool
, which provides you with the access to the SEO targeted information regarding any site. Using it you can analyze inbound links, linking domains, web site top pages, anchor texts, compare link metrics, look for link opportunities, etc. The tool also exploits domain and page authority showings perfect for fast and simple comparison analysis.
Screaming Frog SEO Spider Tool
The Screaming Frog SEO Spider is desktop software for the local installation, which provides multiple site related data. The main collected parameters are:


Errors, including broken links & server errors;


Redirects;


External links and their statuses;


Duplicated pages;


Titles, Meta descriptions, Meta keywords, H1, H2, etc.


Image links;


Inbound links;


Anchor texts;


etc.


SEMRush
SEMRush is sophisticated SEO software comprising several very useful and powerful analytical tools for SEM and SEO professionals, and marketers. In particular, it provides the domain vs. domain comparative analysis, charts, position tracking, keywords difficulty analysis, and site audits.
SEMRush is perfectly suitable for the competition analysis and offers a wealth of information regarding one or another domain. It tracks your traffic, organic and ads keywords, main competitors by keywords in organic search and advertisings, competitors in display advertising, backlinks, keyword suggestions, etc.
Payment Options Comparison
The described above SEO software and tools are provided on either paid or free conditions. The table below displays possible options for your consideration.
Table 1. Best SEO Tool Payment Options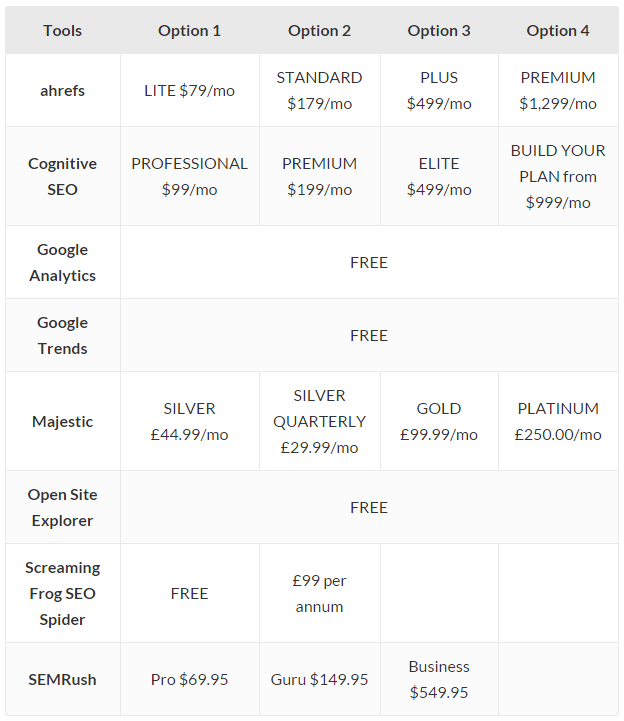 Conclusion
As you see, the mentioned above tools often have common main functionality, on the one hand, but their functionality scope is different. Still, they are the most mentioned tools online and greatly appreciated by users. Combining several of them for your purposes you can certainly
obtain a powerful SEO suite and improve your rankings
.
Add your comments to this post below, please.