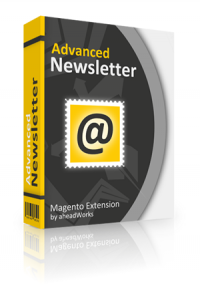 Bring your customers back for more, again and again!
Discover the power of a personalized and professional newsletter in improving customer retention and boosting sales. The Advanced Newsletter extension will help you increase your subscriber base with a highly customizable user interface and targeted sign-up options, while the segmentation features let you target your subscribers with the most relevant content.
Building upon all the inherent newsletter functionality that Magento offers, the feature-rich Advanced Newsletter equips you with a newsletter subscription and management system that will catapault your sales to greater heights.
More customers who buy more products - isn't that what you are looking for?
Newsletters are undoubtedly a powerful marketing tool for online stores. A newsletter can frame the perception subscribers have of your business. And that could mean the difference between a subscriber and a customer! So, if a newsletter is a part of your marketing strategy - and it should be - you definitely need the Advanced Newsletter extension.
From newsletter sign-ups, mailing list creation and audience segmentation to the eventual mailing of the newsletter, Advanced Newsletter gives you everything you need to get the highest ROI from your newsletter marketing. Whether you are looking to convert, retain, cross-sell or upsell, do it all with this powerful extension.
Check out how Advanced Newsletter's features can give your business an edge over the competition…
Increase your sign-ups with a flexible and appealing user-interface
Enriched standard newsletter subscription block: Make the subscription form more attractive with in-block or AJAX layer based subscription form
Drive up newsletter delivery and open rates
Inclusion of name fields for guests, making your messages look more personal, trustworthy, eye-catching and less vulnerable to spam filters
Deliver content with pinpoint accuracy: Achieve desired goals with unprecedented level of subscriber segmentation
Segment your mailing lists by subscriber groups
Display/hide segment(s) for particular categories/stores
Define a default segment for a category/store
Get greater control of your mailing list
Mailchimp integration: synchronization of lists with full support for export of data, including that of segments
Configure Mailchimp lists for automatic on-the-fly or manual synchronization
Insert unsubscribe from newsletter option in e-mail templates, instant or managable from the customer area
Give your subscribers more power with advanced subscriptions management
Segments are displayed in different styles: radio buttons, multi-select, checkboxes
Users can see the segments they are subscribed to and subscribe/ unsubscribe per segment
Send newsletters from any SMTP server
Third party SMTP server support means you are no longer dependent on your local server mailing software
Use any free or paid relay
Enjoy easy set up and integration with Magento
Takes only 2 minutes to install!
All subscriber data is retained, even when Advanced Newsletter is uninstalled. The native Magento newsletter will still work in such an event
Significantly enhances functionality of original Magento newsletter
Meets Magento programming practices for most versions and customization compatibility
Take your customer communication a notch higher - get Advanced Newsletter extension today!
Get more information about the extension on the Advanced Newsletter page.