Amazon and eBay are the largest online marketplaces, which are among the biggest global businesses, as well. So, creating a marketplace is definitely a great way to get additional revenues and diversify your business.

Despite Amazon and eBay are true leaders, the entire list of successful marketplaces contains much more websites and companies. You can surprisingly find a dozen and more huge online stores, which aggregate millions of unique visitors per month. Wallmart, BestBuy, Tesco, Rakuten, Sears, Newegg, La Redoute, MercadoLivre, and Trade Me – it's just a brief enumeration of the global biggest players.

Of course, the goal to create similar businesses is very ambitious, but you will certainly cheer up, when discover that, according to Forbes, online marketplaces are currently booming, especially in services. So, if you search for a reliable technology to be a solid background of your new business, you'll be greatly impressed by the new Magento solution in our portfolio provided by our partners - Multi-Vendor Marketplace.
Multi-Vendor Marketplace
This Magento extension allows you to create online marketplaces from scratch and provides sellers secure and exclusive functionality, still completely controlled by your admins.

While you provide the marketplace maintenance and promotion, vendors can exclusively focus on products, orders, and sales. Wherein, customers obtain an opportunity to purchase multiple products at once or find specific items in a niche marketplace.
Dedicated Vendor Area

Exclusive Access and Space
Your vendors operate within secured and confidential accounts with an exclusive access. Other sellers are not able to enter these areas, so each vendor is able to fully concentrate on own sales.

Full Product Management Functionality
Vendors obtain an opportunity to add items to the catalog, specify product names and prices, compose and submit efficient product descriptions, and set other parameters. They can also manage shipping methods and shipping cost conditions, manage notification terms, profile information, and preview the appearance of their supplier pages from the backend.

The Product List section allows vendors to track, filter, edit, preview, and deactivate their product pages. On the Orders page they can filter orders by IDs, dates, date ranges, and statuses, view orders or ship orders manually.

Dedicated Dashboard and Exclusive Reports
The dedicated dashboard provides store suppliers quick access to the sales information, including the average revenue per order statistics and total items sold information in the form of easily perceived charts, while the provided reports allow sellers to get even more detailed information about their orders.


Full Admin Control and Enhanced Configuration

Created marketplaces are completely configurable, including the appearance of supplier's dashboards and profile pages, categories availability, product attributes, email notifications, etc.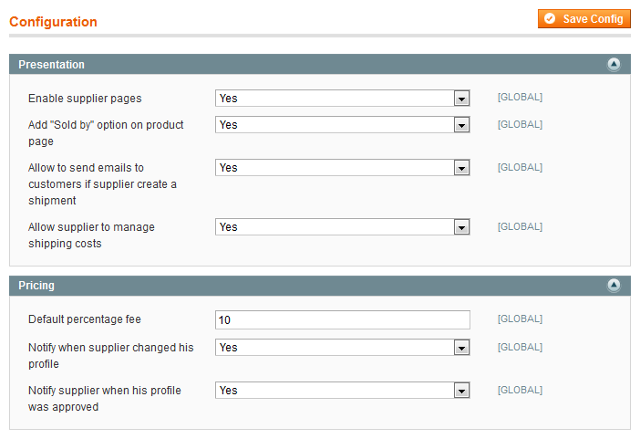 Marketplace Configuration

Enhanced Magento Marketplace Configuration
The marketplace configuration allows you to enable suppliers' pages, add "Sold by" links to suppliers' profiles on product pages, provide them an opportunity to manage shipping costs, define default percentage fees, etc.

Product Settings
Magento admins are able to specify product attribute sets, maximal allowed image quantity per product, product tax classes, SKU auto increments and let vendors assign SKUs to products.

Product settings

They can also prevent definite catalog categories from product submissions by store suppliers.

Shipping Method Settings
Marketplace shipping methods are configured from the System -> Configuration -> Sales -> Shipping Methods -> Supplier Marketplace section in the backend. This standard Magento shipping method contains several additional fields:


Calculate shipping price based on – specifies the basis for the shipping cost calculation. By default it contains two options: Total Shipping Cost of All Suppliers and Highest Value;
Shipping cost for non-supplier products – this additional shipping cost will be added to the shipping cost of suppliers' products, if any non-supplier product is included into the order;
Default shipping cost if supplier does not set shipping prices – if a supplier does not specify any shipping costs this value will be added to his price;
Minimum price for supplier shipped supplier products – this value defines the minimal possible cost of any shipping.


Full Admin Control of the Vendors' Activity
Magento admins can completely control vendors' activity:


Enable and edit new accounts;
Assign specific shipping costs for each vendor;
View sold products by each vendor;
Set up individual fees per vendor;
Track suppliers' sales volume and orders quantity;
Create groups with special permissions and let suppliers enter the necessary group during the registration.

Suppliers Group

Flexible Email Notification System
The module provides Magento admins, suppliers, and customers a flexible and efficient email notifications system, which allows all participants to be promptly informed about the latest events.

It notifies admins about new accounts or profile changes made by vendors; informs vendors about new orders and product approvals; notifies customers about the shipments created by vendors.

Email titles and texts are customizable from the backend.

Using the Multi-Vendor Marketplace Magento extension store owners are able to earn commissions for each order and greatly increase the volume of sales and revenues.

If you are interested to diversify your activities and strengthen business positions using the Multi-Vendor Marketplace extension, please enter the module's product page at our store or try it in action in our demo stores.

If you have any questions about this extension, please ask them in comments below.
Subscribe to our RSS.