Creating a successful eCommerce business has traditionally been a time-consuming, high-cost undertaking. Constructing an appealing design, implementing useful features, and the most challenging, choosing the most appropriate platform for your business.
The two leading eCommerce platforms, Magento and Shopify, each have their unique strengths and drawbacks. Magento due to its open source nature requires additional maintenance and doesn't include hosting, causing merchants to be reliant on agencies. Shopify lacks the ability to deeply customize your webstore, with no access to source code. Leaving the choice between simplicity or maintenance dependent. 
Tough decision, right?
Perhaps not, Aheadworks Commerce Cloud is as flexible as Magento Open Source, while being fully managed like Shopify. It is designed to empower businesses to move forward quickly, without wasting time on development, searching for hosting providers or hiring agencies. 
Benefits of Aheadworks Commerce Cloud
Aheadworks Commerce Cloud allows the freedom of customization due to its open source code. Merchants can extend the functionality based on their taste and needs, without any restrictions. Besides being a centrally managed system, Aheadworks Commerce Cloud is in charge to apply all necessary security patches and version updates for all clients to keep the webstore up-to-date. The platform also includes optimized web hosting to beef up website security and load balancing. And all these are at an affordable price!
Aheadworks Commerce Cloud is an all-encompassing solution for both B2B and B2C businesses. The wide range of useful options turns the eCommerce experience into a seamless journey to success. Webstore management, B2B management, and content resources feature help merchants grow their businesses fast and provide customers with superior commerce experiences.
What are the features of Aheadworks Commerce Cloud?
Aheadworks Commerce Cloud is a PaaS tool that provides merchants with all core functionalities to boost the growth and profitability of their eCommerce business. 
Let's take a look at all Aheadworks Commerce Cloud has to offer:
1. Company Accounts Management.
B2B businesses can provide their corporate clients with a personal approach by enabling company accounts. Within the company account, multiple user accounts can be created for quick and easy operation. The company admins are allowed to assign user roles and permissions, set order limits, choose predefined delivery and payment options. Additionally, it can be a source of necessary company data to collect.
To enable Company Accounts on the backend go to Customers > Companies > Create New Company. Fill in the fields with general information about the company, credit limit, allowed payment methods, etc. Creating a company account on the frontend is performed on the Sign-in or Create New Account page, where a new block Create a Company Account will appear automatically after the backend customization.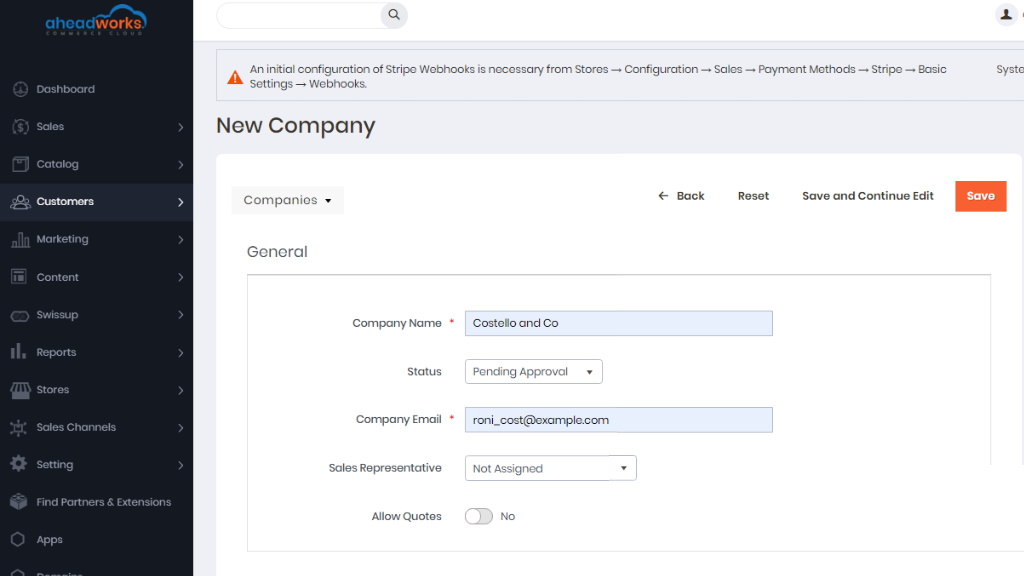 2. Payment and Delivery Management.
It is expected by buyers that vendors will provide multiple online and offline payment methods support and a wide range of delivery options. With Aheadworks Commerce Cloud merchants can provide different customer groups specific payment methods, permit credits, or deferred payments to raise loyalty and drive customers to repetitive purchasing. Besides, the integration with major shipping carriers, variety of shipping methods including in-store pickup options, and extensive shipping settings are there to manage the process smoothly and seamlessly.
You can enable/disable payment methods in Stores > Configuration > Sales > Payment Methods. In the appeared list select the desired payment method to set up restrictions, attach or detach specific customer groups to it.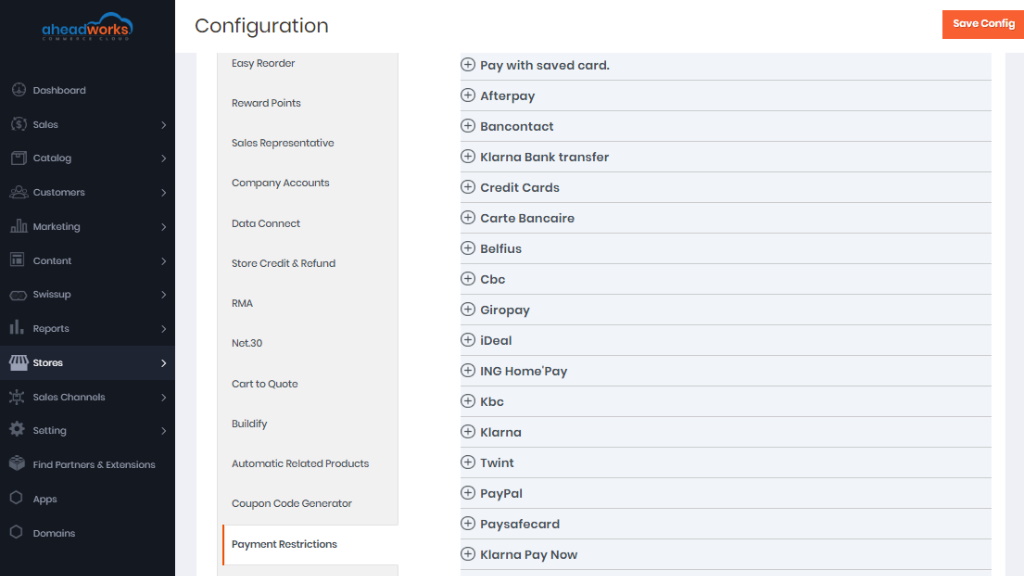 To manage shipping methods go to Stores > Configuration > Sales > Delivery Methods. Choose the desired method and fill in the fields to manage the rights per customer group.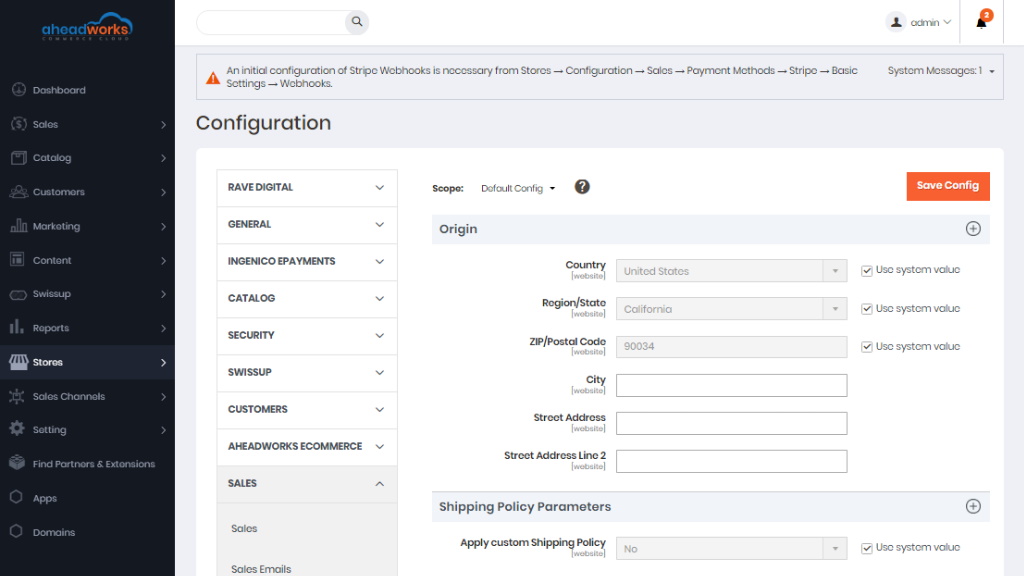 3. Purchasing management.
B2B bulk orders require additional functionality to make the process quick and smooth. Aheadworks Commerce Cloud simplifies the bulk order process with Search autocomplete by SKU and Product Name option. It also allows customers to import lists of desired product SKUs straight to Cart. The requisition lists and easy reorder features contribute a lot to repetitive purchasing, while anti-fraud filters protect the webstore from suspicious activity.
To enable the quick order feature go to Stores > Configuration > Aheadworks Ecommerce > Quick Order. Select Yes in the drop-boxes next to Enable Quick Order, Display Add to List Button, Display Quantity Input fields. You can add or delete customer groups allowed to create quick orders in the Customer Groups section.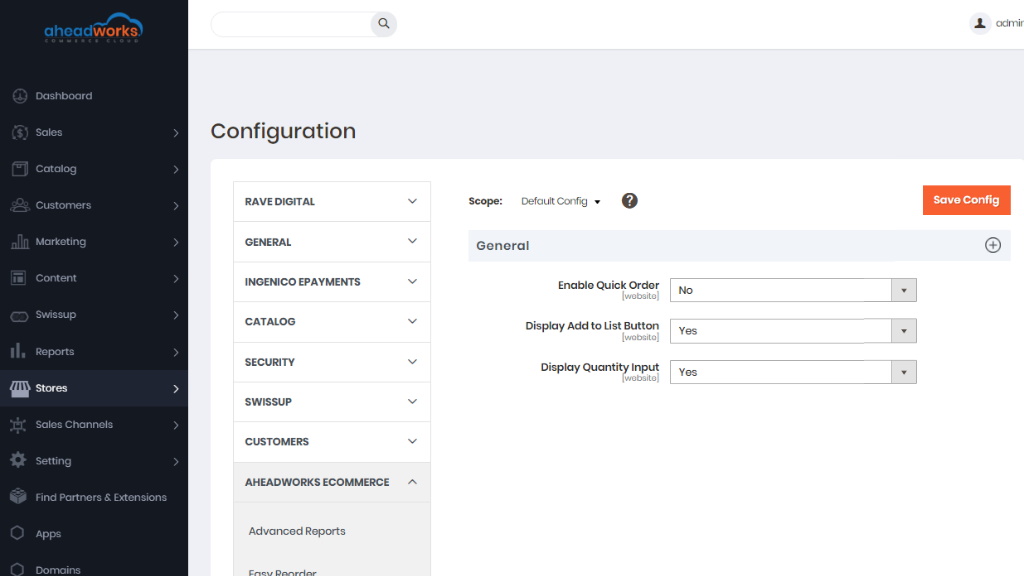 4. Negotiation Management.
Successful B2B deals typically include negotiations to find a profitable solution for both sides. Different customers like, wholesalers and retailers, loyal large clients, and newcomers all need different approaches in the price strategy. One of the best features of Aheadworks Commerce Cloud is quote management. With it, customers can negotiate prices by simply turning the shopping cart into a quote list, if it's allowed by the store admin. There's also a quote auto-approval feature with customized notifications and the option to assign a default sales representative to manage the quotes. 
To enable the Quotes to feature go to Stores > Configuration > Aheadworks Ecommerce > Cart to Quote. Customize the three blocks of settings: General, Email Notifications, File Attachments, and PDF Options. Click the Save Configuration button, and enjoy the benefits of the loyal client base.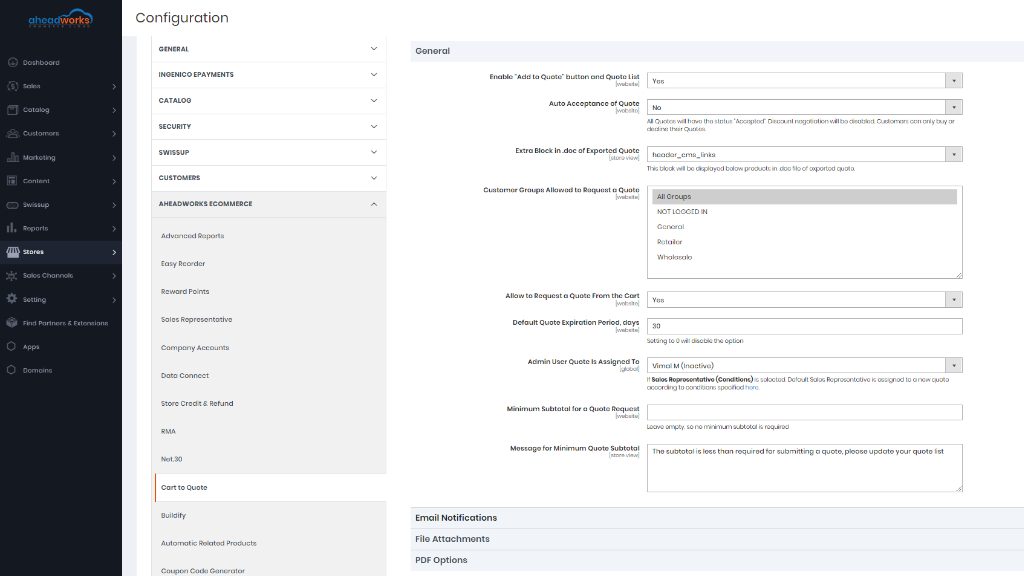 5. Order Management System.
What is better for business than having a convenient order workflow? Feel confident about your order process by tracking and managing order statuses, creating invoices and shipments, issuing credit memos to process returns, etc. The Orders and Separate Transactions grids will grant visibility throughout the whole purchasing process. Orders, invoices, shipments, and credit memos settings can be found in the Sales section.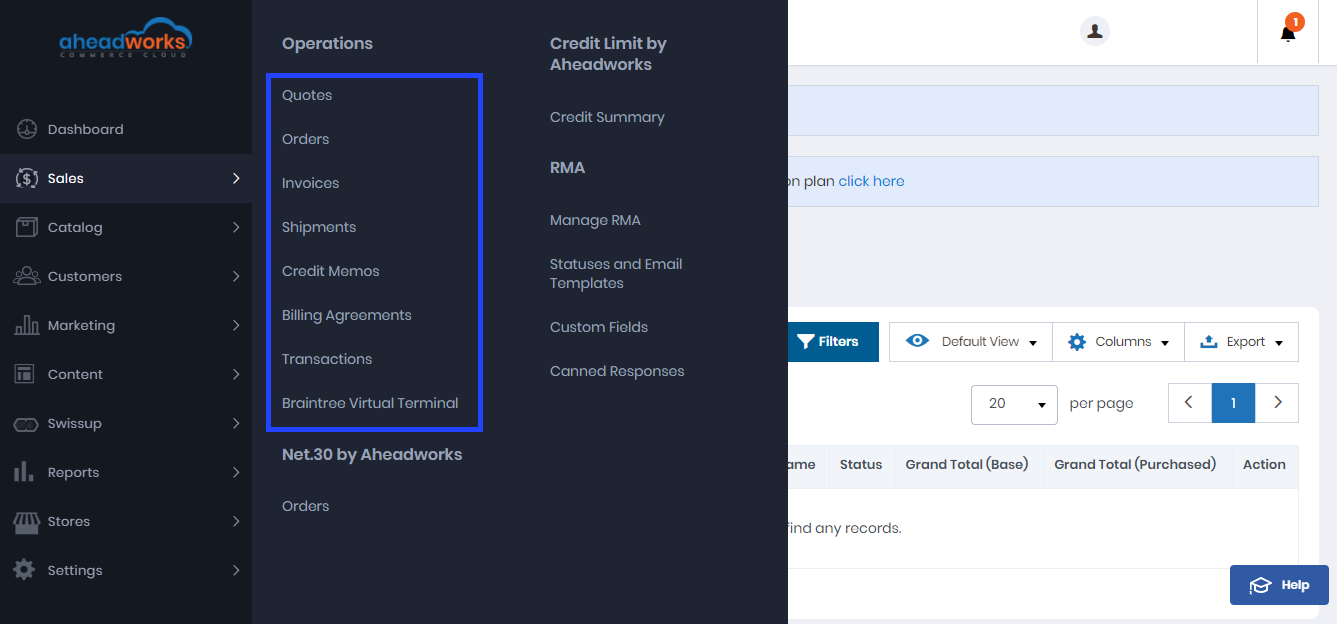 The catalog is the place where buyers search and locate products. To speed up the query to result time, Elasticsearch is included in the catalog management system. Aheadworks Commerce Cloud also incorporates useful features to make inventory management simple for merchants by allowing them to manage multi-channel listings, categories, and images in conveniently configured grids. The relevant SEO tools will raise your products in search results and contribute to promotions, overall.
To create a well-structured catalog go to the Catalog section to add and customize categories. After the categories are set, the product can be added and assigned to a specific category. The product configuration allows merchants to add images and videos, related products, and product downloads, set gift options and specific designs, attach FAQ articles and frequently bought products, etc.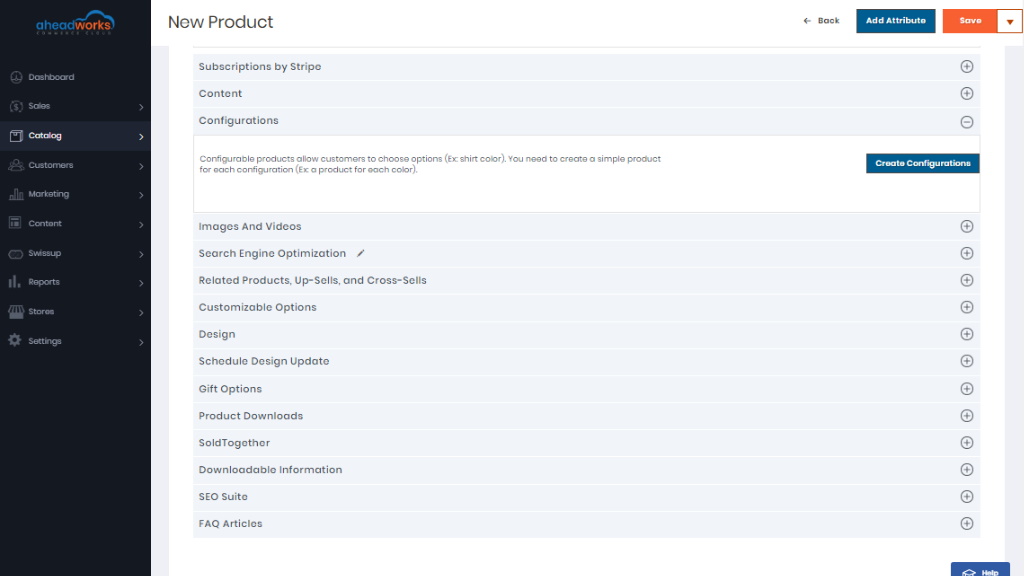 Creating a flexible inventory management system becomes essential for an efficient webstore workflow. Aheadworks Commerce Cloud allows merchants to track and manage inventory, updating the products' availability after refunds, cancellations, or shipments. Besides, grouped and bundled products visibility can be set depending on all assembly parts availability, so the merchant can be sure the customer received all desired products.
To customize inventory go to Stores > Configuration > Catalog > Inventory. Here you can choose stock options, product stock options, set admin bulk operations, inventory indexer settings, etc.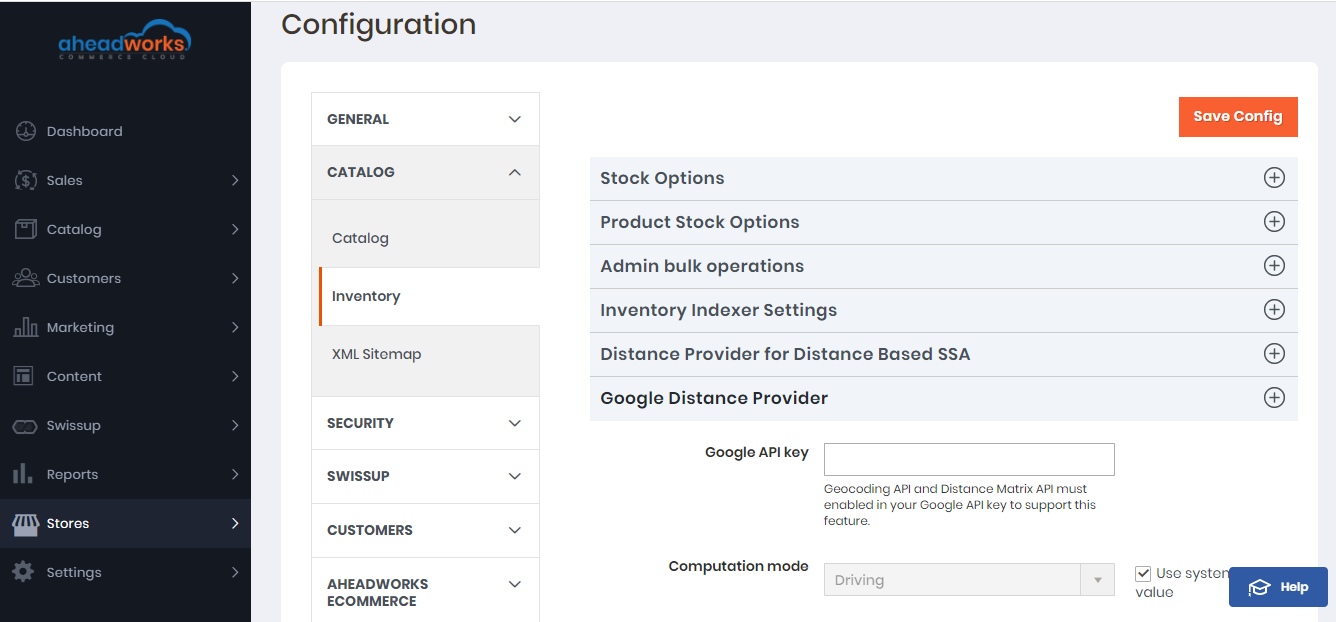 Aheadworks Commerce Cloud is a DIY platform, requiring no coding skills. It's especially useful when it comes to online store design. The in-built drag-and-drop page builder allows merchants to customize style, layout, and other options in a few clicks with the help of predesigned widgets. A rich theme library opens up an entirely new area for the webstore's visual representation.
You can find theme editor in Stores > Configuration > Swissup > Themes Editor. Choose the theme, customize layout, header styles, header builder, footer, buttons, fonts, and colors, etc.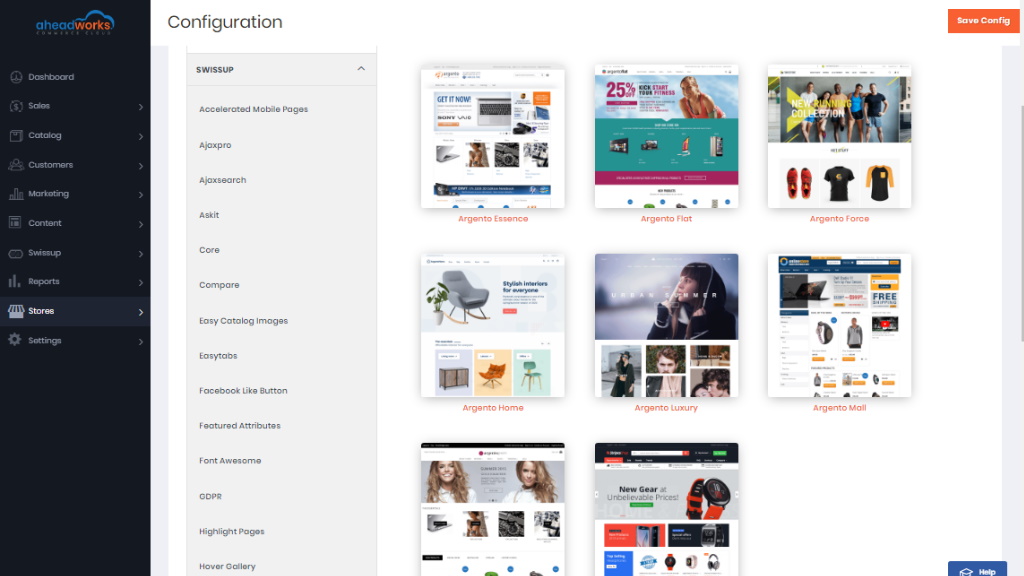 As you see, Aheadworks Commerce Cloud has an abundance of features and functionalities, offering merchants a wide range of flexibility, on a fully managed platform, at an affordable price.
Want to experience Aheadworks Commerce Cloud functionality, start a FREE 14-day trial. No credit card is required, just click this button and you can explore all Aheadworks Commerce Cloud has to offer!
Learn more about all Aheadworks Commerce Cloud useful features and review the user guide.